Clash Royale March Update: What's New
We knew a big Clash Royale update was coming in March to celebrate its one year anniversary, and now it's finally here. This is the biggest Clash Royale update in the history of the game, and a lot that players need to know about. With that in mind, read on for some key details, change-logs, and more before you head into battle.
For those who haven't been paying attention, this update delivers some major changes to Clash Royale. From nine new leagues on top of some new Arenas, Clan Battles, new chests, four new cards, tons of improvements and more. There's a lot going on.
Read: Clash Royale: 10 Tips for Beginners 
While a brand new 2v2 "Team Battle" mode is exciting, it's not the most important aspect of the update. Instead, users will want to be aware of the new Hog Arena. Additionally, Legendary Arena has been broken up into nine new leagues. Every two weeks the top 1,000 players for each league can win tons of rewards and gold. Lets get started.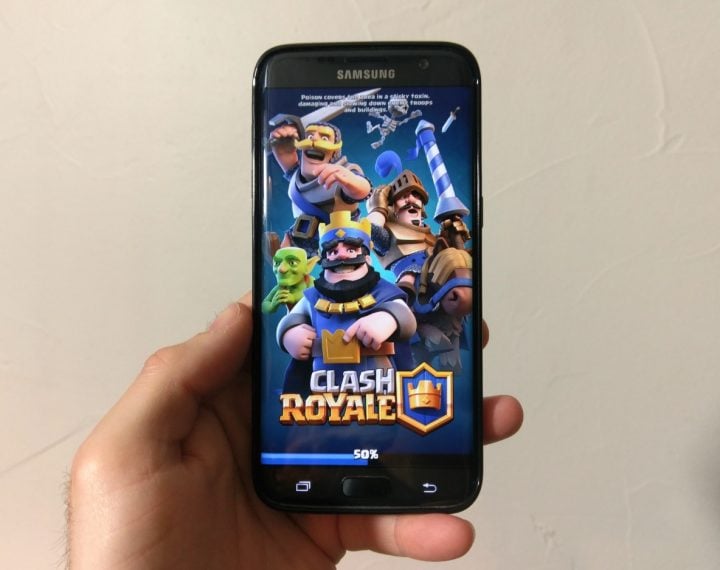 Where do we even begin? For starters, go to the card shop in the far left tab, and enjoy the free chest. It's a gift to celebrate the 1-year anniversary of Clash Royale. Not to mention a slew of new special offers are available.
Then, you need to know that in two weeks a brand new troop will be released. And another will arrive every two weeks until four new troops are available. New cards are the Bandit, Night Witch who spawns bats, a Bat troop similar to Minions, and the Heal spell. We've been asking for a healing spell for months, and it's finally coming.
Clash Royale March Update Details
Below we will go over absolutely everything that's new or has changed. From a full list of improvements, card and game balancing tweaks, and changelog. This update will drastically impact our battles, so make sure to read everything below.
Leagues – Enter the first League at 4000 Trophies (Separate from Arenas)
– Climb through 9 Leagues all the way to the Ultimate Champion League!
– Collect a monthly season reward based on the highest League you reached
Leagues are basically an expansion of the Legendary Arena, which now starts at 3,800 trophies and is called Hog Mountain. The Legendary arena now expands to go above 6,000 trophies, and the top 1,000 players each season get huge rewards. Everyone else below will still earn some type of awards.
NEW CHEST
– Draft Chest offers multiple card choices – choose your own reward!
– Draft Chest is only available as an end of season reward in Leagues
CLAN BATTLES
– Introducing a very exciting new game mode: Clan Battle!
– Battle side-by-side with a Clanmate against two challengers from another Clan!
– The first Clan Battle event is coming on March 24th
– Find out more about Clan Battles in the latest episode of Radio Royale
– See Clan Battles in action right here with Molt, Nickatnyte and OJ.

NEW CARDS
– New Legendary Card: Bandit is available on March 24
– A special Bandit Draft Challenge is coming on March 17
– Watch the Bandit dash!
– Night Witch, Bats and Heal are coming every two weeks starting March 24th
NEW ARENA
– Arena 11: NEW Legendary Arena unlocks at 3800 Trophies
– Arena 10: Hog Mountain (renamed from Legendary Arena)
– Legendary Cards will still appear in your Shop at 3000 Trophies
Improvements
While many of the changes above are great, Supercell developers made a ton of small changes elsewhere. Aimed at improving the game as a whole. From changing the time of Clan Chests, making it easier to see card levels and damage for tournaments and more. Here's a breakdown.
– Clan Chest has moved to Fri-Mon
– Challenge Crowns will contribute towards Clan Chests and Crown Chests
– Cards now have a "Tournament Level" button to see their stats at Tournament Rules
– Spectate your Clanmates' battles live from the Clan page
– Friends List sorting by Status or Score
– New Trainers for 3600-4000 Trophies
Along with new Clan Battle and four new cards, is a Draft Challenge chests. Players can choose what they earn these chests. Perfect for important upgrades and progression.
Additionally, new trainers are available for higher level gameplay, instead of stopping at Legendary and having one trainer that was impossible to beat. Test out your skills at higher levels with brand new trainers.
Balance Changes
That was a lot to take in, but we aren't done. In addition to all the new leagues and cards are the typical balance changes we see every month or so. The goal here is to balance all cards, make others more viable, and keep the game continuously evolving. Here's what you need to know about your favorite troops so you don't lose battles.
Executioner: Axe hit radius +10%
– We're returning some of his former glory – his original lane control power – to compensate for the upcoming bug fixes.
The Log: Damage -4%
– A bit less chip damage to towers will help tone down this highly used card. Also, some big fixes to the Log have been implemented.
Arrows: Projectile speed +33%
– Your Giant is often dead by the time Arrows land on the Minion Horde attacking him… so we're making them fly a bit quicker, seeing as not everyone is a Jedi.
Clone: No longer resets charging troops (Princes, Sparky, etc.)
– This is a nice quality of life improvement for the underused Clone spell. Troops affected by a Clone will no longer stop charging – be it a charging Prince or a charging-up Sparky. However, the Clones themselves will start charging from scratch, as if just deployed.
Lumberjack: Rage Duration +1.5sec and +0.5sec per level
– This change is for consistency with the Rage spell, but it also serves as a little boost to the Lumberjack.
Bomb Tower: Projectile speed +66%
– A slight boost to help the Bomb Tower hit faster moving targets.
Electro Wizard: No longer permanently stuns
– This is a fix and clarification of the stun/freeze mechanics: All stun/freeze effects will now pause the target's attack, causing them to retarget when they resume. Exceptions are Sparky, Inferno Tower and Inferno Dragon, which will still be reset by stun/freeze effects.
Tornado: Can be placed on top of buildings
– Tornado still won't deal any damage to buildings (or pull them), but at least you'll be able to play it directly on top of them if you wish!
Other Details
The biggest thing to take away from these changes are the Electro Wizard won't be as powerful, and the Executioner will be extremely overpowered once again. Arrows will also now be a viable spell worth using during battles. Returning it to decks everywhere. Especially with the increase lately of "bait decks" with all the swarm troops.
In closing, if anyone is having trouble with the Special offers don't worry. If you spent money and didn't receive it you will get a refund in the next 2-4 hours. Then, simply try buying it again. This is a known glitch, especially on Android.
All said and done, this is by far the biggest update in Clash Royale history. And this is only the beginning. Start pushing up in trophies and reaching higher leagues, earn rewards, upgrade cards, and enjoy all this has to offer. If you're having any problems drop us a comment below. Otherwise, head to the Google Play Store or iTunes and get the latest version of Clash Royale today.