Are Clash Royale Special Offers Worth Buying?
The popular game Clash Royale continues to get better each and every month. From new cards, game improvements, new Clan Battle challenges and more. Last year Supercell introduced special offers. Discounted in-app purchases that millions of players loved. They've been appearing more and more, especially in the big March Clash Royale update. Are they worth it though? Read on to find out.
Special offers come in the form of "Arena Packs" or just bundle deals that offer huge savings. Things like Gold, Gems, and new cards to help game progression and upgrades. As we all know, Clash Royale relies heavily on in-app purchases, or even a "pay-to-win" game. That aside, yes, the special offers are abolustely worth buying.
Read: Clash Royale 10 Tips for Beginners
The March anniversary update is now here, celebrating the games first birthday. It has been on the market for one year. As a thank you, the developers added tons of new Special Offers you won't want to miss. Including a straight up free Magical Chest for all players. Below are more details on both, what to expect and more.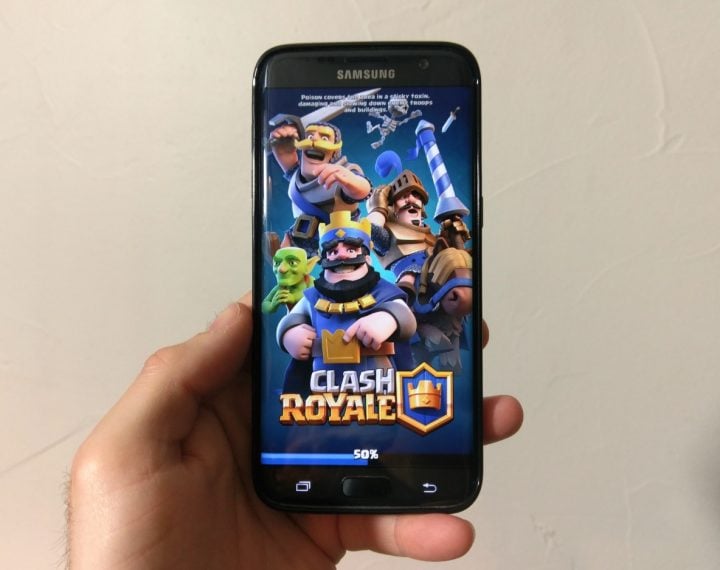 Since being released we've seen a lot of questions and complaints about the Arena Packs or Special Offers. Mainly because they don't show up in order, or the right arena. Not to mention there's a new level 11 arena pack, and a huge "draft challenge" chest where players get to pick what they actually win in the purchase. We also are hearing complaints that many bought an offer but didn't get it. Losing money for nothing.
How Special Offers Work
A notification will appear in the game that players have a new special offer. These are Arena Packs or even "Epic Packs" to help us advance in the game. Get new cards, upgrade troops, or earn gems and gold for upgrades or Tournaments. Make sure to check out the brand new March Draft Challenge special offer. It's $24.99, which is a lot, but extremely lucrative. You'll get 100,000 gold and get to choose what cards you get. Including selecting from one of two Legendary cards. It's a win win.
According to Supercell, these arrive once a week. When you unlock or reach a new Arena the Arena Pack Special Offer will appear within 1-2 days. It is a $9.99 purchase and only available for a limited time. If you aren't seeing the pack for the Arena you are currently in, that's because eventually players will get a pack for every Arena they've reached. Those in Arena 11 will eventually see a Legendary Arena Pack with a free Legendary card. If you don't buy it within the time limit, don't worry. It will be offered again, eventually. After a few weeks of rotating through all of your achieved arenas. Now that we have a new Hog Mountain arena expect that offer to surface, along with a new Legendary offer for those above 3,000 or 3,800 trophies.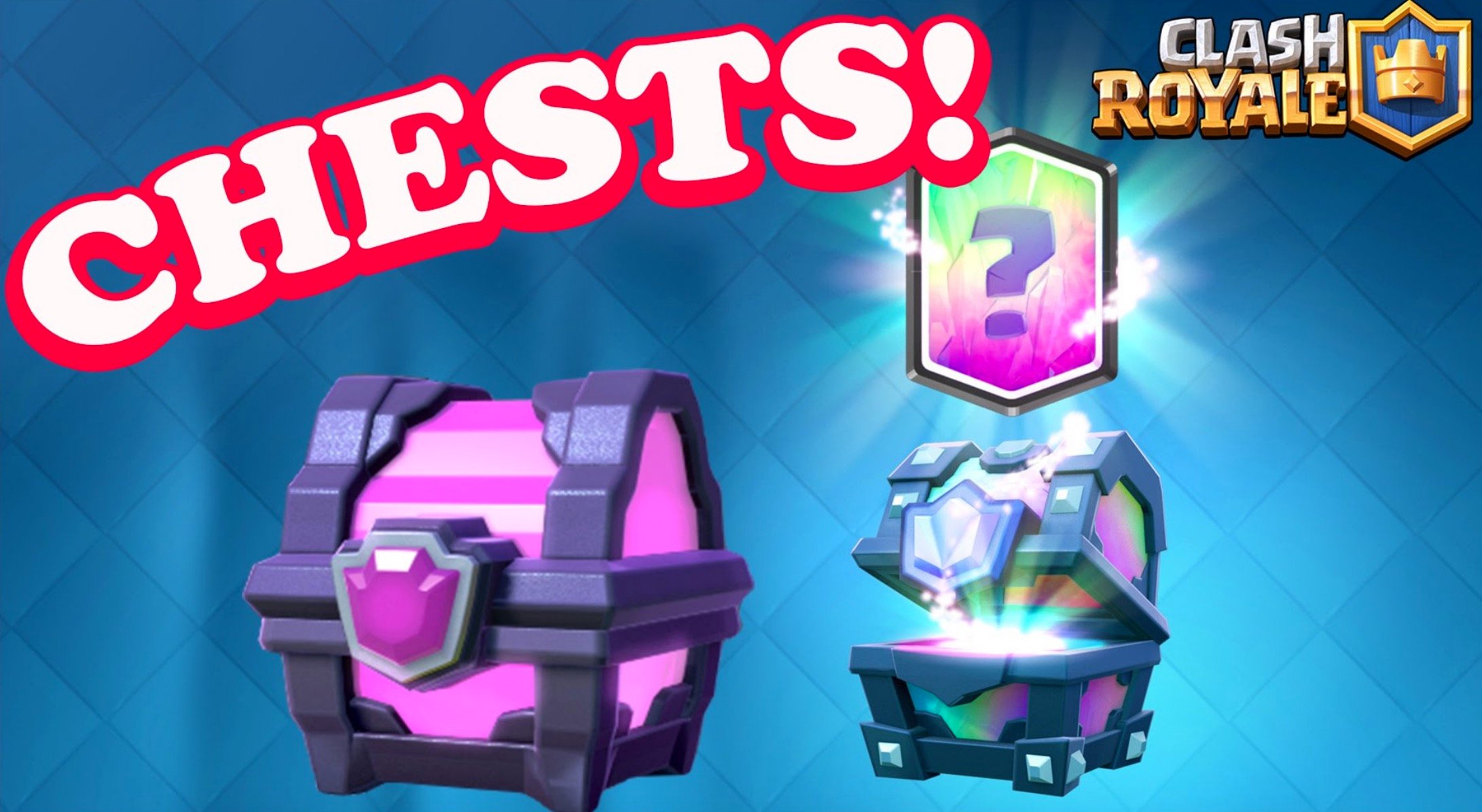 Keep in mind that Special Offers are a one-time purchase. By that we mean you can only buy any specific Arena Pack once, and once only. If you purchase the Arena 9 special offer, you won't be able to buy it again. I passed on mine, and am waiting for the all-new Legendary card to be released before I buy it.
Read: Clash Royale: 7 Features We Want Next
Again, a new Arena Pack Special Offer will appear once a week. Don't worry about missing out if you can't or don't buy it. It will be offered again in the future or until it's purchased. The new special offers being made available in March are some of the best we've seen yet.
Are Special Offers Worth Buying?
Upgrades and new troops in Clash Royale are extremely expensive. One of the most expensive out of any mobile game on the market. I've seen YouTubers spend $5,000 in one sitting, and they still haven't maxed out all troops in the game for battles. People can spend thousands and thousands of dollars. On the flipside, the game is just as enjoyable without spending a cent. You'll just progress at a much slower pace.
With that said, are the Special Offers for each Arena worth buying? Absolutely. Doing the math here, and shown in the corner, users are getting 5-times the value. It's a $9.99 purchase, and that $10 gets players $50+ worth of content. Not to mention tons of gold to use on upgrades.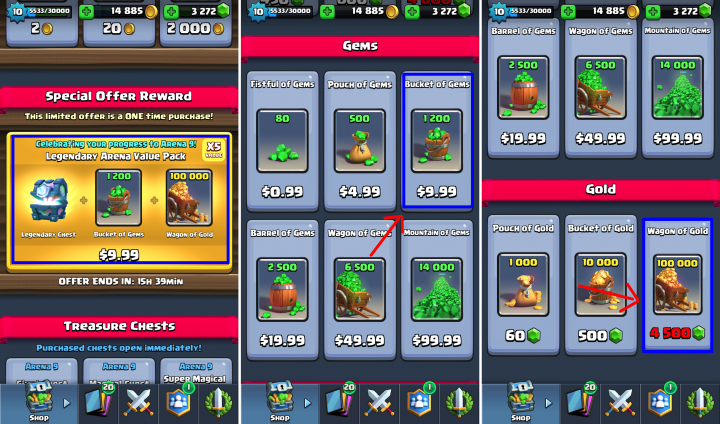 Most offers are anywhere to 3x-5x in savings, which is a big discount. Shown above is my latest Arena 9 Special Offer. For $9.99 I will get one Legendary Card, 1200 gems and 100,000 Gold. Lets do the math.
Value & Savings
One Legendary card usually costs 40,000 gold, which is almost $20 in gems. We also receive 1200 gems which itself usually costs $9.99. Then as a kicker buyers will get 100,000 gold which costs nearly $40 or 4500 gems. That's essentially $70 worth of goods for only $9.99. If you buy all that on its own without the offer, it will be over $70 total. So yes, buy the offers if you can.
Or another way to look at it buyers get 100,000 gold and a Legendary card absolutely free. If it isn't an Arena 9 pack it could have a Super Magical Chest, Giant Chest or other chests which are typically expensive as well. So a bunch of cards for upgrades absolutely free.
All said and done, yes. Clash Royale special offers are extremely worth it and a great investment for players. If you can't afford them, download the app called Google Opinion Rewards. You earn real money for answering surveys every few days. I've earned over $115 using it in the past year. Every month or so I earn enough to buy some movies, apps, and purchase content in Clash Royale.
The next time a special offer is available spare $10 and enjoy all the gold, which will help with upgrades. Good luck, Clash on, and check out our 10 tips for beginners if you're new to the game.

As an Amazon Associate I earn from qualifying purchases.