7 Common Google Play Music Problems & Fixes
Google Play Music is a great service with plenty to offer, but it isn't perfect. Users stream millions of songs, upload their own collections and much more, but they do run into issues. Which is why in this post we'll go over some common Google Play Music problems and how to fix them. Including a recent problem where the app keeps crashing for tons of users.
When you find yourself asking, "why won't my music play?" or "why am I having these Google Play Music problems?" this guide will help you figure out what's wrong, and offer resources to fix it. With over 35 million songs, personal library's, and a streaming service, there's a lot that can go wrong.
Read: Play Music Family Plans: What to Know
We'll cover music that won't upload, songs that aren't playing, app crashes, duplicate tracks, error codes, buffering, and other odd problems.
Looking through Google's product help forums we see complaints about music not playing, or the Music Manager having problems of its own. A good place to start for any issue is Google's help forum, and here's a list of problem-solving tips for the Music Manager app itself.
To help you all out, we've rounded up some of the most common Google Music problems and any potential fixes, workarounds, or other ideas. Let's get started.
Common Google Play Music Problems
Google Music App Isn't Working/Playing Music
Duplicate Tracks
Missing Tracks
Songs Won't Upload
Censored Music
Too Many Devices
Payment Issues
Google Music Isn't Working (Won't Play Music)
The main problem we see or hear about the most is the app simply won't work. Which basically means music won't play. We've all been there, seeing nothing but a swirling circle trying to load a song forever but it never starting streaming. Or, you're able to select a song but you get an odd "Music playback error, couldn't play the track you requested".
The first thing that comes to mind is your data connection. Make sure you are properly signed in and have a solid connection like WiFi. This is either a bad connection, a setting problem, or you don't have a fast 4G LTE connection.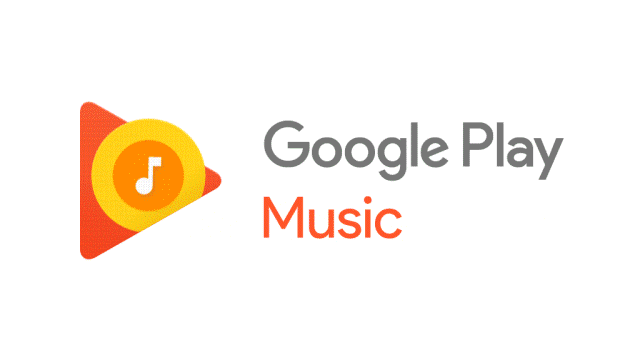 To fix this open Google Play Music and tap the 3-lines menu button at the top left. Select settings and scroll down to Playback. In here you'll see a few options. Choose a lower quality for your mobile network, or adjust the WiFi quality. Or, you could have it set to only stream over WiFi, and if you're not connected to WiFi you'll just get an odd error like what's shown below.
Occasionally you'll see full bars, but it still won't play. It's always a good idea to toggle on and off your internet or WiFi connection, or even restart your phone, tablet, or computer. Actually, a reboot fixes most small problems in general, so try that first.
Last summer a massive outage crashed Google Play Music for millions of users. The only fix was to update the app on the Google Play Store. So, if you're having some sort of odd problem with crashing or errors, make sure you have the latest version from the app store. Click here to download it today.
Other Reasons
Someone else is streaming music on your Google Account (only one stream at a time, per Google account)
Music is streaming but paused on your laptop or another device
Device limit reached (more on that below)
You went over your mobile data limit from your carrier
to name a few
Google allows you to connect 10 devices to your Google Play Music account at any given moment. So if you have two computers, a laptop, a phone, tablet, and maybe you've upgraded your phone a few times, you'll hit that 10 device limit. If you get this error you can de-authorize access to music. Follow that guide, or click here to get started. You can choose each device, see when it was last used, and remove old devices from gaining access to your music collection.
Another big problem is people trying to use it with more than one Google account, or Family sharing plans. If you have two Gmail accounts, hit the drop-down bar on the left side and choose which account you'd like to use.
Duplicate Tracks
A problem I'm all too familiar with is duplicate tracks. Between adding my collection from a MacBook, Windows PC, downloads and transferring iTunes, I had tons of duplicates. Back a few years ago I actually sorted songs by alphabetical order, and one by one deleted the doubles.
Sadly there is still no easy solution to this frustrating problem. It's not easy, but you can try this fix from Reddit. Or, delete your entire library and make sure when you re-upload it you don't have duplicates in iTunes or the source of your songs.
Missing Tracks
Are you missing tracks in Google Music? Some might be on your music player but missing on the phone. This usually is just a glitch with the sync service, and a refresh or "resync" can and will fix it.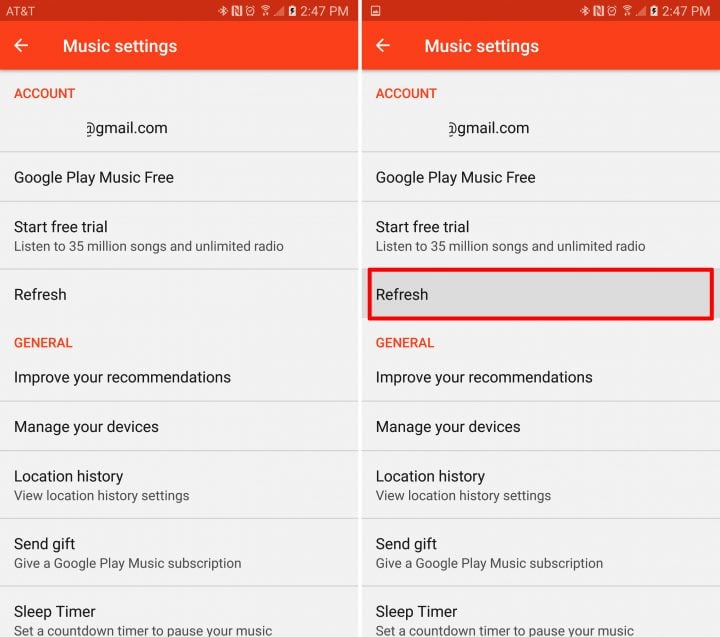 Here's how to refresh your entire Google Play Music account and library to fix sync problems, missing music, and other errors.
Tap the 3-lines menu button near the top left
Choose Settings
Tap on Refresh (4th line down)
This basically makes Google re-sync to the cloud and this typically fixes any other weird problems we see or hear about. If Music isn't showing your subscription or you're having payment issues, try a refresh too. It usually fixes most of those little hiccups.
Songs Won't Upload
Perhaps the most frustrating problem is when songs don't upload correctly. Google's Music Manager works good enough, but it's not the best. If songs won't upload it's likely one of three problems.
The library is Full (Google Music Supports up to 100,000 songs)
File Format Not Supported
Music Bought on Another Account
Google recently increased the music limit to 100,000 songs, so we're pretty sure you didn't upload too many. If so, you have a problem we can't fix.
So, that brings us to the biggest problem, format. Make sure your music is in a format like MP3, AAC, WMA, OGG, FLAC, and others. Google Music doesn't support Windows WAV files, AIFF or RI file types. They are rare, but it happens.
Last but not least make sure you're trying to upload music to the same account you used to buy the song. Those with family sharing or other accounts often accidentally run into this.
Censored Music
This isn't too big of a problem anymore, but we still see complaints about it enough to offer a tip. Say you uploaded 5,000 songs from your computer to Google Music Manager and a bunch end up censored. No one wants that, so here's how to fix it.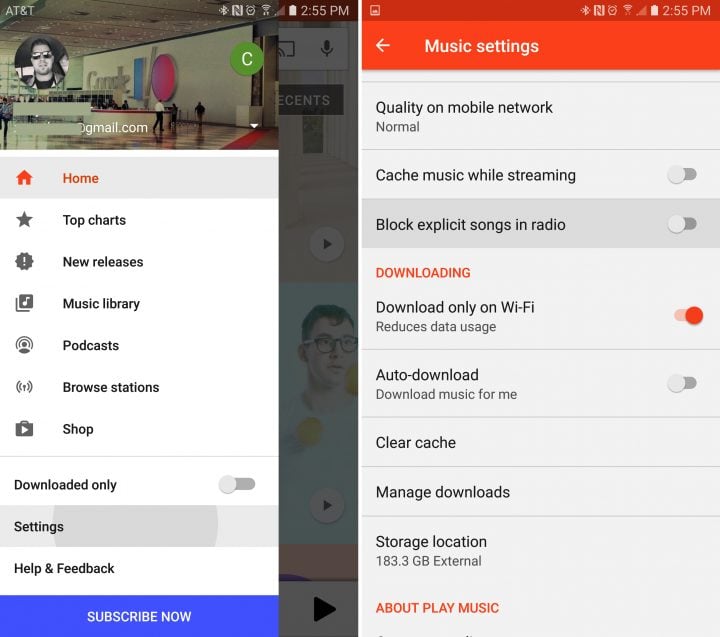 Inside Google Music go to Settings > Scroll down to Block Explicit songs in radio and make sure it's unchecked. Once you do this, follow our earlier steps and hit Refresh in settings. During the original upload process, Google matches many of your songs to the cloud and adds them to your account instantly, rather than copying the exact file. Sometimes you'll get censored versions. The refresh process could take a while, depending on how many censored songs are in your library. Uncheck the block explicit option before you upload music for the best results.
This will also prevent Google Music streams from blocking explicit songs, which is another issue from this option in settings.
Too Many Devices
We briefly mentioned this earlier, but it's something many run into. Having too many devices connected to Google Music, and it won't let you add more. Google reportedly did away with the "limit" a few years back, but I still have this problem every 5-6 months.
By default it allows five smartphones to have access to Google Play Music, and 10 devices overall. This is for security, and piracy, among other things. If you hit the limit, go into settings and find the option labeled "Manage your devices". This will show every device connected to Google Music. If there are old smartphones, tablets, or devices no longer being used simply hit the X and remove them. It's that easy and right inside settings on the app. Or, click here to get started.
It looks like Google removed this option on smartphones. If you can't manage devices, click the link above and do it inside a browser or from your computer.
Payment Issues
Last but not least are payment issues. Those who had a free trial or recently signed up for YouTube Red, and then got Google Music for free. Or, if you're on a Google Play Music Family plan, and it doesn't work, it all comes down to payment.
If your payment gets declined, cannot be processed, or a card is "not eligible" you may need to fix something. Most of the time it's just an outdated card on file for the Google account. Subscribing to Google Pay Music is $9.99 a month and everything goes through the Google Play Store. Meaning simply make sure the credit card or PayPal account on file is accurate, then retry in music. If you have multiple friends or family members interested, we recommend a Music Family plan for $14.99 per month.
Read: How To Add or Edit a Debit Card on the Google Play Store
Alternatively, sometimes a payment just doesn't go through. Try it again, or restart the application and hit subscribe once more. If all else fails you may need to reboot your device or contact your bank. Or, again, go to Settings > Refresh and give the app and system a fresh start.
Everything above aside, Google Play Music remains one of the best options in the mobile market. We have access to millions of songs, our own music, streaming, personalized radio stations and more. However, Google just released an all-new YouTube Music in May 2018, which will eventually replace Google Play Music. So enjoy it while it lasts. If you're experiencing problems try our tips, or head to the Google product forum for additional help. Otherwise, drop us a comment below and I'll do my best to help.