Common Google Pixel Android 9 Pie Problems & Fixes
The exciting Google Pixel Android 9 Pie update is finally here but it's causing problems for some users. And while we've already gone over many Android P beta problems, today we want to take you through what to know and how to fix them on your Pixel. Especially now that Android 9.0 is officially available.
Back in March, the first Android P Developer Preview arrived. Since then, we've seen five previews and four betas add new features and fix problems. However, Google didn't catch everything and we're seeing a lot of little complaints emerge.
Read: Android 9 Pie vs Android 8.0 Oreo Walkthrough: What's New
And while we wait for Google to squash these bugs, a lot of people that just installed Android 9 are experiencing frustrating problems. We're here to help, so read on for some of the most common Pixel Android 9 problems and how to fix them.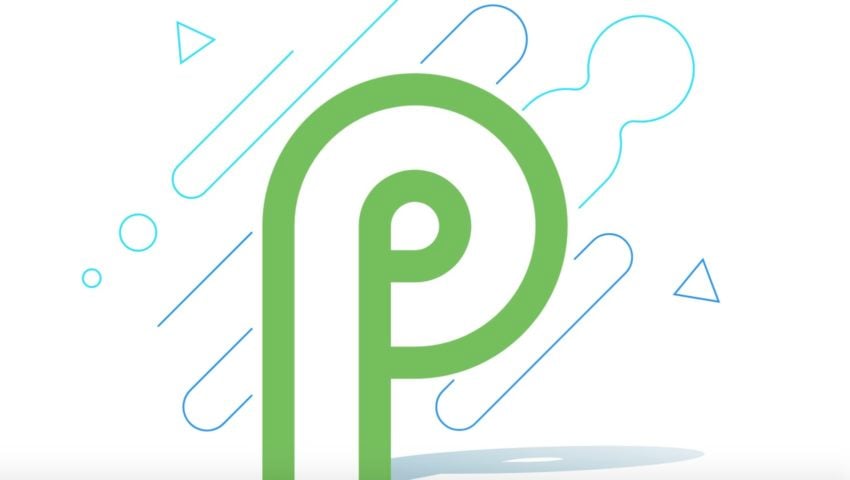 We're seeing complaints about random reboots, freezing, Bluetooth issues, settings menu crashes, gesture control problems, missing texts, fingerprint problems in Android 9 and more.
With any big software update like going from Android 8.0 to Android 9 you have the potential to run into problems. Big and small. And while we'll try to resolve some of them here today, you might just want to do a factory data reset and give your phone a fresh start. Before that though, try these tips.
Google Pixel Android 9 WiFi Problems
Even on Android 8.0 Oreo, we're seeing complaints about WiFi. This is something that happens with every phone, no matter the software. Whether that be WiFi speeds, drops or connectivity. Typically this is something we can easily fix.
If you're having issues with WiFi our first suggestion would be to turn WiFi off, then back on. Slide down the notification bar and tap the WiFi quick-setting tile at the top. Then turn it back on and try to connect. If this still doesn't help a quick reboot usually solves the problem.
However, if you're still experiencing Pixel WiFi problems try this. Go to Settings > WiFi and forget your wireless network. Unplug your home router or modem and wait at least 10-15 seconds before you plug it back in. Once it reboots search for it, reconnect, put in your password, and see how it goes. Google made a lot of changes to WiFi in Android 8.1 and some in the Android P beta. So, things might be messed up. Giving it a fresh start re-pairs the connection after this big software upgrade.
Pixel Bluetooth Problems
We're seeing similar complaints about Android P Bluetooth and NFC problems. With so many different devices, brands, accessories and car makers this is bound to happen. Personally, my Pixel never had a single issue until I updated to Android 8.0 Oreo. They went away with the Android P beta, and so far it seems fine on Android 9.
That said, the biggest complaint is connectivity in cars, or that the connection drops for no reason. Try deleting all Bluetooth pairings in settings and starting over. Even delete your phone from the car stereo, if that's an option.
Some of the March, June, and July Android 8.1 Oreo Pixel updates had fixes for Bluetooth. If you ran some of the Pixel Android P betas you missed out on those updates. Now that you're on Android 9, restart all of your Bluetooth pairings and the experience should vastly improve.
Bad Pixel Android 9 Pie Battery Life Problems
This is brand new software with tons of AI smarts. One of those "AI smarts" is adaptive battery controls that use artificial intelligence in the operating system to deliver the best battery life possible. Your phone knows when to sleep apps and such. However, we are seeing some early complaints about battery life. This is expected, and don't worry.
Poor battery life could be due to a lot of things but is likely an app that isn't working right with Android 9. We recommend customizing location settings, turning the screen brightness down to around 40% or automatic, and closing big apps you no longer need. If battery life was bad right after the update it's because everything had to adjust, and you used your phone a lot. Give it a day or two to "settle in".
However, the best route is to head into settings and make sure an app isn't draining your juice. Head to Settings > Battery and see what's in your top 5 or so. Typically Android system, Android OS, or the screen is at the top. If there's an app near the top, something isn't right. Uninstall it, disable the app, or tap on it and hit "Force Close" to kill an app that's draining the battery.
We also recommend setting up Battery Saver modes when you're in a pinch and need extra juice.
Android 9 Gesture Control Problems
We're hearing a lot of people complain about the new gesture controls in Android 9. That's why Google disabled them out of the box and made it an optional mode you had to enable. Here's how to enable gesture controls in Android P.
If the gesture home "pill" keeps getting stuck or frozen, sticks on the screen while it's off and charging, or you're dealing with other gesture navigation problems try disabling it completely. Basically, we're going to turn gesture controls off, then back on, which should fix your problems.
Head to Settings in the app tray or tap the gear-shaped settings button in the notification bar
Scroll down and tap on System
Now select Gestures
Tap on the 4th row labeled Swipe up on Home button 
Flip the switch to OFF, then wait a minute and turn it back to ON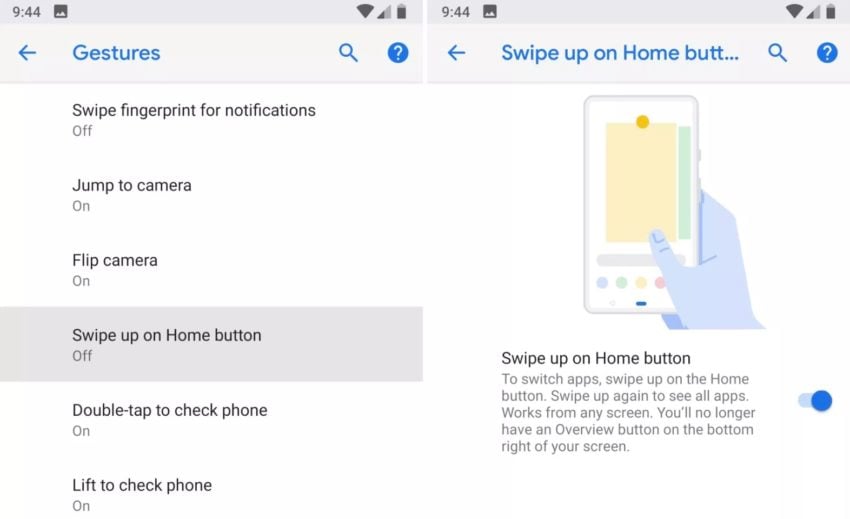 All this does is remove the gesture control navigation for a moment and puts it back. So whether you had a big problem, or just a stuck button or window, see if it went away. I gave up on gesture controls for now and hope Google slightly refines the experience before making it the only way to use our phones.
Google Pay on Android 9
Finally, Google Pay works with Android 9 Pie. Almost everyone on the beta had problems with Google Pay or NFC. If you couldn't make payments on the beta, download the official update and retry Google Pay.
We even recommend signing out of Google Pay, sign in, and make sure your phone has NFC enabled. The small bugs in the beta are gone, and it should work without a hitch. If you're still facing problems we've reached out to Google and report back if we learn more.
Animation Zoom Bug
Does the "incoming call" animation freeze on your Pixel 2 or 2 XL, making it impossible to answer a phone call? You're not alone. This is the animation zoom bug, and Google reportedly fixed this in the Developer Preview 5 from late July. However, we saw at least two reports about it on Reddit after Android 9 arrived.
Right now we're unaware of any potential fixes for this. You just have to call people back or do other things to prevent the animation freeze. If you updated to Android 9 Pie and still have it try clearing the cache in your phone app, or doing a factory data reset.
Camera Blank Problems on Pie
We're seeing several reports that after the update to Android 9 Pie the Pixel XL camera doesn't work. When you launch the camera app it's completely blank or black. Google made some minor adjustments and improvements to the camera, so you're experiencing issues as a result. We have a fix though.
Go to Settings > Apps > and find the Camera app from the list. Click on camera and select "clear cache" and try again. This wipes out some residual files in the camera app system and will fix any issues. If they persist, try clearing the camera app data too, reboot your phone, and launch the camera. Those are the two fixes we're hearing worked so far. Let us know if you're dealing with a bad camera after Android 9.
Misbehaving Apps on Android 9
Another common complaint from Android P beta and now official Android 9 users is that apps aren't working right. Whether that's Snapchat crashing or your favorite video player messing up. The entire point of the Android P beta and developer preview is so developers can test and improve their apps and services with Google's new software. However, some didn't get the message.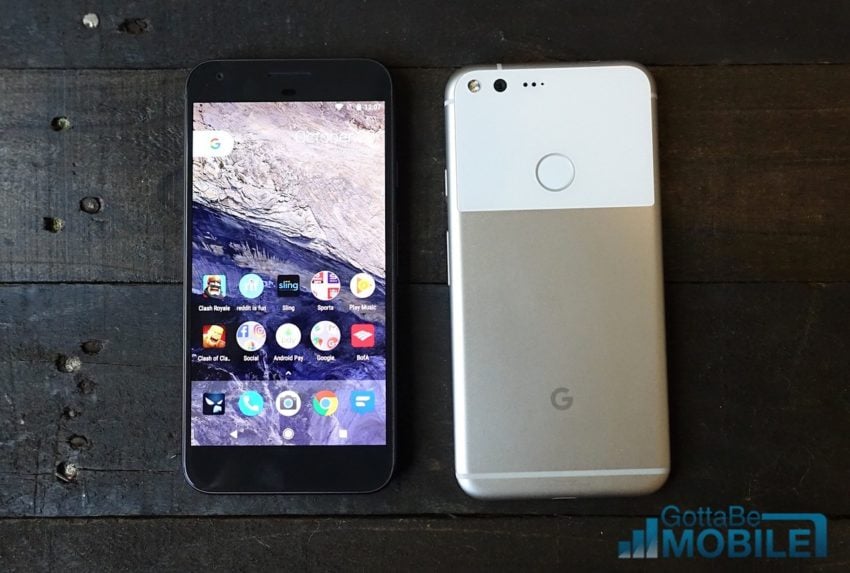 Some apps just aren't compatible or will be unstable. That's how it goes during the early days of an update. If you have an app that doesn't work right on Android 9 be patient. Most likely everything works just fine, but we could see a few problems. If so, the developers are probably hard at work fixing it. Wait a few days and try it again. Remember, Android 9 just came out and some developer teams will need a few days to sort everything out.
You can reach out to developers on the Google Play Store, or find them on Twitter, and let them know if things don't work right.
General Pixel Android P Beta Problems List
Now, we wanted to share a long list of potential Android 9 problems that Google has actively worked on since releasing the first beta. We no longer have a list of "known problems" from Google, but we doubt they fixed everything. So, here are a few they're still working on or patched with the August 6th release.
Accessibility
Users who depend on Accessibility Services—such as Talkback and Switch Access— may have challenges using this Android beta build, particularly the new system navigation, Overview, and the Launcher.
Performance and battery
Battery life may be regressed in certain situations.
Framework
Window manager: system_server crash after tapping on lockscreen notification.
System UI
System navigation still experiences some jank and frozen states on Pixel devices. (Fixed in July)
Secondary user's lock screen displays blank space between status bar icons when enabled battery percentage in owner. (Working on it)
Setup wizard
Device setup may be delayed in some cases and display the "Just a sec…" screen for several minutes.
Setup Wizard may show black screen momentarily after adding finishing touches.
Connectivity
Playback over Bluetooth unstable in some cases. (Ongoing improvements to BT)
Android Enterprise
A device user is incorrectly prompted to add an account when enrolling (using QR code and zero-touch) factory reset protected devices. As a workaround, use the Back button to return to the welcome screen and repeat the process.
Setting and getting proxy hostnames in an ApnSetting instance typically requires a network connection to a DNS server. As a workaround when setting a hostname, provide a hostname and dummy IP address (such as 0.0.0.0) to InetAddress.getByAddress(). Note that getting a hostname value also requires a network connection.
Possible looping setup for work profile.
Other
Now Playing feature unavailable for secondary user.
Do-Not-Disturb Driving automatic rules option not available for the secondary user.
Again, this is just a list of potential issues from the beta that probably all got fixed this summer. That said, we wanted to list them in case someone is experiencing something similar. That way they know that Google is aware of the problem and already working on a solution.
That's about it so far. You can follow along at the Android issue tracker by Google. In closing, remember that Google still releases monthly security updates for the Pixel and Pixel 2. And in previous months, they've added meaningful patches and bug fixes inside those "security maintenance releases". Basically, if you're running into problems you can expect a few small bug fixes from the early September release. Or, if necessary Google could drop Android 9.0.1 before the end of the year.
Are you dealing with problems on Android 9 Pie? Let us know in the comment section below.