Android 9: What to Know About Android Pie
Now that more phones are getting Google's latest software update this guide will go over everything you need to know about Android 9 Pie. From what devices will get the update and when, beta programs, and what's new in Android 9. Google's Pie is filled with new features, AI, gesture controls and tons of behind-the-scenes changes making it the best version of Android yet.
Google officially released Android 9 Pie on August 6th, 2018. It's available now for all Pixel devices, phones from OnePlus, and several others, along with beta programs. Most phones will get it in 2019.
There's plenty to get excited about in the next version of Android for your phone or tablet. The slideshow below compares the last two releases. Then, we detail everything that's new below for those waiting for the Android Pie update.
Android 9 Pie Release Date
Google surprised everyone and debuted Android P on March 7th. Albeit in a very early "alpha" preview form, only for developers. After four more Developer Preview betas over the summer, it officially arrived on August 6th, 2018. This is one of the earliest releases in history for Android, but it isn't helping other phones get it any faster.
Important Android P Links
If you're a developer you'll want to go to the Android 9 Developer page. Google also released an overview page showing all the nitty-gritty details. Then, don't forget to submit feedback to help improve the software moving forward.
What's New in Android 9 Pie
Android P is officially Android 9 Pie. Instead of Android 7.0 or 8.0 like previous years, Google is simply calling it Android 9. That's just an FYI, for those interested.
If you're excited about Pie you'll want to know all about every sweet new feature, change, or improvement. And there are plenty of them. Here's everything that's new, everything that changed, what to expect and what you need to know.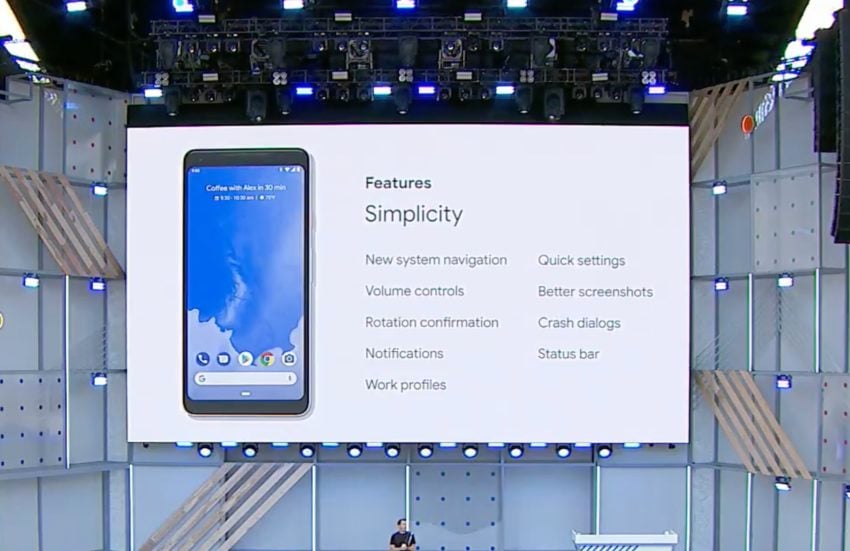 We'll start with new Android P features announced at Google I/O, the highlights, new features from the betas, and end with changes from the official release. For a huge list of what's new, check out Google's list.
Gesture Navigation Controls: A single home button that allows you to swipe up and down to get into app switching, swipe to scroll, and more. Similar to gesture controls from OnePlus or Apple. Check out these new controls in our video below.
Adaptive Battery: To extend battery life, Adaptive Battery limits battery for infrequently used apps. Your phone will learn how you use apps over time, and adapt accordingly. (Limit battery for apps you don't use often)
Android 9 Dashboard: This feature gives you a detailed overview of the amount of time you've spent on your phone. Everything from apps, unlocks, video watching timers and more. Also known as "Digital Wellbeing".
App Usage Timers & Limits: Google added new app usage timers and limits you can set. That way your phone reminds you if you've watched too much Netflix. You can even use a new "Wind-down" mode at night that will turn everything black and white, helping you get off your phone and go to sleep. This way we use our phones less during the day, understand our usage, and put phones down at night.
The idea here is the Dashboard in Android 9 will show us just how obsessed we are with our smartphones, or what we do the most and for how long. Then, you can set usage timers and limits for the apps you overuse, that waste too much of your valuable day. Google wants us to look up at the world, or our spouse, not looking at our phones 24/7. This includes at night.
App Actions: In the app tray you'll see smart and helpful "App Actions" on top of your most-used apps. Like a button to call a friend or start a workout playlist. Instead of just the Phone app or the Spotify app icons. You'll even see "Slices" of an app while you try to perform certain tasks.
Family Link & Kid's Time: Similar to the Dashboard and app limits for adults, Google is adding more controls to limit children in a smart and helpful way.
That's only the beginning. Those are a few of the biggest announcements from Google IO regarding Android Pie. Here are some other exciting changes.
Display cutout support (The "notch"): Whether we like it or not, Android manufacturers are copying Apple's iPhone X and the notch. The cutout on the screen is an eye-sore, but Google is making Android prepared for it. Android 9 makes it easier for developers to optimize apps and services to embrace the notch.
New Display Color Profile Previews: When you're changing display color profiles, you see the changes in real-time thanks to a preview and image sample. Similar to Samsung and other devices.
Dark Theme: Android 9 lets you choose between a light theme, dark theme, or automatically based on your wallpaper.
Multi-camera API:  Devices with two or more cameras will have more features on Android 9. Developers can access both cameras simultaneously, and pull video or streams at the same time and blend it together. A lot of phones will have dual rear cameras moving forward, and this API will allow developers to do more with them. Expect this to change drastically throughout the beta period.
Improved notifications & Messages: Notifications are once again getting a small overhaul, especially for text message or message notifications. App developers can now properly show media like images, GIF, stickers, contact information, conversations, smart replies and more all in the notification bar. Basically, making message notifications smart and better.
Indoor positioning: With Android 9 Pie Google added support for indoor positioning. Supporting the IEEE 802.11mc WiFi protocol (WiFi RTT). This improves indoor GPS, positioning, distance to an access point, and other things.
Open Mobile API for NFC payments: Apps now have access to secure elements in devices, which will enable smart cart payments and improved mobile payment solutions.
Data Cost and JobScheduler: A new platform to improve data usage by requesting large amounts of things to a carrier when the network isn't congested, and other smart controls. Basically, a data scheduler to lower data usage.
ImageDecoder: Better decoding, scaling, post-processing, and support for animated images and more
Idle Apps Control: Google's new system in Android P prevents idle apps from accessing the camera, microphone, and other sensitive aspects of a phone. Basically, for improved security apps in the background can't access your microphone.
Google Assistant Integration: We're expecting tons of improvements to the Google Assistant and expect further integration into multiple aspects of our devices.
Much More Coming Soon
This is just a small list of some of the highlight changes you can expect when you get Android 9 today, or in the near future. Or, check out our detailed Android 9 vs Oreo comparison.
Android 9 Updates (For everyone else)
So when will Android Pie actually get released for other devices? Well, that's anyone's guess at this point. As you can see in the timeline below Google released it in August. The problem, though, is when will OTHER manufacturers do the same.
The official Android 9.0 Pie update arrived on August 6th for Google's Pixel. On the same day, the Essential phone got it too. Some bigger companies from the beta program already released it too. Like OnePlus, Nokia (for select devices), and some HTC and Huawei phones.
However, the most important one is the Samsung Galaxy Android 9 update. Samsung's Android Pie beta kicked off on November 15th, and the official update will arrive sometime in mid-January, 2019. Currently, only the Galaxy S9, S9+ and Note 9 can join the beta. And only unlocked phones or devices from specific carriers. My AT&T Galaxy S9+ can't try it.
Google mentioned during the release that updates should arrive faster than usual this year, but so far we're not seeing any major speed improvements.
Will My Device Get Android 9?
Any device released within the past two years or so should technically be capable of getting the update to Android 9. Manufacturers must support a device for at least 18-months from the day it's released to the public. So a device like the Galaxy S7 may or may not get it, and any device released in early 2016.
You will get Android Pie on your device eventually, as long as it's a somewhat new phone or tablet. So far, we've seen updates for Google devices, and some phones from OnePlus, Sony, Essential, Nokia, Huawei, Honor, and the OnePlus 6T came with Android Pie out of the box. Expect devices from LG, HTC, Motorola and Samsung to get it in 2019.
Other Details
In closing, this is everything you need to know right now. We went over some important details, shared helpful links for those interested, and broke down a list of new features. Now, we'll have to wait for manufacturers to finish developing this software for their devices. As things change and companies start releasing information or release details, we'll update this post to keep you informed.
Get Android 9 right now if you can, join any available beta programs, or, stay tuned for more details.