Common LG V20 Problems and How to Fix Them
The LG V20 is a unique and powerful smartphone with a lot to offer. Like all phones though, users are having their share of LG V20 problems. With that in mind, here we'll be going over some common issues with the LG V20 and some tips to fix them.
Now that it has been available for a while we're starting to have a better idea of what to expect. In terms of what's working right, and what could be improved by software updates. It has a big beautiful screen, three cameras, excellent sound and more.
Read: 15 Best LG V20 Cases to Keep Your Phone Safe
However, things don't always work right. Running on Android 7.0 Nougat already means it's one of the better LG phones available. But if you're facing issues with Bluetooth, battery life, the camera or other things, we have some potential fixes.
Most who have the LG V20 love it. The screen is massive, the second screen is helpful, and the cameras offer neat features many other phones don't. That doesn't mean we aren't seeing complaints though. They range from little individual things, to major potential threats like the camera lens breaking or getting shattered.
Looking around the web it's easy to see a lot of owners are frustrated. Most love it, but not all. From the usual complaints about freezing and reboots, bluetooth and wifi problems, charging issues and more. Again, most don't have these issues, but if you do you'll want to read on for some advice.
Battery Life & Charging
The biggest issue appears to be battery life, or the LG V20 not charging to 100% complete. Every phone that gets released we see battery life complaints, but it should charge to full. Many users claim it stops around 94% or even 90% for some. This isn't a big deal, but still an issue that shouldn't be happening.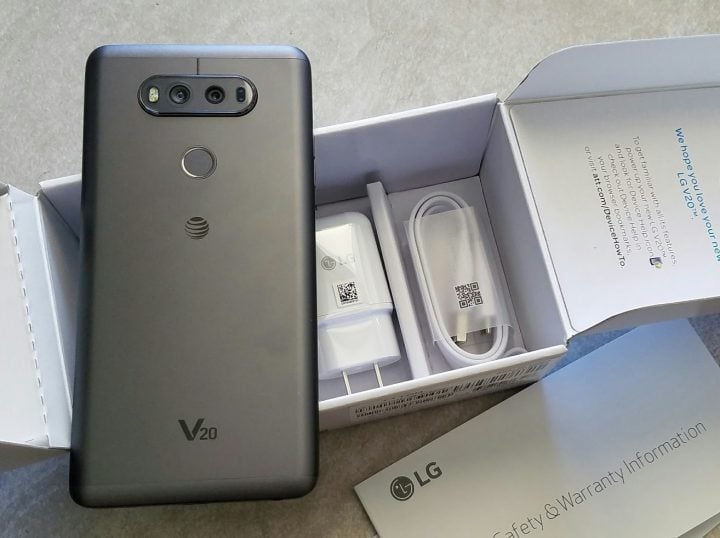 First off we'd recommend turning off any features you don't need. Bluetooth, WiFi, NFC, location services for GPS and Google Maps, or even push notifications from Facebook. However, those only add a small bit of extra battery.
Go to Settings > Display and turn off the Always On display feature. Not to mention turning down screen brightness, or check for rogue apps draining the battery faster than they should. This happens on occasion. Head to settings > battery > and check to see what's using the most battery life. Typically it's the display, or the Android OS (Google Services). If there's an app at the top of the list, delete and uninstall it. Often times reinstalling the app will fix this, or keep it uninstalled if the problems persists.
Another option is to use the battery saver mode in battery settings, or Smart Settings has an option to automatic all the settings and options for optimal battery life throughout the day.
Users also suggest a battery calibration. Use it until the battery dies. Once dead charge it until the LED turns green and suggests its full, while the phone is off. Unplug the device and turn it on. If it's not at 100% plug it back in and continue charging. Users can try turning it back on and off and unplugging it between reboots until its full. This should recalibrate it to full levels.
Not Charging Fast Enough
A big selling point on this phone is Quick Charge 3.0 technology. It should recharge from 0-80% in about 35 minutes. However, there is some confusion in this regard.
First, the included wall charger is only Quick Charge 2.0 certified, so it charges from 0-50% in about 25-30 minutes, then trickle charges the rest of the way. For some, it isn't using fast charge at all and taking 4+ hours to charge. That's a problem.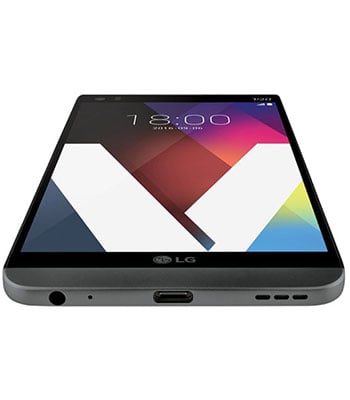 Our suggestion would to buy one of our recommended Quick Charge 3.0 chargers for the LG G5, which will all be fine on the V20. Use the dedicated cable that came in the box, or the wall plug, and not a 3rd party option. There could be a bigger problem, where a factory data reset or a new device is needed.
We've also seen a lot of recommendations to download the Greenify app, to see what's waking the phone. Typically things like Facebook can cause problems and kill battery life or prevent fast charging speeds.
LG V20 Bluetooth & WiFi Issues
Like we linked to above, Bluetooth and Wifi is another issue we're seeing for the V20. Connection problems with car audio or stereo systems, Android Auto not connecting right, and even some 3rd party accessories are all things we've heard regarding Bluetooth. And again this has to do with certain cars or devices trying to pair up.
This happens on occasion with most devices, and is quickly fixed by software updates or repairing the two device. Un-pair and repair any device trying to use Bluetooth, for the best results. If any "permissions" appear during this process make sure its set to allow. Users can head into permission controls in settings and make sure no permissions have been denied to select accessories.
Another route is to head into settings> general > smart settings and make sure an app or profile isn't turning off or messing with Bluetooth. This happens often. Custom profiles are great from LG, but can cause problems. Some turn things like WiFi or BT off for better battery life. So disable those. Furthermore, almost every WiFi or Bluetooth complaint typically gets fixed by a simple reboot. Hold power button down, hit reboot, and let the phone restart fresh. This fixes most problems.
LG V20 Fingerprint Scanner Issues
LG has some fast and easy to use fingerprint scanners. They're one of the easiest to setup on the market. However cases can get in the way or change the angle for readings, causing some errors. And some are just reporting overall issues.
If you're experiencing V20 fingerprint scanner issues the first move is to delete all saved prints and redo them.
Head into Settings > General Column > Fingerprints & security > Fingerprints > Enter Pin > and select "Add Fingerprint". We'd recommend users add both index fingers, for easy unlocking in either hand. As well as maybe a third finger. If you have a case make sure to redo fingerprints with the case installed, so it saves and learns the fingertips at the angle you'll be using it, with a case installed. This should be found in a location similar to our screenshots below.
Another thing is to make sure the scanner and fingers are clean, and again always redo prints if you use a case. Overall, we don't have any other suggestions here. If major problems persist a factory reset may be in order.
Broken Camera Lens
Perhaps the biggest LG V20 problem we've seen and heard is regarding the camera. Apparently the glass on back that covers and protects those dual cameras, isn't very strong. In fact, multiple reports suggest it breaks extremely easy. One user at AndroidCentral dropped the V20 on carpet, and the back camera glass broke.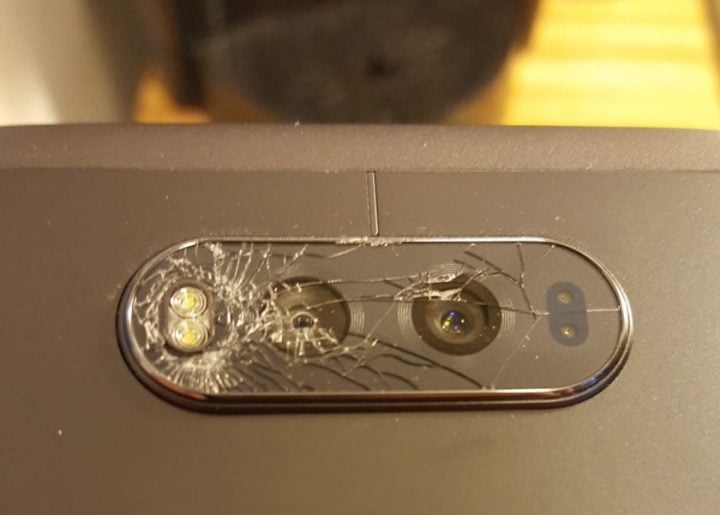 Sadly, there's not really a fix for this. Users will need to get a replacement glass and try to fix it themselves, or use insurance to get it repaired. Carriers offer it, and LG may have a warranty you can use also. Even if it was dropped, it's worth checking to see if LG Mobile will cover it given all the reports we've seen surrounding this issue.
Other LG V20 Problems
Similar to the broken camera glass information above, there are a few other problems we've heard about where there is no viable solution. We're talking about charging problems, the 3.5mm headphone jack, and the speakers.
All three of those have been mentioned more than most phones. Where some users simply had to get a replacement from LG or a carrier. Speakers don't get loud or crack and hiss at loud volumes, where there is some sort of hardware defect. The headphone jack is loose for some owners, and recharging problems that won't go away.
If you're experiencing any of these and can't find a solution, get a replacement device.
LG V20 Reset & Other Tips
Now we'll run through a few other small tips that can help owners out. From fixing little problems, doing a full factory data reset, to wiping the cache after software updates if things don't seem right.
If the LG V20 is frozen or unresponsive, press and hold the power button for 10+ seconds until it reboots. This will fix a completely frozen device. Or, just pull out the battery in the back.
Those experiencing big problems they can't seem to fix, a factory data reset is often a good route. Head into Settings > Backup & reset > Factory Data Reset > Erase. This will delete and erase everything on the phone, but typically fixes almost every problem. Now, just set it up as it was before. Make sure you backup the device before doing a reset.
What's Next
The LG V20 was one of the first phones released with Android 7.0 Nougat. That is a good thing, but it hasn't seen many updates since. Google released Android 7.1 and is now on Android 7.1.2 Nougat with lots of improvements.
Sometime in the next few months we're expecting LG to send out updates for the LG V20 with bug fixes. Whether that's the latest security tweaks, overall improvements, or Android 7.1 Nougat. That's the next step for most owners. It's still a great phone with a lot to like, and these problems are limited to select few. Still, it's something you may have to deal with at some point. If so, try our tips, get a replacement device or wait for a software update in the near future.