Common NFL Sunday Ticket Problems & Fixes
One of the best ways to watch football is with the NFL Sunday Ticket from DirecTV, even here in 2019-20. And there's nothing worse than having the ticket, only to deal with problems and miss the game. With that in mind, these are some common NFL Sunday Ticket problems and how to fix them.
Problems come in multiple forms. Whether that's the Sunday Ticket stream failing as it did in October, app crashes, or you can't watch more than one game at a time. And don't get me started on the CBS mess. If you're facing these Sunday ticket issues this is what you need to know.
Read: Get the NFL Sunday Ticket Without DirecTV
Most of the time you can fix Sunday Ticket streaming problems on your own, even if that's just the internet or your account login. However, other issues require customer support or a little troubleshooting. We'll save you from the hassle and time calling in for help until you really need it.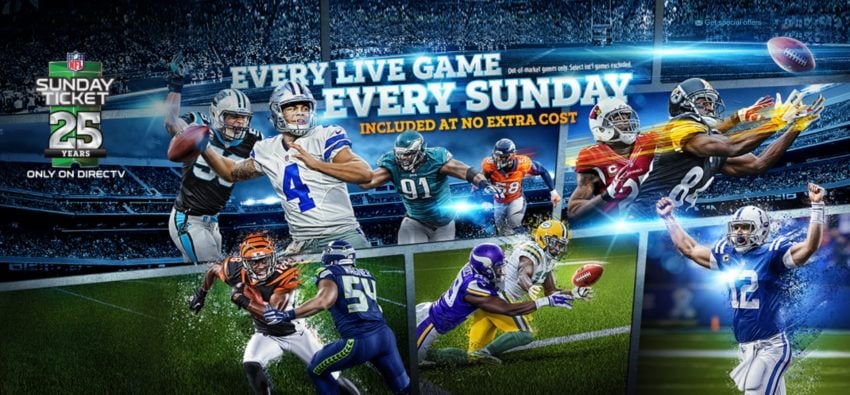 DirecTV NFL Sunday Ticket Problems & Fixes
There are a lot of small things that can go wrong. Whether that's your student Sunday Ticket U login, a message about your receivers not being setup, or something else like DirecTV being completely down. We'll start with some common streaming, DirecTV box or WiFi problems, then move on to a few others from our list below.
Sunday Ticket App Problems
How to Install NFL Sunday Ticket App
DirecTV Sunday Ticket Login Problems
Sunday Ticket Streaming Problems
Is DirecTV or the Sunday Ticket Down?
Sunday Ticket Max Problems
Can't Watch Multiple Games
and more
Sunday Ticket App Problems (Not Working, Missing Features, etc)
First things first, we want to address some common NFL Sunday Ticket app problems. These days millions of people watch the NFL on phones or tablets, and that means you use the app all the time. By the way, you can watch the ticket on Amazon, and we'll get to that in a moment.
For starters, the NFL Sunday Ticket does not offer pre-season games, which is why the service wasn't working earlier this year. The app opened for live-streaming on Thursday, September 5th, 2019, and will continue throughout the regular season.
The app will fully function as expected until the end of the regular season — and that's important. The NFL Sunday Ticket app doesn't cover playoffs, so you'll have to watch those games on regular channels or DirecTV. That's not a problem though, as the playoffs are always nationally televised.
Read: How to Watch NFL Games Without Cable or Satellite 
If you're dealing with the app crashing, login issues, or stutters and bad performance, we can help you with that too. First, make sure you have the latest version by checking for updates on the App Store or Google Play. In fact, we recommend all returning customers uninstall the app and reinstall DirecTV's Sunday Ticket each year. Just to clear things out and get the latest version. You can also manually force close the app and relaunch it, to fix any small problems.
Additionally, if the app misbehaves or freezes try rebooting your phone, tablet, iPad, Xbox, Apple TV, Roku or other devices and login again. And finally, if you have the Sunday Ticket and the app is struggling, you can watch it through Amazon Prime just by downloading the app. That way if you're already someone that uses Amazon, you don't have to flip back to the glitchy app from AT&T. Amazon streams all the Thursday night games, too.
How to Install the NFL Sunday Ticket App
Keep in mind that you need a different app for phones, tablets, or other media devices. It's also available for Roku and more.  Make sure you download the version for your iPhone AND your iPad, or you'll experience Sunday Ticket app problems.
Note: If you experience trouble with video playback repeatedly, try uninstalling the app and reinstalling it.
DirecTV Sunday Ticket Login Problems
Another issue we see all over Twitter and the AT&T support forums is regarding login problems. Whether you can't log into the app, dealing with problems online, or are trying to upgrade or renew your Ticket plan at the website. It's frustrating, especially when all you want is to watch the game.
The biggest login problem we usually see is those with an NFL Sunday Ticket TV U student pass. Students get the ticket for only $99 a month.
A lot of students signed up for the ticket but faced problems at the beginning of the year. Students are reporting that after logging in, the system is saying the Sunday Ticket isn't part of their programming, or that their receivers aren't set up. Two odd errors for a student plan.
So far the only fix we've found is to cancel your Sunday Ticket U student discount and resubscribe. Those that ordered it earlier this year or over the summer are somehow excluded from the service. Next year for the 2020-21 season subscribe to the student plan a day or two before the season starts, not months in advance. That apparently caused most of the problems.
If you're having other issues click here to reset your username or password. Then, you'll be able to choose a new one and log in. We'll continuously monitor for login problems and update this post as we find more fixes. You can always try the Troubleshoot & Resolve Tool if it's urgent. If you try the wrong password too many times and get locked out, call DirecTV at 800.288.2020. 
Sunday Ticket Streaming Problems
If you're having NFL Sunday Ticket audio, video, or streaming problems try these three quick fixes.
Try a lower bandwidth setting using the Video Quality (VQ) indicator
Close out all other applications or streams on the computer, phone, or tablet
Ensure you have a strong WiFi Signal, or move closer to your wireless router
Or, try rebooting your wireless router for a fresh start and faster internet
Use a WiFi Analyzer app to choose the strongest WiFi channel for your house
If your stream isn't working right it's likely because your internet is too slow, or you have too much going on. If kids are downloading music and movies, streaming YouTube in another room, and doing other things while you're trying to stream the Sunday Ticket at the same time, it might struggle.
Depending on your internet speed things will run great, or get choppy. Try the tips above, lower the quality setting, or buy faster internet from your service provider. Again, try restarting the app, restarting your device, or unplugging and restarting your WiFi router for a better experience.
I found that my neighborhood all used the same Wifi channels for both 2.4 and 5 Ghz, and they were clogged up. I then used WiFi Analyzer to find a clean channel without a lot of traffic, signed into my router and switched to a fresh channel. Now I get faster more stable internet and my NFL streams are buttery smooth.
Is DirecTV or the Sunday Ticket Down?
Sometimes a major problem emerges that you can't fix, and we can't fix. Occasionally the NFL Sunday Ticket will go down completely, DirecTV will have an outage, or worse. This season everyone experienced an outage on October 13th, killing the Sunday ticket stream for almost everyone, and they weren't too happy about it on Twitter.
Ridiculous! You never have an technical difficulties taking my money!

— Louie De La Rosa (@LouLouart007) October 13, 2019
Some people missed almost the entire game, which is frustrating. Especially for a service that's only running a day or so a week. We saw something similar back in 2017 and everyone lost the NFL RedZone channel temporarily. These usually fix themselves after a short period so just sit tight.
If you have purchased NFL Sunday Ticket Max and are having issues viewing Red Zone, please call 1-800-GET-SPORTS.

— Red Zone Channel (@RedZoneChannel) September 17, 2017
Before you start troubleshooting like crazy and getting on the phone only to sit on hold for an hour, make sure it's worth trying. Popular sites like DownDetector will let you know of a service outage. Check if DirecTV is having an issue, or check the #SundayTicket hashtag on Twitter to see if others are experiencing it too. If so, you're out of luck. Otherwise, proceed with our other tips or call in for help.
Sunday Ticket Max Problems
Do you have the Sunday Ticket MAX? If not, here's how it's different so you know what you're missing. If you do, and you're dealing with problems, you're out of luck. Typically MAX problems are the same as any other situation, so follow our steps above, call for help, reboot the app, etc. However, Max does offer multiple streams, and we do see the occasional complaint about that.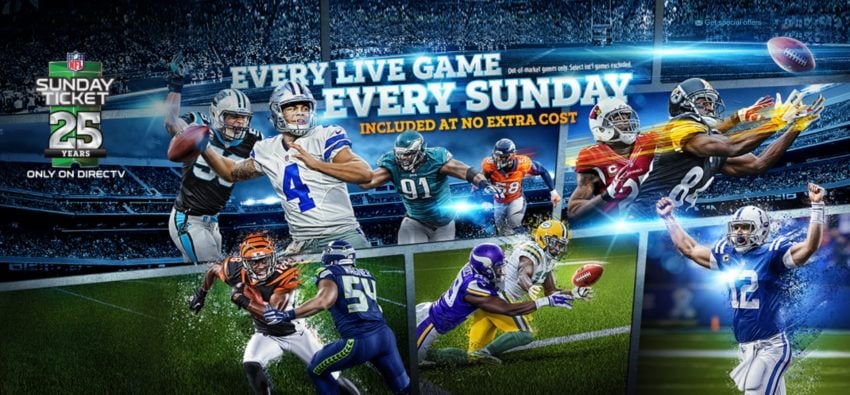 MAX gives you more channels, more streaming options, Shortcuts, replays and a bunch of other content. Additionally, it lets you watch the Sunday Ticket on more devices than you can imagine. It's basically the highest tier they offer, giving you all-out access anywhere, anytime, from almost any device. It's the best option for die-hard NFL fans. For any and all problems, call 1-877-399-8542 for help.
Can't Watch Multiple Games with Sunday Ticket (or Multi-Device)
Last but not least, a question we see all the time is about watching more than one game at a time. Yes, you can absolutely watch more than one game at a time using the Game Mix mode. This actually lets you stream four games at once.
This works on any and all platforms. It's one of the best parts of the Ticket. However, you CANNOT watch the NFL Sunday Ticket on more than one device at a time. There's a big difference between multiple games at once, and multiple devices at once. Furthermore, we see a lot of complaints that people trying to use the app get an error that they're signed in somewhere else. You can actually go into your account and clear sign-ins, which is a good idea at the beginning of each season or if you're switching devices.

Unfortunately, they don't have a friendly policy like Netflix or HBO with account sharing, and they lock this down tight. This means only one device can access your NFL Sunday Ticket subscription and account at any given time. Your kids can't watch a game on their phone while you enjoy a different game in the living room.
Other DirecTV Sunday Ticket Problems
Millions of people enjoy the Ticket, and we probably didn't catch every problem or frustrating bug fans will experience this season. Don't worry though, as we'll continuously update this post with new details as they're available throughout the year.
For now, here's a big list of NFL Sunday Ticket Troubleshooting Tips and FAQ for those still experiencing problems. This is a great place to start if you're still stuck. You can see questions, answers, chat with a support rep, or call customer service for help.
And finally, we recommend you reach out to @DirecTVSERVICE on Twitter or @AT&THelp for quick and timely support. They're fast to respond and will get someone on your case right away.