7 Ways to Watch NFL Games Without Cable
Just because you cut the cord and canceled cable doesn't mean you have to miss out on sports. This guide will show you how to watch NFL Football games without cable. In fact, we'll teach you a few different ways to enjoy the 2019-20 NFL season whether you're streaming, using apps, or something else.
One of the biggest problems when it comes to watching NFL games is something called a paywall. Popular apps like Fox Sports Go, NBC Sports or WatchESPN require a cable subscription login. So if you're using a cable TV alternative like FuBoTV, you likely can't use those apps.
Read: How to Get NFL Sunday Ticket Without DirecTV
Luckily, those aren't the only way to watch NFL football live or online. In fact, starting last year, the easiest way to watch games is on your smartphone, totally free. Plus, below we've gathered six other great ways to watch your team on Sunday, Monday, or TNF.
How to Watch NFL Football Games Without Cable in 2020
Sling TV
Yahoo! Sports (Mobile Apps)
HDTV Antenna
Playstation Vue
DirecTV Sunday Ticket
NFL GamePass
YouTube TV (Or FuboTV)
We'll be honest, even with cable it's hard to catch every game. Regional restrictions and black-outs frustratingly aren't going anywhere. That said, if you're looking to save money or ditch those expensive cable contracts, these are your options.
Sling TV
One of my personal favorites is Sling TV from Dish, which is live TV streaming over the internet. Sling TV can completely replace your cable bill and it's only $30 a month with no contracts. You can easily pay another $5-10 a month for add-on sports or movie packs, and they offer a lot of content. Plus, you can sign into WatchESPN with Sling TV, unlike the others, and catch NCAA Football on the go too.
In fact, Sling TV is one of the best for sports because they have NFL Network, RedZone, Fox Sports, FS1, FS2, ESPN and much more. The base package has over 40+ premium channels for $30. Then, Sling offers DVR recording and multi-user streaming. Most regions don't get Fox, unfortunately, but the NFL RedZone shows every single game, which is even better.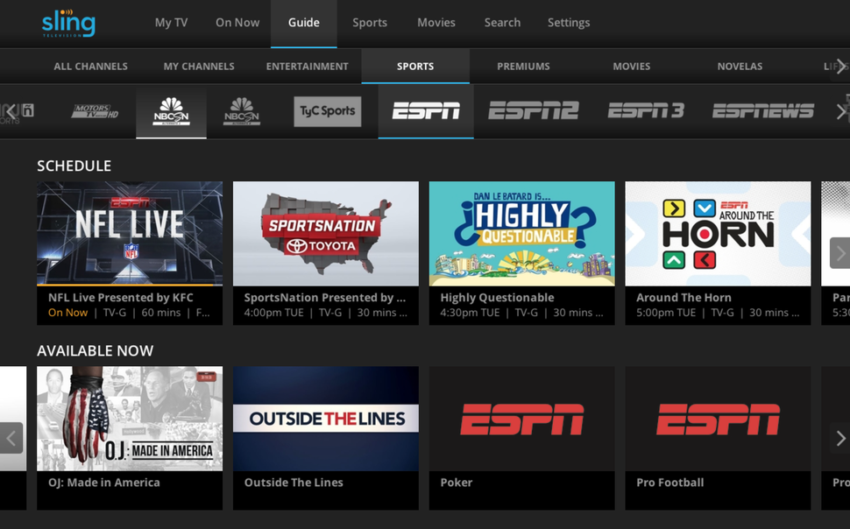 Additionally, Sling TV works almost anywhere and everywhere. Whether that's on your TV, or by signing in on your phone, laptop, tablet, computer or even a web browser while you're sitting at work. It's literally the most versatile way to watch TV on the market. It also works with streaming boxes, Amazon Firestick or TV, Roku, Xbox, PS4, Apple TV and more.
Read: The Best Cable TV Alternatives
After you add-on popular movie and sports packages you can easily get up to $40-50 a month, but it's still more affordable than cable. Actually, at only $25 a month, you'll spend the same amount after the entire season as most people spend monthly with Cox, DirecTV, or Comcast. Let that sink in!
Yahoo! Sports (And Other Mobile Apps)
For years the only way to watch the NFL on a smartphone was to use Verizon Wireless and pay for NFL Mobile, or have the Sunday Ticket. That's no longer the case. In early 2018 Verizon Wireless and the NFL signed a major deal that lets anyone and everyone, regardless of mobile carrier, watch tons of NFL games completely free from a smartphone. Yes, you can watch NFL Football on your phone with ANY wireless carrier, for free in 2019-2020.
Simply download the Yahoo! Sports app for Android or iOS and hit the "Watch" button near the bottom middle or right. They'll stream dozens of games every season completely free, including the pre-season and playoffs, not to mention the championship in early 2020.
Personally, I sideloaded Yahoo! Sports to a Chromebook that I mirror to an HDTV. Giving me live NFL Football on the big screen, for free.
You can also stream the same games for free with the new NFL Mobile app, which no longer requires Verizon Wireless. Verizon subscribers get more content inside NFL Mobile, but it's no longer limited to one carrier. Anyone can use it, whether you have AT&T, T-Mobile, Boost Mobile or someone else.
It's worth noting that the official NFL Mobile app has a lot to offer for fans. My favorite is the radio audio feeds for both teams and markets, score alerts, updates, highlights and more. Anyone can download and enjoy most of what it has to offer, on both Android and iOS.
HDTV Antenna
Perhaps the easiest way to watch TV without cable is by using an Antenna. Whether that's an old-school set of bunny ears or a new HDTV Antenna, they both work. The only problem with this method is the Antenna will only pick up your local team, or in-market games. If you're a Packers fan living in Las Vegas like me, you can skip this method.
Still, I opted for a TiVo BOLT and a newer HDTV Antenna from Amazon. And while the BOLT isn't required, you'll get a better experience. An Antenna will pick up local games and a bunch of other channels. In some instances, the Antenna had better picture quality than cable. Not to mention the BOLT offers DVR recording and apps like Netflix, Hulu, YouTube and more built-in. Making it the only box I need on my TV stand.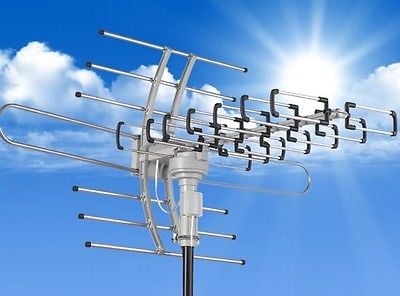 You'll want to make sure you have a good signal and enough space on your roof. If you're in range of the big networks you'll never miss a game. I can pick up ABC, CBS, FOX, and NBC with this setup. Games are free and most end up in HD too. Another option is this flat indoor HD Antenna.
Additionally, you can watch regional games on Sunday afternoon, Sunday Night Football and select Thursday night games. Plus, Sling TV can combine your antenna into its TV guide giving you a pretty seamless experience for cheap.
PlayStation Vue
Another solid option is using the PlayStation Vue streaming service. And while this costs money, it's far less than cable and you'll get access to ESPN, NFL Network and more.
PlayStation Vue has a good choice of channels and it's a pay-by-the-month. Meaning you can pay for streaming access during the NFL season and cancel whenever you want. There are no contracts. PS Vue has a base lineup of popular channels starting at $49.99. Or, you can get that same popular lineup + sports from the "Core" pack for $59.99 a month. Giving you ESPN, NFL Network and much more. Ditching cable and an Antenna for one complete TV and NFL package. It's similar to Sling TV, but twice as expensive.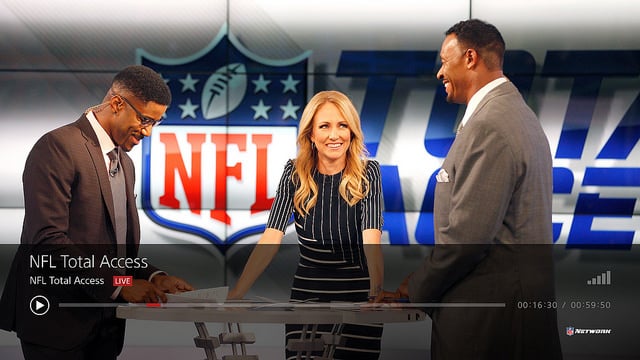 And since you're paying for PlayStation Vue you'll likely have access to apps like Fox Sports Go, WatchESPN and others we mentioned at the top of the page. That's because you're now a paying subscriber, and can sign-in to get past the paywall on most apps to watch from your phone or tablet.
Or, borrow login credentials from a friend and watch the games you're interested in.
NFL Sunday Ticket
Did you know you can get the NFL Sunday Ticket without DirecTV? It's only $99 for college students, and they even have a standalone streaming option that starts at just $69.99 for the entire season. There are a few limitations though.
You'll need to pass an "eligibility test" first. Basically, if you live in a college dorm, apartment building, or other areas where a DirecTV satellite won't work, you're eligible. So while this option isn't available to everyone, it's one more thing to try before paying an expensive cable bill.
Oddly enough, I entered in my address a few years ago and was eligible. So even if you think you can get a satellite dish, it's worth checking just in case. Find out if you're eligible by clicking here.
Read: Sunday Ticket vs Sunday Ticket MAX: What to Know
Then, in 2019, DirecTV (AT&T) NOW offers the Sunday Ticket. It's a service similar to Sling TV, PS Vue, or YouTube TV, and is internet-streaming television. It's like cutting the cable, but still relying on DirecTV.
NFL Game Pass
Another option is the official NFL Game Pass, although it's less than ideal and our least favorite alternatives. The way the NFL words its website is a little misleading, so be careful before you sign up.
With NFL Game Pass you'll get to watch virtually every single NFL game, but only AFTER they air on TV. It's not live, but an on-demand replay. And while that's a bummer for some, others won't mind, plus it has a few benefits and neat features you might actually like.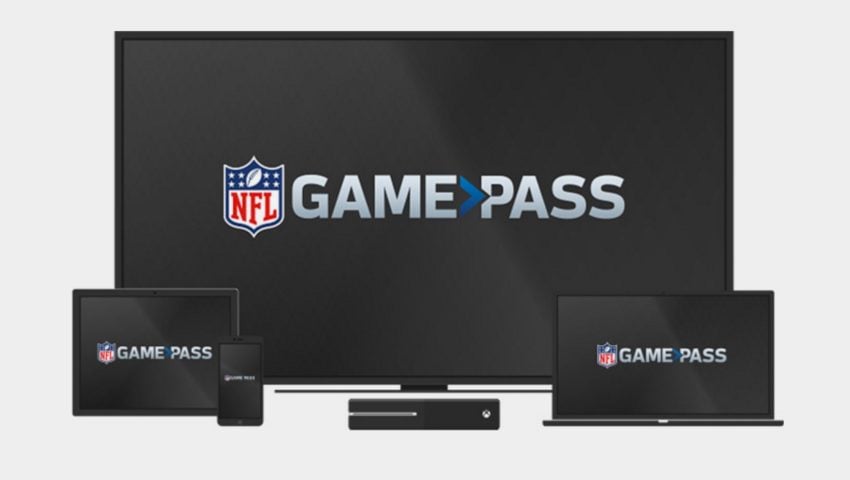 NFL GamePass lets you watch pre-season games live, then thousands of current and old games on-demand. So once the game is over, like after you get off work, you can quickly tune-in. We really like the option to watch regular broadcasts like everyone else, or what the NFL calls "condensed" versions without commercials or timeouts. You can watch an entire condensed game in around 45-60 minutes.
Game Pass also has highlights, analysis, coaches films, and access to years and years of games in the NFL archive, and that includes Super Bowls. This costs $99 or you can make four easy payments. One for each month of the regular season. It works on mobile devices too, which is nice.
YouTube TV
Last but not least is Google's TV streaming service, YouTube TV. It works essentially the same as PS Vue or Sling TV and is perfect for Football fans. However, there are a few limitations and restrictions you'll want to know about.
For $49 a month you'll get access to everything on YouTube, live TV, sports, on-demand video, DVR features, 70+ channels and more. YouTube TV has access to almost every channel one would need to watch NFL games live. Just look at the list below and you'll see how this is great for NFL fans.
As you can see above that base price has all the major networks like ABC, CBS, Fox, and NBC, ESPN, Fox Regional Networks, Fox Sports 1 & 2 and a lot more. NFL Network and RedZone aren't included, but they don't stream too many games anyways. And from 2018-2022 Thursday Night Football is on Fox, so you don't really need NFL Network anymore. Although I do enjoy watching Good Morning Football.
The only problem with YouTube TV is that you'll run into a lot of regional restrictions while trying to watch games, and most regional affiliates are missing too. All the FS channels will give you plenty of NCAA College Football, so that's a plus.
Additionally, you can try FuBoTV which is very similar to Sling or YouTube TV, but designed for sports fans first. That means that while they have channels for the whole family, sports are a priority.
Now, simply decide which option above works best for you. Either way, they're all cheaper than spending $180 a month on cable for 2,000 channels you'll never watch.
Enjoy the 100th NFL season, and Go Pack Go!

As an Amazon Associate I earn from qualifying purchases.