NFL Sunday Ticket vs Sunday Ticket Max: What to Know
In this guide we'll explain the difference between the NFL Sunday Ticket and Sunday Ticket Max. Two of the best ways to enjoy NFL football on mobile devices.
The 2018-2019 NFL season is finally ready to kick-off and fans around the globe have high expectations for their teams. Organizations have re-grouped and fans are looking for the best way to watch NFL games on a phone or tablet. Whether you cut the cord and ditched cable, or just want to watch on the go, here's how.
Read: How to Get NFL Sunday Ticket Without DirecTV
Here in 2018 fans have more choices than ever before. Whether that's traditional cable, Sling TV, or other streaming plans. Here's what you need to know about Sunday Ticket Max, and why it matters for mobile users.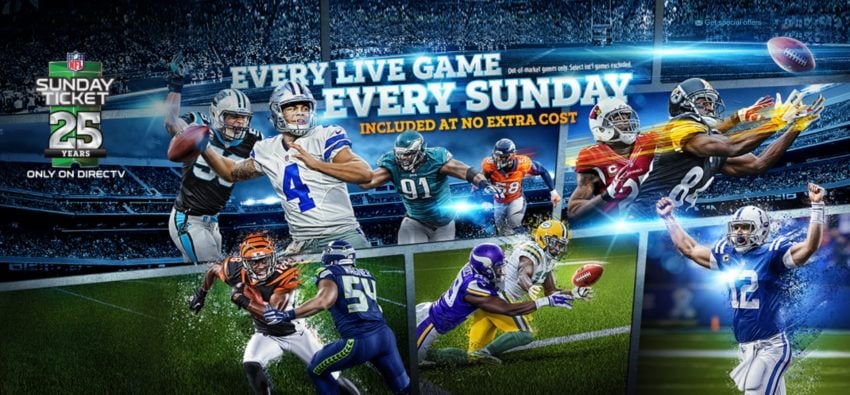 There are multiple ways to watch live NFL Football, but it's still somewhat confusing. The NFL's greed is getting in the way of fans around the globe being able to watch what they want, where they want. Being a Packers fan living in Las Vegas I rarely get to watch my team, but Sunday Ticket Max saves my season.
The best part about the Sunday Ticket is you have access to every single game. It's almost perfect, almost.
Again, the Sunday Ticket is free for new DirecTV customers (or bundles with AT&T) and typically costs around $295 for current users. Yes, in 2018 they increased the price. The Sunday Ticket Max is $395 this year, the most we've ever seen. That said, you can split this into 4-6 monthly payments if needed.
Sunday Ticket vs Sunday Ticket MAX
The NFL Sunday Tickets gets you access to every out-of-market game on Sunday, and a lot more. It's full of features, like watching multiple games at the same time or only seeing touchdowns.
Read: 7 Ways to Watch NFL Games Without Cable
What you need though, is Sunday Ticket Max. Max costs around $100 more but delivers access to all the regular NFL Sunday Ticket features, plus premium features such as the RED ZONE CHANNEL, DIRECTV FANTASY ZONE, Short Cuts, and access to stream LIVE out-of-market games on your laptop, tablet, phone, console or streaming media device.
Highlighted in bold is the important information. Paying more for the Max plan gives you everything everyone loves about the Ticket, but expands it to more screens and allows streaming to more than one device at a time. You cannot watch the NFL Sunday ticket on smartphones, tablets or consoles with the regular ticket, you must upgrade to Max. In addition to the RedZone and FantasyZone, you'll get these too.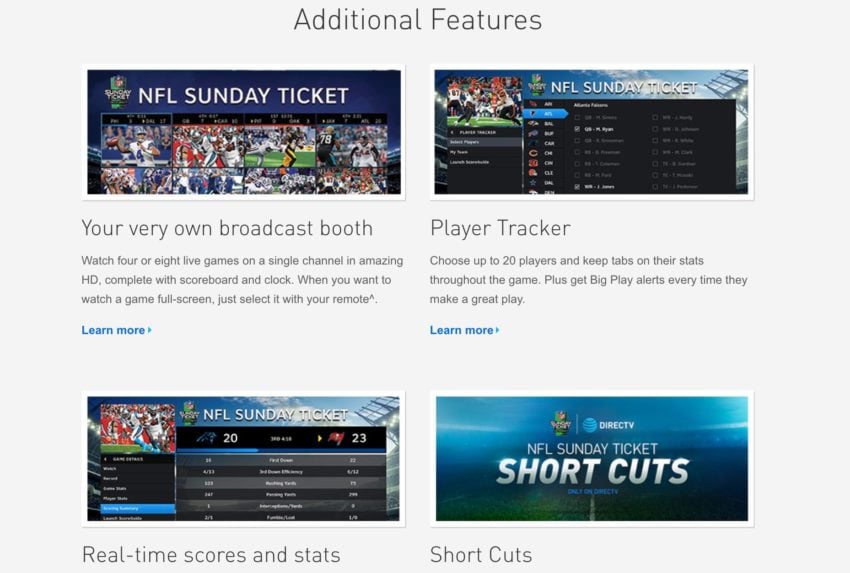 With Sunday Ticket Max subscribers can download the DirecTV Sunday Ticket app for Android and iOS and stream all the games right on their device. This also works on iPad and Android tablets, as well as the Xbox 360, Xbox One, Xbox One X, PS4 and other media streaming devices. Here's the full list of supported devices.
Basically, you're paying a little more to stream the NFL Sunday Ticket to smartphones, tablets, computers, consoles and more. Remember, that's out of market games though. Anything in your market is likely shown on regular TV. More information is available here. If a game is playing in your home market, watch it live with the Yahoo Sports app or Verizon Go90.
Read: Common NFL Sunday Ticket Problems & How to Fix Them
Another option for mobile users is Sunday Ticket TO GO, available without a TV and is separate from the regular Sunday Ticket plans. It's basically just for mobile and console users, but it might disappear for this upcoming season.
Sunday Ticket TOGO $279 (4 payments of $49.99)
Sunday Ticket Max $395 (6 monthly payments)
Honestly, the Sunday Ticket MAX is absolutely worth it, especially if you're a die-hard fan.
However, we have some good news. If you don't have DirecTV you can still get the NFL Sunday Ticket. Head to NFLSUNDAYTICKET.TV and select from a few different options. Enter your address and see if you're eligible to get it. This is the ticket for users that don't have access to a DirecTV satellite. They claim this is only for those in apartments, students, or areas where you cannot get a satellite dish, but I was able to sign-up for To Go with my home address.
Sunday Ticket TOGO delivers everything you need to mobile devices only, for $279, or in four payments. This is strictly for mobile devices. Then they have a Connected Pass that allows access to games on PC, Xbox One, Xbox X, PlayStation 3, PlayStation 4, and Roku. And finally, Max that covers anything and everything.
If you're in college you get all this for only $99. Get the Sunday Ticket TV U at your dorm and catch every game. What an awesome deal.
Last Details
We know, there are a lot of packages and it can be hard to understand. In simple terms, DirecTV offers the regular NFL Sunday Ticket for those at home. Then, an upgraded MAX version that gives everything the ticket has to offer to mobile devices, as well as some bonus features. And finally, there are some standalone mobile options (TOGO) like the ones mentioned above that are separate or a choice for college students.
If you already have DirecTV and the Sunday Ticket, upgrade to Max and get all the football you can handle on your mobile devices. Good luck and go Packers!