16 Common Windows 10 Problems & How to Fix Them
Millions of users have either upgraded to or purchased new PCs that come with Microsoft's Windows 10 operating system. The operating system is the best Microsoft has offered in a while, mixing things that users loved about Windows 8 and the utility of Windows 7. It hasn't all been a success, though. There are some common Windows 10 problems that still crop up daily.
Read: Windows 10 Review: A Love Affair
Microsoft plans to release new features and software changes to address Windows 10 problems for years to come. For example, the debut of the Windows 10 Creators Update is set for this spring. Every month, it's also releasing new fixes to address issues. Until those fixes are available, here are some relatively easy ways to address the problems some people are running into frequently.
Windows 10 Problems
Common Windows 10 Problems: Windows 10 Battery Problems
If you suddenly find your notebook, tablet or 2-in-1's battery doesn't last as long as it should, it may be time to turn on Windows 10's Battery Saver feature.
Tap or click on the battery button in the right side of the Taskbar.
Read: How to Get Better Windows 10 Battery Life
Either dim your device's display by tapping the button on the right or turn on Battery Saver to dim your screen and cut down on the notifications and extras running in the background.

Common Windows 10 Problems: Fix Windows 10 Game Streaming Problems
The new Xbox on Windows app allows users to stream their gaming sessions directly from their Xbox One to their PC. This is particularly helpful when you're in another room and don't want to move to play your favorite games. Sometimes you're going to have issues with game streaming. Specifically, you'll run into some choppiness in the video.
Test Xbox One game streaming by opening the Xbox app.
Now go to the Connect area and look at the signal indicator to the left of your device's name. If it's red you will definitely run into some streaming issues.
To fix Windows 10 game streaming problems, first connect your Xbox One directly to your wireless router to see if that's the problem. If it is, your wireless router may be too slow to handle the feature. You'll need to purchase a new one or stay wired to your network when using game streaming. You could also try adjusting the video quality of your stream to put less stress on your network.
Also, a lot of people seem to forget that streaming requires that the game be digital or you have your physical copy already in the disc drive.

Common Windows 10 Problems: Fix Windows 10 Camera App
Windows 10 has a camera app that lets you capture pictures with your device's built-in camera. Sometimes the camera app will get stuck, leaving you without the ability to switch between multiple cameras on your device or capture a photo. If this happens, close the Camera app and look for other apps that might be using the camera.

Common Windows 10 Problems: How to Fix Windows 10 Problems If Nothing Else Works
If you're having serious issues with Windows 10 after an upgrade, you can always have the operating system delete itself and reinstall without removing your files.
Click or tap on the Start button in the bottom left corner of your screen.
Tap or click on Settings. Tap or click on Update & Recovery. Tap or click on Recovery. Tap or click on Reset This PC.
Whether you choose to delete all of your files along with Windows 10 is up to you. Once done, deleting, Windows 10 will install itself again. This should fix any issues you have with the operating system. Now that if you upgraded your Windows 7 or Windows 8.1 PC to Windows 10, you'll also have the option to go back to your previous operating system.
Common Windows 10 Problems: How to Fix Windows 10 Apps
Windows 10's different apps are cool and new, but some of them still have issues. A few will crash on you consistently right now.
Try closing the app by tapping or clicking on the X in the top right corner of the app. If you're in Tablet Mode, place your finger at the top edge of your screen and drag the app towards the bottom of your screen.
Now reopen it.
Go to the Windows Store to reinstall an app if you continue to have issues with it not working correctly or loading.

Common Windows 10 Problems: How to Add Music to Microsoft Groove
Windows Media Player is still around in Windows 10, but Microsoft isn't encouraging anyone to use it. Instead, it's rebuilt Xbox Music for the operating system. Groove Music allows users to stream music from Microsoft servers or play music that they already own. To add songs to Groove Music, drop them in the Music folder on your PC.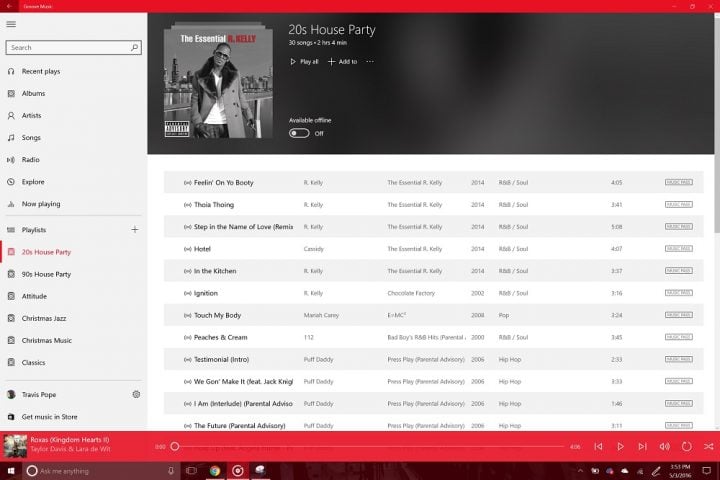 Read: 12 Microsoft Groove Music Tips & Tricks
If you don't want to move your music files, open Groove Music.
Click or tap on the Settings cog in the bottom left corner of the app. Tap or click on the Choose Where We Look for Music link.

Common Windows 10 Problems: OneDrive Files Are Missing
For Windows 10, Microsoft went back to the drawing board on OneDrive, its online storage service. In Windows 8.1, users could store things on their OneDrive account and have tiny placeholder files for browsing that content on their PC. That's gone on Windows 10.
Read: Is Microsoft OneDrive Worth Buying?
To see all the files stored on your OneDrive account you'll need to have those files sync to your PC. You can also view them all at OneDrive.com. That site is also the best place for monitoring how much free storage space you have left.

Common Windows 10 Problems: How to Open Web Pages in Internet Explorer
Microsoft Edge is the new replacement for Internet Explorer. The company says that it's faster, more touch friendly and easier to use than the two versions of Internet Explorer the company included in Windows 8.1. Over time, Microsoft Edge should become more reliable, but right now it's very, very buggy on some sites.
If a site continuously gives you issues in Microsoft Edge, tap or click on the three dots in the top-right corner.
Select Open in Internet Explorer.
Common Windows 10 Problems: Cortana Doesn't Work
We'll have to wait for Microsoft to address some of the issues with Cortana not responding when you tap or click on the microphone icon in the Taskbar. If your problem is that she isn't hearing you well when you give audio commands, try going into Cortana's settings using the Notebook Icon on the left side of her Window. Adjust for volume again, spend some time adding your voice print if you're in a reasonably quiet space.
Read: How to Use Hey Cortana with Windows 10
Cortana isn't available in every country yet, which would explain why you might be missing the personal assistant. Even if Cortana is available in your region, some features may not be.

Common Windows 10 Problems: Can't Edit Documents in Word Mobile & Office 365
Microsoft shocked the world when it announced that it'd give away access to its Office Mobile apps. So many people took advantage of the apps in testing that many forgot they aren't entirely free. Officially, Word Mobile, PowerPoint Mobile and Excel Mobile are only free to users with a device that has a screen size smaller than 10.1 inches.
Every one else needs an Office 365 subscription.
Read: How to Get Free Microsoft Office in Windows 10
Common Windows 10 Problems: Movies & TV Won't Stream Video
Microsoft's new Movies & TV app allows users to stream the content they've purchased or store it locally for playback. The former is useful if you really want to start watching something immediately. Local playback is great for planes, trains and other situations where connecting to Microsoft's servers isn't a possibility.
Even with recent updates, sometimes Movies & TV simply won't start streaming the content that users have purchased. When this happens, close the app by clicking on the X in the top-right corner of your screen. Touch users should swipe their finger downward from the top edge of their screen and tap the Close button in the right corner.
Starting the app up again should fix the issue.
Common Windows 10 Problems: Start Menu Won't Open
There are some problems that have plagued Windows 10 since its launch in 2015. Windows 10's Start Menu may be both touch and keyboard-friendly, but it has big issues with reliability on some systems. Often times, it'll take longer than it should loading. On rare occasions, it just won't load at all.
If this is happening to you, try restarting your device. If it keeps happening, check out What to Do When the Windows 10 Start Menu Won't Open.

Common Windows 10 Problems: Microsoft Edge Won't Open Web Pages
Sometimes, Microsoft Edge fails to open a web page that you've navigated to before without issue. When this happens, try creating an In-Private Tab by clicking on the three dots in the address bar and selecting In-Private Tab.
Now navigate to the page that didn't work before. This is a temporary fix until Microsoft addresses some of the issues still affecting the operating system.

Common Windows 10 Problems: Can't Get Sound
If you're trying to listen to music or watch a video, but don't get any sound from your PC, start by clicking on the speaker icon on the right side of the Taskbar at the bottom of your screen. First check the volume, then click on any arrows you might see that allow you to switch which device you are sending sound too. (Note that this only surfaces if you have Bluetooth or a second set of speakers connected.)
Definitely, try restarting your device.

Common Windows 10 Problems: Missing Restore Media (New)
Microsoft designed the Windows 10 Recovery Tools to keep users from having to reinstall their operating system from flash drives and DVDs. In most situations, that's exactly how it behaves. Sometimes that's not the case, though. You may be informed that you're missing the necessary media to refresh your PC when trying to refresh or restore.
Read: How to Reset Windows 10 Notebooks, Desktops and Tablets
If this happens to you, you'll need to download recovery media from the company that made your notebook, desktop or tablet. Some companies will let you download a copy free of charge. Others may charge you.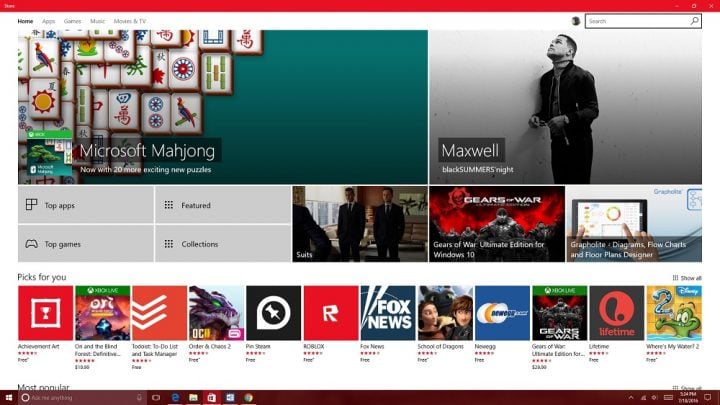 Common Windows 10 Problems: Can't Download Apps from the Windows Store
The Windows Store lets you download or purchase as many apps as you want, but it doesn't allow you to install them on as many PCs as it once did. In fact, the store now includes the Xbox One in the 10 devices that you can install apps on.
Read: How to Delete Devices from Your Microsoft Account
Once you reach that 10 device limit you'll need to go to Account.Microsoft.com to remove one of your older devices.
Good luck using Windows 10.

As an Amazon Associate I earn from qualifying purchases.