Xbox One Problems and How to Fix Them
We'll help you fix your Xbox One problems so you can get back to gaming in the limited time you have available. We've rounded up the most common Xbox One and Xbox One X problems including games, picture quality, TV issues and error codes and what you can do to solve the problems on your own. If you have Xbox One X 4K issues, you'll want to go right to this guide.
We'll show you how to fix common Xbox One problems on your own, without calling Microsoft, returning it or paying someone to fix an issue. With this guide you can get back to gaming faster. This will help you even when Xbox Live is down or there are other problems.
Xbox One Black Screen & Sidebar Broken
On January 30th Xbox Live problems struck again. Users are unable to download game updates, seeing an error that says, "You need this update, but we can't get it right now.", as well as a black screen on the Xbox One home screen. If you are experiencing this issue, you may also not be able to use the sidebar on the Xbox One that pops up when you press the Xbox button.'
If you connect with an Ethernet cable, unplug it and restart your Xbox One. This will allow you to play games offline. If you use WiFi, you will need to turn off your router, restart your Xbox and then forget the WiFi network or potentially choose Go offline. That may allow you to get back to playing offline games.
We are aware of reports of Xbox One console startup, title update and sign-in errors. We will keep everyone informed once we have more information to share. Thank you all for your patience.

— Xbox Support (@XboxSupport) January 30, 2019
This is a widespread issue, and you will need to wait for Microsoft to fix the issue so that you can play again. After we unplugged the Xbox One and restarted the issue became worse with a black home screen and an unusable Xbox One X. All we can do is wait.
Xbox One Users – we have identified the service causing the black screens and working on rolling back the service change – please be patient.

— Brad Rossetti (@WorkWombatman) January 30, 2019
Microsoft is aware of the problem and is working on rolling back the change the caused the issue. There is no ETA.
Additionally, if you're running into issues attempting to view our status page, teams are actively investigating this as well. Thank you for your ongoing patience, we'll update here when there's more to provide.

— Xbox Support (@XboxSupport) January 30, 2019
The Xbox Support page is also down right now, so you should check Twitter and come back here for the latest updates on the problem.
How to Fix Xbox One Game Crashes
Do some of your Xbox One games crash often? If so you can take some steps to fix the crashes or freezes on your own. In many cases you just need to re-install the game, but it could also be a game issue — especially if you are playing PUBG. When a game crashes you can try the following steps.
Force Quit the Game – Go to the game tile on the home screen, press the button with three lines on your controller and then choose quit.
Power Cycle Your Console – Sometimes if you unplug your Xbox, wait a minute and plug it in, you'll fix some crashes.
Uninstall the Game and Re-Install It – If all the crashes happen in the same game, you should uninstall it and then re-install it from the Manage My Apps & Games.
Some games are more prone to crashes, especially early access or new games. Make sure you check for updates, which can make games more reliable.
How to Fix Xbox One Update Problems
If you have problems installing the Xbox One update or right after installing the Xbox One update you are not alone. Common issues with the update include;
Your Xbox is Almost Full
There Was a Problem with the Update
Error codes
Getting stuck at the green startup animation
Staring at a black screen
Depending on the specific problem you may need to take a variety of actions. Here are some steps to try first.
If you see a message that you are out of space, go to My Games & Apps, find a game you don't play anymore or a beta that is done, highlight it then press menu on the Xbox One controller and Uninstall. Now try to install the update.
When you see a message that there was a problem with the update, you may need to check your Internet connection. Go to Settings, Network and then Test Network Connection. This will find any issues and walk you through potential fixes.
In some cases you will need to find the Xbox One error code. Hold all the triggers and bumpers on your controller to see a specific error code.
Some error codes are related to issues you can fix, while others like the Xbox One Error Code E100 signal a hardware problem that means you will need a repair or replacement from Microsoft.
If you see Error Code E101, E203, E305, 800701e7  you will need to download and run the Offline System Update Diagnostic tool.
Error Code E200 or E204 you need to perform a full restart of the console, to get past it.
Error Code 8007019x, 8019019x, 87ddxx or 80072xxx means you need to check your network settings.
If you are stuck on the Xbox One Green Animation after installing an update hold the front button on the console for 10 seconds. Once it is off, unplug and wait 30 seconds then plug it back in and try the update again. If this fails and you are stuck on the green screen for 10 minutes or longer you need to use the Offline System Update Diagnostic tool. Users who see a black screen that lasts for 10 minutes should also run this tool.
How to Fix Xbox One Disc Problems
Gamers who buy Xbox One games on disc often run into Xbox One disc problems. Thankfully you can fix many of these issue on your own without exchanging a disc or spending time with complicated steps.
The first thing to try is wiping the disc with a clean damp cloth. If possible, try the disc at a friend's house to find out if the problem is with your console or the disc itself.
If you are trying to watch a movie on a Blu-Ray, you will need to install the Blu-Ray app, which is free, to play the movie on your Xbox One.
If no discs will play at all, you should try turning off the Instant On mode. Go to Settings -> All Settings -> Power -> Power Mode -> Energy saving. Hold down the button on the front of the console for 10 seconds to shut it down. When this is complete, turn it back on and see if a disc will start. If it now works you can turn Instant On back on and the problem shouldn't be an issue. If this does not fix the problem you will need to get the console repaired or replaced. Gamers who hear a grinding noise need to contact Microsoft for repair.
How to Fix Xbox One Won't Turn On
If the Xbox One will not turn on you will need to try a few different steps to fix this. In most cases you will not need to get a replacement for the Xbox One or the power supply, but that is a possibility.
The first thing to do is unplug all cables from the console and the wall, including the power supply. Wait 10 seconds. Do not skip this step. After waiting, plug the console back in and connect the power directly to the wall. You should now see a white or orange LED on the power supply if you have an original model. After a power outage, we've had to unplug the Xbox One power cable for a few seconds and then it started back up without unplugging all cables, so you may want to try that first.
Before going further, push the power button on the Xbox One and see if the light turns on. If it does, your Xbox One is getting power, but the screen may be blank.
Users who see a flashing orange LED or no LED at all will need to replace the power supply. Similar to the disc problems above, you may need to turn off Instant On Power Mode.
Make sure your Xbox One is on a flat surface and that you don't block the fans built in. You should also try to plug the cord directly into the wall and to try another outlet.
How to Fix Xbox One TV Screen is Blank
When you try to play the Xbox One and the TV screen is blank you should try restarting the console. If that also fails you should check all your connections and try unplugging the console completely for 10 seconds.
Gamers who connect through a receiver of some kind should try connecting without it once. If that fixes it, try turning on your TV and waiting until the screen shows a picture, then the receiver and then the Xbox One. Make sure the TV is set to the right HDMI connection.
We've seen some issues where longer HDMI cables don't work well with 4K on the Xbox One S or Xbox One X, Try a shorter cable or even just a new cable if you have issues.
How to Fix Xbox One Xbox Live Problems
The first thing to do if you cannot connect to Xbox Live is to check the status of the service online. When problems are with a specific game, look for the status of those servers.
If Xbox Live is online, but you are having problems, you should turn your router off and then back on. That can solve many problems.
You should use the built-in Xbox Detailed Network Statistics tool in settings to check how fast your internet connection is. If you don't have a connection that delivers 3Mb/s down and 0.5Mb/s up reliably you may not be able to play games.
If you have Xbox Live problems on your Xbox One, you can wait for more information from Xbox Support and check the Xbox Live status page for more details. You may need to restart your Xbox One after the service is restored to gain full access.
Xbox Live Core Services are down which includes the following issues along with other service problems;
Creating new accounts on Xbox Live, managing those accounts, or recovering an account on a different device
Browsing the Xbox Video Store and the Xbox Music Store
Buying downloadable items
Downloading items that you have already purchased
Paying for downloadable items with stored currency, adding additional stored currency, or viewing your balance
If you are able to sign in, you may be able to play online in some games alone, but may experience issues if you join a party.
You can sign up to get notified when the Xbox Live is back up with a text message when you sign into your Xbox Live account and enter a U.S. phone number.
Keep in mind Xbox Live typically goes down more during the holidays due to more people playing and sometimes due to nefarious groups trying to crash the service just to annoy other people.
Gamers who have voice chat problems or issues joining games should check the fix below.
How to Fix Xbox One Voice Chat Problems
Other Xbox Live problems include the inability to hear people in a party. This can happen when someone is on a strict NAT or moderate NAT. Ideally you want to be on an Open NAT so that the Xbox has great communication to the Internet and can enable voice chat and playing games online reliably.
This will take some time and you will need access to your router and to your console to check and change settings. Use this guide from Microsoft to get started troubleshooting your Xbox One NAT problems.
Another potential solution is to put your Xbox One in the DMZ of your router or enable Quality of Service to prioritize the Xbox One and Xbox Live. Google your router and Xbox One settings to find specific help.
We've also run into issues where there is lint in the headphone jack on your controller, so keep that cleaned out with canned air or with a toothpick and see if that solves the problem.
How to Fix Not Being Able to Play Xbox 360 Games on Xbox One
There are new updates that allow you to play Xbox 360 games and Xbox games on your Xbox One, but they need to be on the list. If you are trying to play a Xbox 360 game on your Xbox One, you need to make sure it is part of the Xbox Backwards Compatibility list.
Games that are not on the list, will not play. You may also need to make sure you have the latest update on your Xbox One to play these games.
How to Fix Not Being Able to Play Games Offline
If you run into an issue where you cannot play a game because Xbox Live is down, you need to set your console as the home Xbox. Ideally, you should do this before you have issues since you might not be able to turn this on at that time, but sometimes you can do it while you are having problems.
Go to System > Settings > Personalization > My home Xbox.
Choose one of the options below:

Make this my home Xbox.
This is not my home Xbox.
 You can only have one console as your home Xbox at a time. You can change this up to five times a year. If you have this console set as your home console, you can play your games when offline, traveling without an Internet connection or when Xbox Live is down.
How to Fix Xbox One Does Not Recognize External Hard Drive
If you've added storage to your Xbox One with a hard drive so that you can install more games there are some times where it will not show up.
When this happens, power the console off. Unplug the hard drive from the USB port and then plug it back in and turn the Xbox One back on.
This should solve most problems with external hard drives.
How to Fix Xbox One Game Install Problems
Sometimes you cannot install a Xbox One game. This can leave the game at 0% for a long time. This often happens when the system cannot download an update for the game. You may need to set the console to offline mode, cancel the download, eject the game and then power cycle it. Follow the steps in this guide to fix Xbox One game installation problems.
How to Fix Xbox One Game Freezes
We often run into an issue where the Xbox One game freezes or crashes. If this happens you can normally fix it in less than a minute.
Press the home button on your controller to go to the home screen. With the game highlighted press the menu button and close the game. Then you should try starting the game.
If this does not fix the problems, restart the console completely by holding the power button on the Xbox One for 10 seconds.
How to Fix Xbox One Kinect Problems
Microsoft no longer includes the Kinect system with the Xbox One, but if you have one you can continue to use it with the Xbox One, Xbox One S and Xbox One X. If you have the newer models, you will need to get a Kinect USB adapter to be able to plug it in. This lets you control the console by voice or gesture, but it's not actively being developer for anymore.
Users who run into issues with the Kinect should run the setup process again. Users should also make sure the Kinect is firmly plugged in to the Xbox One. It may be a good idea to disconnect and reconnect the Kinect.
The next step is to set up the Kinect for the current room. This is important if you have change the placement of the Kinect or moved the Xbox to another room. This process checks the camera and tunes the Kinect audio for the room. After performing these steps we experienced fewer Kinect errors.
Go to Settings -> Kinect -> I moved my Kinect or I'm having trouble with Kinect.
This will walk users through a setup to calibrate the device. If there are still problems users can reset the Xbox One by turning the console off for 2 minutes, unplugging all cables and then connecting everything again.
How to Stop the Xbox Turning Off
Some users report that the Xbox One is turning off randomly, preventing them from playing games. This is not as common, but arguably a bigger Xbox One problem than Kinect issues. When this happens the Xbox One may turn off and not immediately allow users to turn it back on.
If this happens often, it may be overheating. Make sure it is on a stable surface that is flat and not on carpet or some other fabric. If you have the original Xbox One, it could also be from a pet pressing the conductive button on the front of the console.
How to Fix Xbox One Sound Problems
Another common Xbox One problem revolves around the sound coming out of the Xbox One. Some users report that audio is very quiet, audio is missing or audio only coming out of one speaker. The Xbox One uses an HDMI cable and an optical audio cable to send sound to a HDTV or home theater, and this is the first place to look if you experience this Xbox One problem.
If possible switch to a new HDMI cable or optical cable to rule out a damaged cable. Most HDMI and optical cables are resilient, but it is possible to damage one. If this is the first time you are setting up an Xbox One with these cables, double-check your connections on the Xbox and the TV.
If this does not fix the solution trying resetting the Xbox One by unplugging everything after letting it sit for 2 minutes. Another possible fix is to check out the Xbox One Settings for sounds to see if things are configured correctly.
These solutions should fix the most common Xbox One problems, but if there are still issues that prevent users from playing Microsoft is the next step. Users can use the contact option on Xbox to talk with a support professional.
How to Fix Lag on Xbox One Games
If you run into lag on your Xbox One games, you should check your Internet connection. Many times you may simply be too far from your router to get a good connection. It could also be a problem with your router or Internet speeds.
The first thing to do is restart your router. Once that is done, go to the Network settings on your console. To do this, open Settings, All Settings, Network, Network Settings. Here you can test your Network connection. You should see a speed near what you pay your provider for. If you see very slow speeds you need to take action.
Restart your router.
Move your router and Xbox One closer to each other.
Run a network cable to your Xbox One.
If the speeds are still to slow, you should try contacting your ISP to see if there is a problem with your service. Keep in mind that they will want to test the speed directly at the modem.
8 Best Free Xbox Games: January 2018
Warframe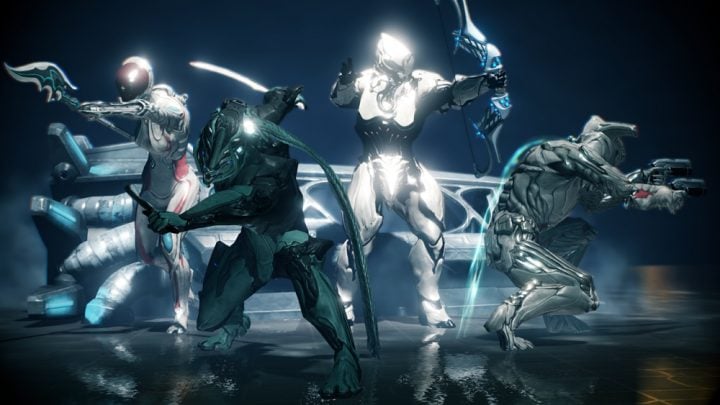 Many free-to-play games revolve around strategy or civilization building. Warframe is one of the free Xbox games that you can download now that doesn't. It's a third-person shooter.
The Tenno have just awoken after centuries of sleeping in stasis. Warframe takes its name from the suits that the Tenno use to do battle with the game's other races. There's the Greiner, who are clones of humans. The Corpus belong to a technology company with lots of robotic innovation at their disposal. Sentients consist of an alien race that's back to do battle.
Warframe features both player-vs-player combat and a single player experience.


As an Amazon Associate I earn from qualifying purchases.