Dell Inspiron 13 7000 2-in-1 Review
Not everyone needs a notebook that can become a tablet and has a ridiculously powerful 8th Generation Intel Core i5 processor. If you're one of the people that do, though, the Dell Inspiron 13 7000 2-in-1 is made for you.
The Inspiron 13 7000 2-in-1 starts at $849.99 from Dell.com, which is a reasonable price for any notebook that can also replace your tablet but isn't too slow. Despite its modest price tag, the notebook still comes equipped with everything you need to stay productive or entertained. Inside is the 8th Generation Intel Core i5 processor, a Windows Hello camera, an HD display, support for digital pens and a spill-resistant keyboard that glows in the dark.
Really, the only thing missing from the Dell Inspiron 13 7000 2-in-1 is all-day battery life and dell even has a trick to make that easier to deal with.
Dell Inspiron 13 7000 2-in-1 Design & Internals
The Inspiron 13 7000 2-in-1 comes covered in brushed aluminum, giving it a high-end look and finish that feels expensive underneath your palms. The laptop is just 0.6-inches thick and weighs 3.20 pounds, so you will notice it in your bag, but you won't leave it at home because you think it's too heavy.
Its edges have every port both casual users and novice users could want. On the left edge are an HDMI port, a USB 3.0 port and a headset jack. A USB Type-C port that's also on the left edge can transfer files quickly to and from your phone or add another way to connect a display.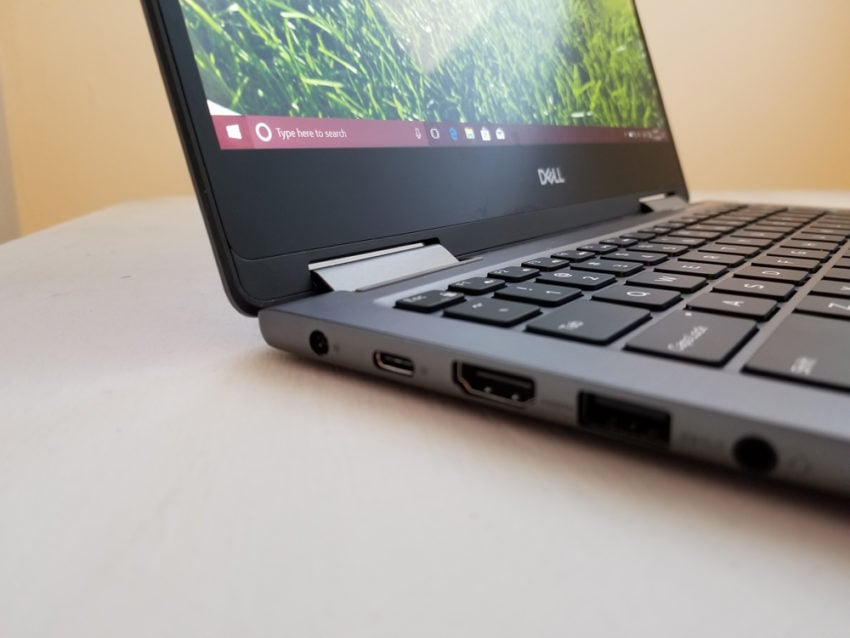 Another USB 3.0 port and a Noble Lock slot sit on the right edge of the Inspiron 13 7000 2-in-1. The Type-C port and HDMI port are a nice touch, but I appreciated the full-size SD card slot more. I was surprised to see it on the notebook and took the opportunity to finally move over some pictures I'd kept on a full-size SD card from an old camera. Most 2-in-1s opt for a Micro SD card slot instead.
Dell didn't skimp on Inspiron 13 7000 2-in-1's keyboard deck either. Aluminum covers the deck and its matte black keys stick out of the material like small pebbles in a shallow lake. Because it's spill resistant, expect this keyboard to survive an encounter with a very small amount of coffee or juice. That's more than most laptops – even at this price range – can claim.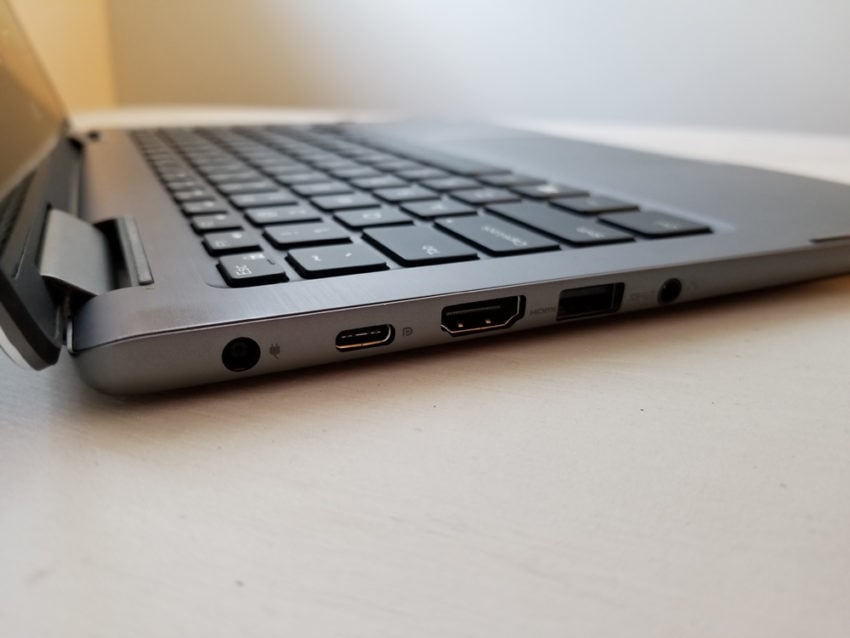 You never have an excuse for not knowing if the Inspiron 13 7000 2-in-1 is charging. A silver power button with a white status light sits to the right of the keyboard. There's another white power light on the edge of the laptop.
The bezels on the left and right edges of the 13.3-Inch FHD LED display are thin but there's still enough bezel at the top of the display to hold a Windows Hello-ready front-facing camera. In pictures, the chin below the display looks awkward. However in person, the bezels and almost glare-free glass make the screen appear as if it's floating in front of you. This area doubles as a great place to hold the device when you use it as a tablet.
Order the Dell Inspiron 13 7000 2-in-1 from Dell.com and you get just a limited number of options. You can switch out an 8th Generation Intel Core i5 processor for an 8th Generation Intel Core i7 processor. That boosts the device's available horsepower even more. You can also add up 16GB of RAM and 512GB of solid-state storage. The solid port selection and Windows Hello camera come standard.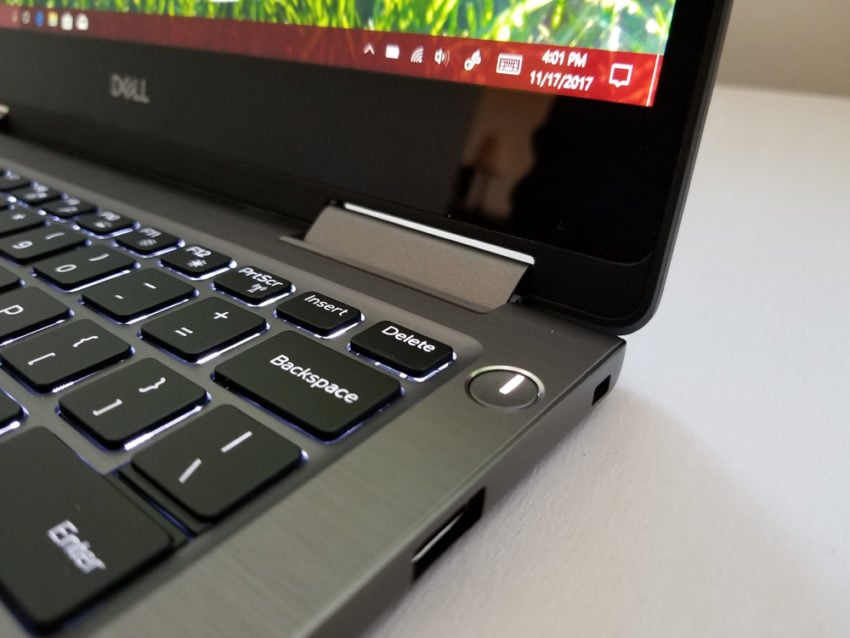 Gotta Be Mobile's Dell Inspiron 13 7000 2-in-1 came with 8GB of RAM, the 8th Generation Intel Core i5 processor, 256GB of storage and the 13.3 FHD display. That's the standard model with a touch experience that sells for $879 without any promotions.
Dell Inspiron 13 7000 2-in-1 Experience
Overall, I think the Dell Inspiron 13 7000 2-in-1 is a very solid Windows 10 device.
Every web page loaded quickly, as did my regular bevy of productivity apps and programs. I spent hours each day switching between Photoshop Elements, Microsoft Word, 4 tabs in Microsoft Edge and one Google Chrome window dedicated to interacting with sites that still don't work correctly in Microsoft's browser. Nothing took more time to load than it should have and each stayed responsive. This laptop performs very well.
This isn't a dedicated gaming notebook, but I still did a bit of light gaming on it. The Intel UHD 620 graphics shares memory with the processor. It's not enough to give you the smoothest, most detailed gaming experience, but it handled my favorite PC game, Microsoft's Halo Wars 2, just fine.
As far as notebooks go, the fan noise the Inspiron 13 7000 2-in-1 emits isn't out of the ordinary. Again, this is a powerful notebook and it needs a lot of air to cool that beefy processor. I cranked up the laptop's great speakers to compensate for the noise as I listened to my favorite radio stations and watched my favorite streaming services.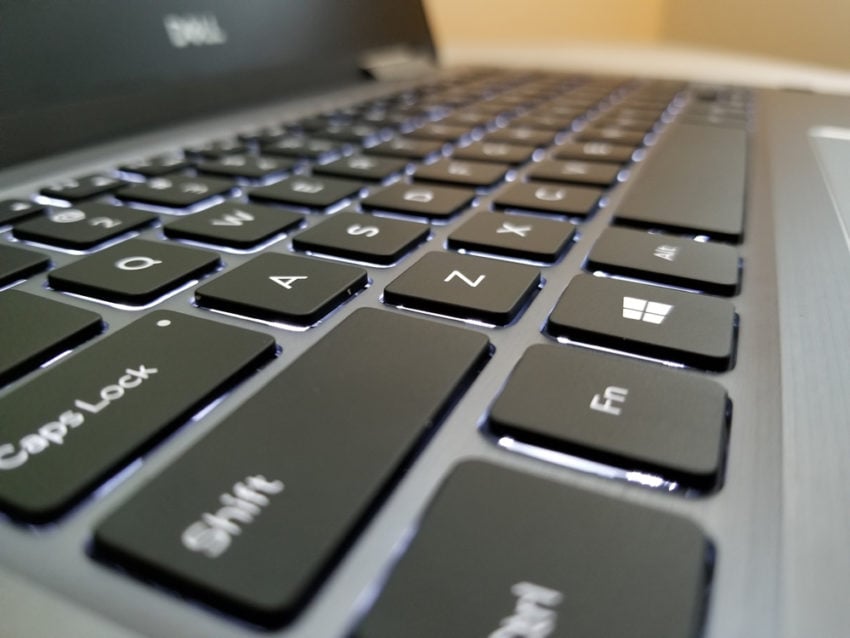 I can't say whether I had a buffer free, loading free streaming experience because of the SmartByte network optimizer that Dell installs definitively. My home internet connection is always solid and I don't download huge files, browse the internet and stream video at the same time. I can say that the software added an interesting outlook on how I used my internet connection in general. A pie-graph shows you what percentage of your internet connection is going to activities you are doing at that moment.
In notebook mode, the heat the quad-core Intel Core i5 8250U processor inside the notebook produces when under strain also warms the keyboard deck. This made the 5, 6, 7 and the function keys above the vent a little uncomfortable to press when the processor was working over time.
Tablet Experience
In Tablet Mode, the heat and fan noise does become a problem. The Inspiron 13 7000 2-in-1's exhaust vent sits beneath the display, which means it's facing you when you fold the display back for the best touch experience. Holding the device in portrait mode helps with this, but then the heat pours onto your hand instead.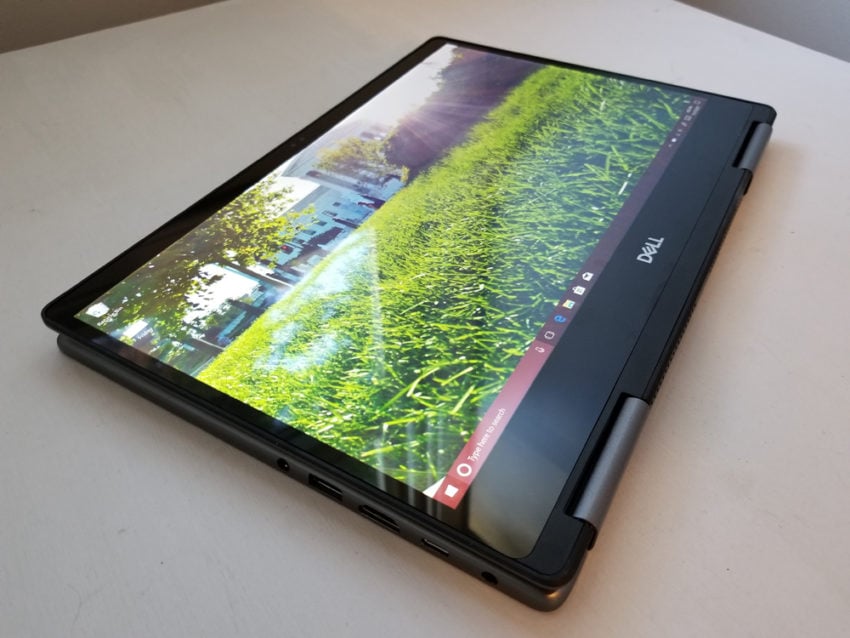 It's no 4K resolution display, but the 13.3-Inch 1080p FHD display in the Inspiron 13 7000 2-in-1 provides solid visuals and a solid touch experience. Not only is there very little glare, but the display quickly detects touch and taps. My only complaint about it is that you can feel the display slightly flex if you're too heavy-handed with your taps and swipes.
Dell doesn't include its Dell Active Pen for use in tablet mode, but the $34.99 accessory does work with the sensors inside the notebook's touchscreen. Microsoft includes free apps and experiences with Windows 10 that make the Dell Active Pen a smart purchase for anyone buying an Inspiron 13 7000 2-in-1, like Windows Ink Workspace's Sticky Notes and OneNote.
Battery Life
So after all that, what is the Dell Inspiron 13 7000 2-in-1 missing? It's missing stellar battery life. Dell battery estimates say that users can expect a solid 8 hours and 20 minutes of productivity, but I didn't easily reach those numbers.
The notebook lasted around 4 hours with the display dimmed by half. It took Dell's Extended Battery Life Utility, Windows 10's power manager and dimming the display to 25% to get up to 6 hours from the laptop. This was with one app open: Microsoft's Word Mobile.
It wasn't until I left all these utilities on and dimmed the display to 0% brightness that I got an estimate of more than 7 hours of battery life. Luckily, the display is still bright enough at that level to continue working on. So, Dell's battery estimates aren't far off. It just takes a lot of work for you to reach them.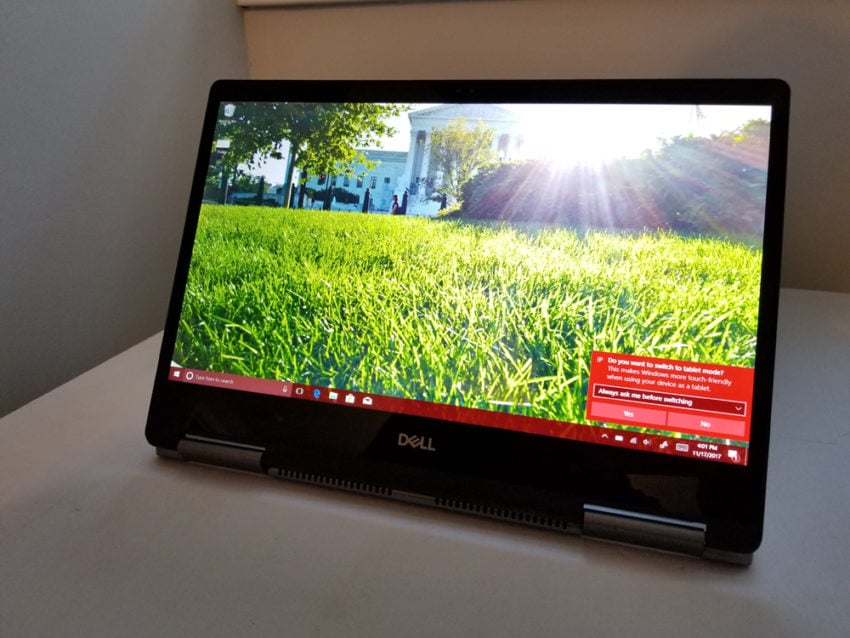 The only reason this is cause for concern is that the Inspiron 13 7000 2-in-1 has some stiff competition. There are other laptops in this price range, like Dell's own XPS 13 2-in-1, that get almost double the amount of battery life for $100 more. Of course, you're giving up the quad-core Intel Core i5 8250U processor that makes this laptop such a great performer to get that extra battery life.
Smartly, Dell offsets this weak spot in the Dell Inspiron 13 7000 2-in-1's experience with Quick Charge. The less battery capacity the device has left, the faster Quick Charge works to fill it. From a dead battery, it takes around 15 minutes to get back to 30% battery life. I wish every PC had this technology. You still need to keep your power cable close by on a long day, but at least your charging session is shorter when it does die.
Dell Inspiron 13 7000 2-in-1 Specs
Processor & Graphics
8th Generation Intel Core i5-8250U Processor

(8th Generation Intel Core i7-8550U Processor Optional)

Intel UHD Graphics 620

Memory & Storage
8GB of DDR4 RAM

(16GB of DDR4 RAM Optional)

256GB PCIe Solid State Drive

(128GB, 256GB & 512GB of PCIe NVMe Storage Optional)

Display
13.3-Inch 1920 x 1080p FHD LED Display
Works with Dell Active Pen Stylus
Ports & Extras

1 USB 3.1 Type-C Port
2 Full-Size USB 3.1 Type-A Ports
1 Headset Jack
HDMI Port
SD Card Slot
Noble Lock Slot
Webcam with Windows Hello
Wireless AC 8625 & Bluetooth 4.2
SmartByte Networking Software Included
Backlit Keyboard Spill-Resistant Keyboard

Battery Life
6 Hours of Battery Life

8 Hours & 20 Minutes, According to Dell's Benchmarks and Your Usage
Has Quick Charging to Offset Battery Concerns

Dimensions & Weight
12.2-Inches x 8.5-Inches x 0.6-Inches
3.20-Pounds
Should You Buy the Dell Inspiron 13 7000 2-in-1?
If raw horsepower and a PC that has a touch display are what you're looking for, the Dell Inspiron 13 7000 2-in-1 is a good buy for you. Seriously, there's no daily task that this laptop can't handle. Its screen is bright and its keyboard is responsive. Also, it comes with all the hardware you need to take advantage of Windows 10's best features, like digital inking and password-free sign-in.
Just expect to use the Quick Charge technology to help even out your battery life more than other premium notebooks that cost a little more than $849.
[letsreview]