Don't Buy a Cheap Android Tablet on Black Friday
There are a lot of excellent Black Friday deals this year, but cheap Android tablets aren't one of them. We've said it before and we'll say it again. Avoid all of those inevitable $50 "Google Android OS" tablet deals and discounts.
Before you go stand in line for a cheap tablet that will disappoint you when you get home, this is what you need to know. We'll go over a few things to look for, what to avoid, and offer up some good tablet recommendations.
Read: Best Android Tablets Under $200 (2017)
Any Android tablet that's listed for $50 but was originally $199 isn't worth the money. It never cost $199, and no one paid that for it either. Whether you're seeing deals at Target, Walmart, Walgreens, or online, here's how to spot a deal you won't enjoy.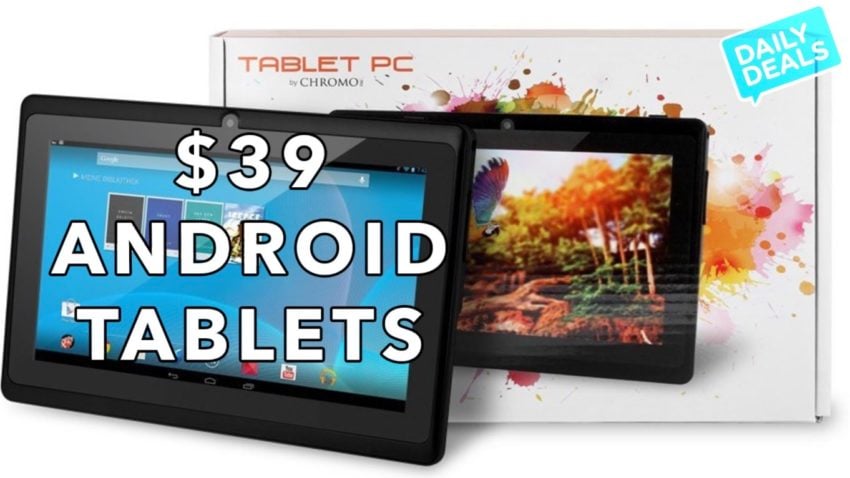 We've all been there, flipping through the ads or checking out all the doorbusters. You see an "Android multi-touch tablet" for $79. It sounds like a good deal, but it's not. If it sounds too good to be true, it is. Several Android manufacturers make pretty great tablets for under $200. As a result, cheap Chinese tablets get priced even lower as an incentive around Black Friday. Don't fall for it.
What to Avoid
Again, if it sounds too good to be true, it probably is. You will not find a tablet for $50 that will deliver an enjoyable experience. Well, unless it's the Amazon Kindle Fire 7-inch for $29 at Target. That's about the only cheap Android tablet Black Friday deal I feel comfortable recommending.
There are a few buzzwords you want to look for and avoid at all costs. If the box says, "Google Android OS" it's probably a tablet you don't want to buy. Look for and avoid "Google Tablet OS", "Android 5.0", "Google Tablet", or "Quad-Core Multi-touch tablet". There are a few exceptions to this rule, but for the most part, none of those tablets are worth your hard-earned money.
Another thing you'll see on Black Friday is bundle deals. In an effort to sell you a cheap terrible Android tablet companies or retailers will bundle accessories together. If it comes with a folio case and Bluetooth keyboard, headphones, or a slew of different accessories, skip it. They're probably trying to make up for the fact that the tablet isn't worth more than $30, at most.
Yes, some of these ultra-cheap tablets might get the job done for your kids. At the same time, Amazon's tablets deliver a far better experience across the board. Get an Amazon Fire tablet instead.
Any tablet that runs Android 5.0 (or Google OS) isn't worth your money. For the record, Google released Android 8.0 Oreo in August. Anything you buy running Android 5.0 is extremely outdated, not very secure, and just isn't worth the money. Android 5.0 was released in 2014, keep that in mind.
Look for Brand Names You Recognize
This next part is tricky because you'll probably see some "RCA Quad-Core Android OS Tablets" that look pretty good. They'll have a case, keyboard, and a friendly price. However, they're likely pretty slow and outdated. RCA is a brand you probably know, use, or trust. Those Walmart specials aren't as good as they sound.
Popular brands like Amazon, ASUS, Samsung, Lenovo, LG and others all make pretty great tablets. If you find a tablet from a company you've never heard of before, it isn't that great of a deal. Some don't even have names and just list the specs and screen sizes. Skip those and buy something else.
Make Sure It Has the Google Play Store
Another extremely important thing to look for is the Google Play Store or Google apps. Some cheap tablets don't abide by Google's rules, and they won't have the Play Store. This means you won't have access to millions of apps, games, movies, music and more.
Instead, the tablet will probably have some 3rd party app store or some other shady method that we wouldn't recommend. The only exception to this is Amazon because they have their own app store.
Look for the Google Play Store logo or something like the badge above. If you find a decent Android tablet on Black Friday, make sure you have access to what's important.
A Few Android Tablet Recommendations
If you're looking for a good cheap tablet on Black Friday, here are a few we can comfortably recommend. The 7-inch Amazon Fire tablet is only $29 at Target. It's a capable little device with tons of content for you or the family. Or, the Samsung Galaxy Tab E 16GB is only $139 at Walmart. Other options include the Lenovo Yoga Tab 3, Lenovo tablets, the NVIDIA Shield, or even the ASUS ZenPad 8.
Here are the best Android tablets under $200 available in 2017. Check out that list, find something you like, and look for a good deal.
One potential problem is all the old Samsung Galaxy tablets floating around. While they still deliver a pretty great experience, we always see older models sold on Black Friday. Still, a Galaxy tablet is better than almost anything else you'll find for under $100.
In closing, remember that Black Friday isn't the only time you'll find good deals. Expect more on Cyber Monday, and countless others throughout the entire holiday shopping season and in early 2018. Take your time and find something worth buying.