Early Walmart Black Friday 2014 Deals Go Live with a Catch
The early Walmart Black Friday 2014 deals kicked off into high gear this week with early bird online specials only available for a limited time.
You don't need to wait for November 28th to start shopping the Walmart Black Friday 2014 deals, but this morning shoppers trying to check the prices or add any of these Walmart Black Friday 2014 deals to their carts are in for frustrations.
You can browse all the early Walmart Black Friday 2014 deals, but when you try to see the price or get to any part where you can add the item to you cart, you see an error message stating,
" Sorry… We're having technical difficulties and are looking into the problem now."
Users can try again, or go to the home page. Neither of these options do much to show the prices for these early bird Walmart Black Friday 2014 sales.
You can browse the various early bird online Walmart Black Friday 2014 ad, to see what is on sale, but until the problems are fixed you cannot see prices or add items to your cart.
Donna, a Walmart social media support woman, told one customer, "We apologize for the inconvenience. We are working on the issue and hope to have it corrected soon.",  but there is no specific time frame for a fix. 
Hopefully this is not a preview of the Black Friday problems we'll see at Walmart and other retailers through the shopping season. Huge demand for deals can take a website offline, slow it down dramatically or break parts of it. This normally happens to at least one big retailer during Black Friday, but rarely this early.
Last year the Walmart Black Friday Guaranteed in Stock website issues prevented some users from entering their claims on time, but Walmart extended the deadline to accommodate users.
Here's a look at the early Walmart Black Friday 2014 deals that are online as part of this early bird online sale. We don't know all the prices, but were able to see some of them, listed below.
iPad mini 16GB
Nintendo 2DS $79
Straight Talk iPhone 6
Roku 3
Apple TV
Vizio 60-inch HDTV
Vizio 70-inch HDTV
Nokia Lumia 635
Xbox One (various bundles and deals)
PS4 plus a free controller and one game – $459
PS4 console
Some of the items listed on the Walmart early bird deals page appear to be priced normally, so make sure you do your homework before you make any purchases — once the website issues are resolved. We tried visiting these pages directly from Walmart's home page but they did not load through that route either.
The online Walmart Black Friday 2014 ad also shows toys, home, sports, auto, clothing, gifts and other items that shoppers can browse and attempt to buy.
Shoppers can plan on in store and online Walmart Black Friday 2014 deals starting on Thanksgiving and carrying through Black Friday with multiple doorbuster times. Check out our Black Friday 2014 predictions for Walmart and other top retailers in the slides below.
Black Friday 2014 Deals & Ads
Walmart Black Friday 2014 Ad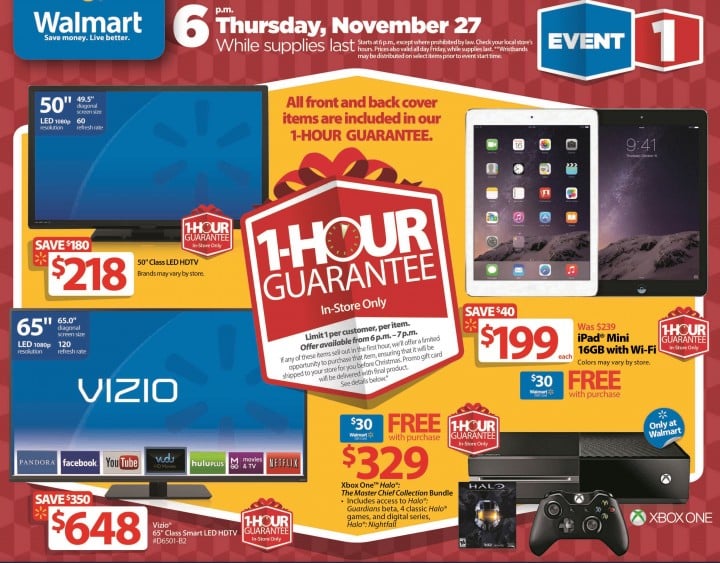 Walmart Black Friday 2014 deals start at 6PM on Thanksgiving and roll all the way through Cyber Monday. There are three specific events on Thanksgiving and Black Friday 2014, including nine 1 Hour Guarantee items that are in stock or you can get it by Christmas at the Black Friday price.
This includes a 65-inch Vizio HDTV for $648, the Xbox One with Halo for $299 after gift card rebate and an iPad mini for $169 after gift card.
You can check out more details on how the Walmart Black Friday 2014 1 Hour Guarantee will work. Duncan Mac Naughton, chief merchandising officer at Walmart states, "We've taken significant steps to improve the 1-Hour Guarantee process from beginning to end. It's simple and seamless."
Walmart beat our Xbox One and PS4 Black Friday 2014 predictions with big savings on the Xbox One and the PS4 GTA 5 and The Last of US Remastered bundle for $399. Here's a look at the nine guaranteed in stock items for 2014.

50" Class LED HDTV for $218 ($180 savings)
Vizio 65" Class Smart LED HDTV for $648 ($350 savings)
Apple iPad Mini 16GB with Wi-Fi for $199 with a $30 Walmart Gift Card ($70 value)
Xbox One Halo "The Master Chief Collection" Bundle for $329 with a $30 Walmart Gift Card
RCA 7" Google Play Wi-Fi Tablet for $29 (special buy)
Samsung Galaxy Ace Style on Straight Talk Wireless for $29 ($100 savings)
LG Blu-ray Disc Player for $35 (special buy)
Beats by Dr. Dre Wireless Headphones for $149 ($130 savings)
HP Intel Celeron Touch Laptop for $249 (special buy)

You can see the full Walmart Black Friday 2014 ad and deals online now. Wlaamrt will post store maps on November 18th and share more detials as the event approaches.

This article may contain affiliate links. Click here for more details.