Evolve III Tablet Aims for Windows 7, Android, Maemo Triple Play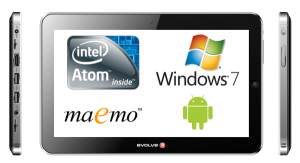 Shown at Computex, the Evolve III tablet is an ambitious hardware platform that's built on an Intel Atom processor that can triple boot into Windows 7, Android, and Maemo. The tablet was shown before earlier this year, but now the company has placed a AUS$799 price tag on the device.
The tablet features a 1.5 GHz Oak Trail CPU with 2 GB RAM, 32 GB SSD, 2 USB ports, HDMI output, micro SDHC expansion slot, front-facing camera, WiFi, Bluetooth, and a 10.1-inch capacitive touchscreen display with a 1024 X 600 resolution. The device also has a light sensor and an accelerometer.
Now, with the Evolve III, you won't have to choose between the three supported platforms as you get all of them on the same hardware.
Via: My Nokia Blog

As an Amazon Associate I earn from qualifying purchases.