11 Exciting iPad Pro Features
The iPad Pro is the largest iPad ever and with it Apple includes a number of exciting iPad Pro features that will change the way you use an iPad for work and for play.
While the iPad Pro is a larger iPad, it is not just a bigger iPad. Apple packs in a number of important changes and new iPad Pro features that potential buyers need to know about.
Apple announced the new iPad Pro on September 9th alongside a new Apple TV, iPhone 6s an iPhone 6s Plus. The tablet runs iOS 9 and includes a massive high-resolution display as well as optional accessories to super-charge how you use this new iPad.
The iPad Pro release date is set for November 2015. Apple did not confirm a specific iPad Pro release date or time, which is how apple normally handles an announcement with a release pushed out a month or more.
Apple charges a premium for the iPad Pro with a 32GB iPad Pro price starting at $799, a 128GB iPad Pro for $949 and a high-end 128GB iPad Pro model with LTE built-in or $1,079. The iPad Pro price is just $100 less than an 11-inch MacBook Air, which is a hefty price for a tablet, especially one with a $99 iPad Pro stylus and $169 iPad Pro keyboard add-on.
Apple includes iOS 9 on the iPad Pro with support for split-screen multitasking like the iPad Air 2 includes. One missing feature is the new 3D Touch that Apple announced for the iPhone 6s and iPhone 6s Plus today.
With this in mind we are taking a look at the most exciting iPad Pro features that we think buyers will appreciate and that will justify both the cost and the bigger size of the new iPad Pro.
Huge, High Resolution iPad Pro Display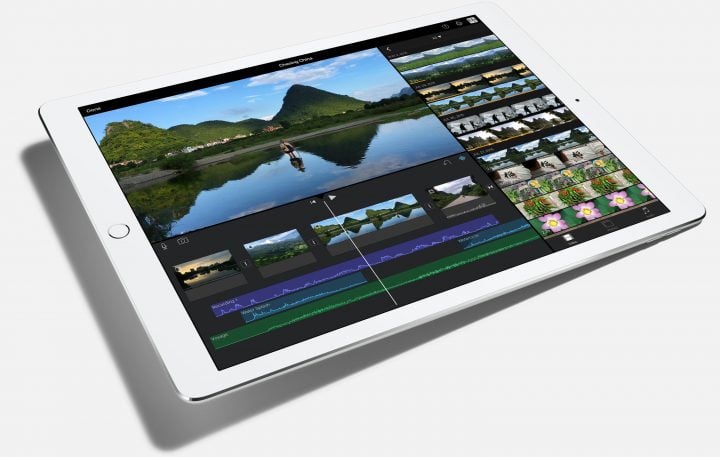 The iPad Pro display is a massive, high-resolution canvas for your work and entertainment. The iPad Pro display measures 12.9-inches and delivers 78% more screen area than the iPad Air 2 for getting work done, or for gaming.
With a 12.9-inch screen and a 2,732 x 2,048 resolution it is both the largest iOS display and the highest resolution one as well with 5.6 million pixels.
Apple boasts that this is a great display for photo editing, working and gaming.