New Fallout 4 Loot Crate Details Emerge
New Fallout 4 Loot Crate details have emerged today and it looks like an unveiling could come in the near future. This special limited edition bundle isn't the Fallout 4 Pip Boy Edition but it could be the next best thing.
As we push deeper into the year towards the Fallout 4 release date, we continue to see new and exciting Fallout 4 release details emerge.
Last month, Bethesda and Microsoft revealed two rare items including a Fallout 4 Xbox One controller and a limited edition Xbox One called Fallout 4 Pipbox. We also recently saw another exclusive bundle arrive for consumers in the United Kingdom.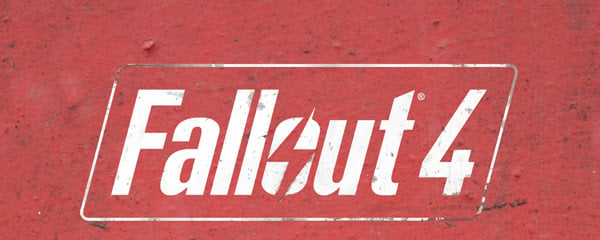 Today, we're learning more about the highly anticipated Fallout 4 Loot Crate, a limited edition bundle that was confirmed all the way back in July.
In July, Bethesda and Loot Crate announced that they would be teaming up to release a special edition Fallout 4 Limited Edition Crate full of unknown collectibles. The companies said that the release would be tied into the game's November 10 arrival and that those interested would want to sign up for more details.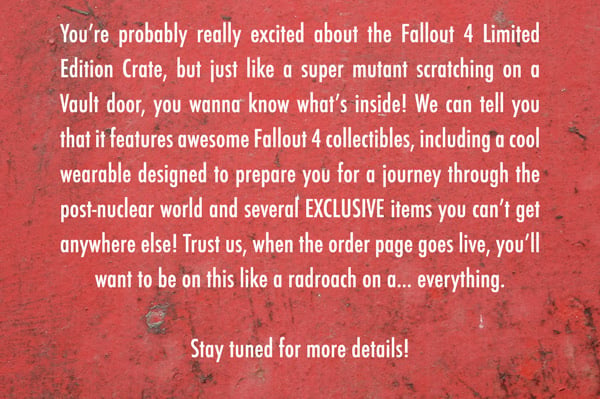 Loot Crate is finally talking about this Fallout 4 Limited Edition Crate. The company issued a teaser today that outlines some new details that should be of interest to those that are looking to score one of these elusive bundles ahead of the Fallout 4 release.
The company's teaser notes that the crate will come with a "cool wearable designed to prepare you for a journey through the post-nuclear world." We're not sure if this is a PipBoy or something completely different but it could be a must-have for fans of the series.
The teaser also says that it will include Fallout collectibles that you won't be able to get anywhere else. It's not clear what those are yet though the company says that those interested should "stay tuned" for details.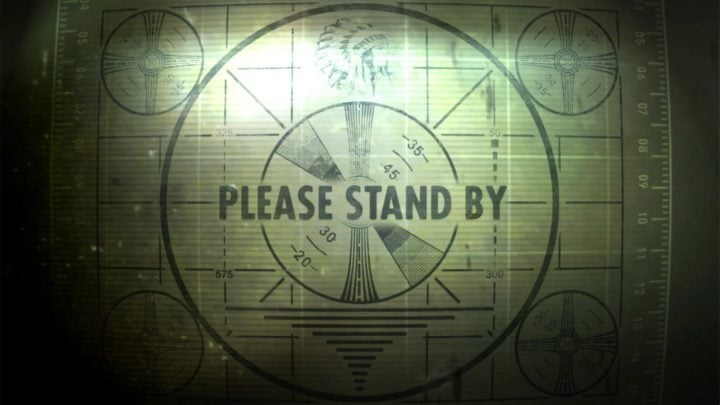 It's not clear when the order page will go live but those who are interested in a unique wearable and exclusive collectibles will want to sign up through the company's website. The sign up page doesn't guarantee you a crate nor does it serve as a pre-order.
We've heard that these will actually be in very limited supply, perhaps in the low thousands, so those interested will need to be on top of things in the weeks to come. We expect the company to send out another email once its ready to put the bundle on sale.
The Fallout 4 Loot Crate isn't the only Fallout 4 bundle in high demand. Bethesda's Fallout 4 Pip Boy Edition is sold out everywhere ahead of launch and resellers are asking for $300 or more on sites like eBay.
The company says that it won't be making any more copies of the collectors edition though it is offering five Pip Boy Editions through its Fallout 4 contest. Those interested need only sign for the Bethesda newsletter ahead of October.
Bethesda recently confirmed that it has no plans to release any more official bundles. The standard version of Fallout 4 and the Pip Boy Edition will serve as the only official bundles that come with a copy of the game.
Loot Crate's bundle probably won't come with a copy of the game so you'll need to acquire that from another source. Be sure to scout for Fallout 4 deals before you do.
Fallout 4 Release: 10 Things We Learned in August
Fallout 4 Xbox One Controller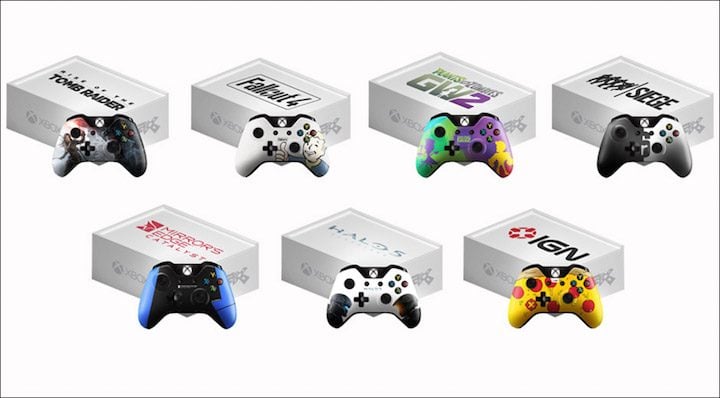 We've seen a ton of Fallout 4 accessories emerge though this one should be especially exciting for Xbox One users.
Microsoft just announced a brand new ultra rare Fallout 4 Xbox One controller. The controller is tied into PAX Prime 2015 and the company is going to be offering a couple of different ways to win the controller ahead of the game's release in November.
If you plan to attend PAX Prime 2015, you'll want to snap a photo. Then you'll want to share that photo on Instagram or Twitter with the hashtags #xboxsweepstakes and #xbox.
If you can't make it to PAX, you'll need to retweet a specified tweet from Microsoft's Xbox Twitter account. One you do that, you'll enter into the contest for a chance to win the Fallout 4 controller. The contest will run from August 28th to August 31st.

This article may contain affiliate links. Click here for more details.