45 Galaxy Note 5 Tips & Tricks
The Galaxy Note 5 is one of many flagship Samsung smartphones and it's packed full of features, tools, settings and tricks that every user needs to know about. Read on for 45 Galaxy Note 5 tips and tricks to get the most of your phone. With a new Galaxy S7 coming soon, and discounts hitting the Note 5, now more than ever is the perfect time to buy Samsung's 5.7-inch powerhouse smartphone.
Owners won't need to read the boring manual or search through the extensive settings pages on the phone. You won't need to look up how to guides to do the simple or complex things this phone has to offer. We'll show you how to transfer photos from a DSLR camera, connect and use a micro-SD card even though it doesn't have an SD slot, master the camera, use the phone with one-hand, run two apps at the same time and so much more.
Read: 10 Exciting Galaxy Note 5 Accessories
With a sleek new interface running on top of Android 5.1 Lollipop, the best version of Samsung's TouchWiz yet, and an improved stylus this phone can do it all. Below we'll explain how to reboot a frozen Galaxy Note 5, take screenshots, master the stylus, and at least half of these tips and tricks are hidden deep in settings or out of sight to the average user.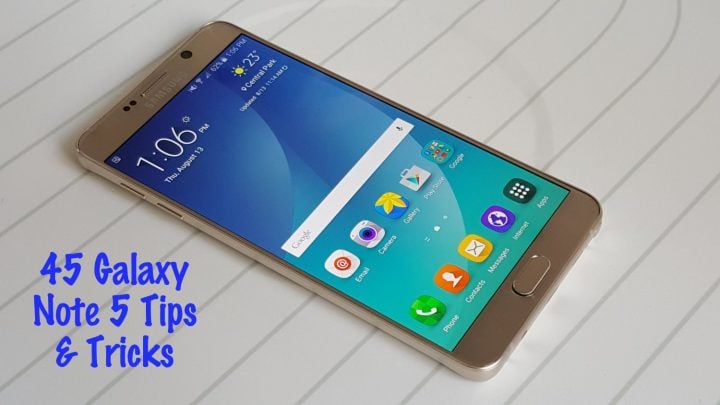 Almost everything we will be detailing today will enable users to enjoy this smartphone to the fullest. Most of these tips and tricks are free or simple software changes, and don't need any additional purchases or items. If you read our massive Galaxy Note 5 Review you know this phone can do a lot of neat things, and has tons of features that go way beyond stock Android.
While the Galaxy Note 5 runs Android 5.1 Lollipop now, a major update to Android 6.0 Marshmallow is set to arrive this month. It will introduce an improved user interface, even more features, improve battery life, and much more. Below is what owners or potential buyers can expect.
Read: Android 6.0 vs Android 5.1 Lollipop: What's New in Marshmallow
Forget reading manuals or asking the internet, everything you need to know about the impressive Samsung Galaxy Note 5 can be found right here, and we'll be adding more once Marshmallow arrives. Lets get started.
45 Samsung Galaxy Note 5 Tips & Tricks
We're going to start with some of the basics for those that are new to the Galaxy Note lineup or new to Android, then progress into some of the more advanced options with settings, camera controls, setting up a fingerprint for security, transferring photos, and doing all sorts of neat things with this powerful smartphone loaded with an 8-core processor and as much RAM as most laptops. The Note 5 can do it all, and here's how to do it.
Take a Screenshot
Saving a screenshot is ridiculously easy on Samsung smartphones. All you'll need to do is simply push and hold both the power button+home button at the same time. Briefly push and hold both buttons and let go, and you'll see and hear the screenshot capture. That's it. The phone saves whatever was being displayed, and can be accessed from the gallery or in the notification pulldown bar. From here users can share it, go into edit mode and crop out anything, and easily share it with anyone they'd like.
There is also a second method that's even easier, although I find myself using the original method more. Samsung has neat gestures with the Galaxy Note 5 and these also work. A quick swipe of the edge of your hand across the entire display will also capture a screenshot. You've probably done this by accident and didn't know what you did, but it's actually a feature. See the image below for an idea of what we mean.
Owners can head into settings > device > motion controls and make sure the "Palm-swipe" gesture is enabled. Once you've done this simply swipe the edge of your hand across the front of the screen and it takes a screenshot. It's that easy and you're all done. I just stick to the power and home button combo myself.
Scrolling Screenshot Feature
New to the Galaxy Note 5 is a scrolling screenshot feature that allows users to capture not just what's on the display, but an entire page. As in an entire website, a long email that extends beyond the screen of a regular screenshot, or an entire text message thread. This requires the S-Pen stylus, but is very easy to do.
Pull out the S-Pen stylus and tap the green "Screen Write" option. This will instantly take a screenshot of whatever is on the display. Then an edit mode will appear with options at the top and bottom of the display as shown below and highlighted in red.
Tap the bottom left option titled "Scroll Capture" and it will scroll down and take another screenshot. Users will then get an option to "Capture More" to keep taking screenshots of an entire email or website, or hit done. Owners can tap capture more over and over and take huge screenshots, then share them or do with them as they'd like. This is a great way to save an entire text conversation without taking 15 screenshots, however you'll now have one huge image.
Take Notes with the Screen Off (and locked)
One of our favorite new features of the Note 5 is the ability to take a quick note while the screen is actually turned off or even unlocked.
Simply click and pull out the stylus while the phone is turned off. A low-power mode turns on and allows for quick notes, saving an email address, writing down a phone number and more. Then you can save it by tapping the save button up top. Or just slide the S-Pen back in and it saves it automatically. This makes using the S-Pen faster, easier and worthwhile.
Add that to the new customizable hover options, integrated design and scrolling screen capture feature, and owners will find themselves using the S-Pen more than they expected. I've never been sold on the stylus, but now use it once every 2-3 days with the Note 5.
Read: 8 Common Galaxy Note 5 Problems & How to Fix Them
Better Security with a Fingerprint
The Galaxy Note 4 had an awful swipe-based fingerprint scanner that didn't work very well. The Note 5 though, has an excellent fingerprint scanner built into the home button for unlocking the device, better security, easy mobile payments with Samsung or Android Pay, and you can even sign into websites using a fingerprint. I sign into my bank app with the tap of my fingerprint.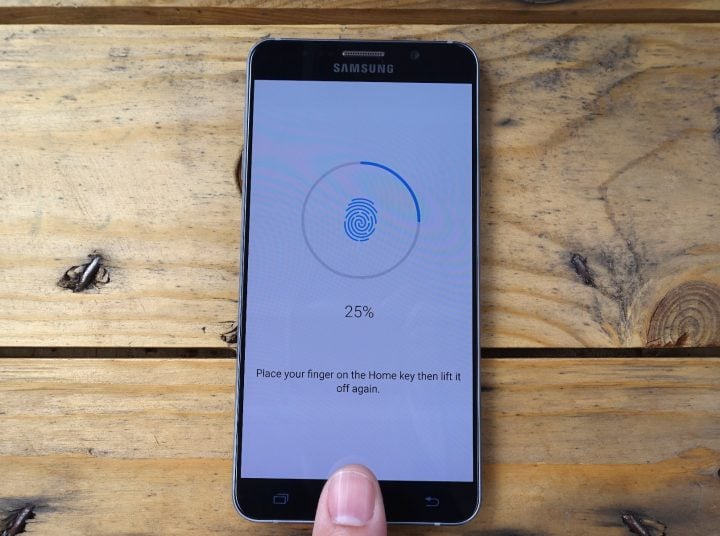 Instructions
Step 1: Open the Settings app and tap on "Lock screen and security" under the Personal column.
Step 2: Select the "Fingerprints" option, which is located halfway down the screen.
Step 3: Users will be prompted to scan a fingerprint and enable this lockscreen method. Those who already have a fingerprint registered will need to select "+Add fingerprint" and follow the on-screen prompts.
Here is a hands-on video showing users how to setup, enable, and add additional fingerprints for security on the Galaxy Note 5.
That's all there is to it. You now have some of the best security on a smartphone. One that's easy to setup, painless to use, and one of the biggest selling points of the Note 5. But it gets even better.
Smart Lock
Smart lock is a feature inside of Android 5.1 Lollipop that basically turns off your fingerprint lockscreen security measure, password, or a pin. Now why would you want to do this? If you're at home, you don't need security. Same goes for while driving, or if you know the phone is on your person. Smart Lock uses your location to know you're home, and disabled the fingerprint lockscreen security, or whatever method you chose.
Head to Settings > Lockscreen & security > Secure lock settings > Smart Lock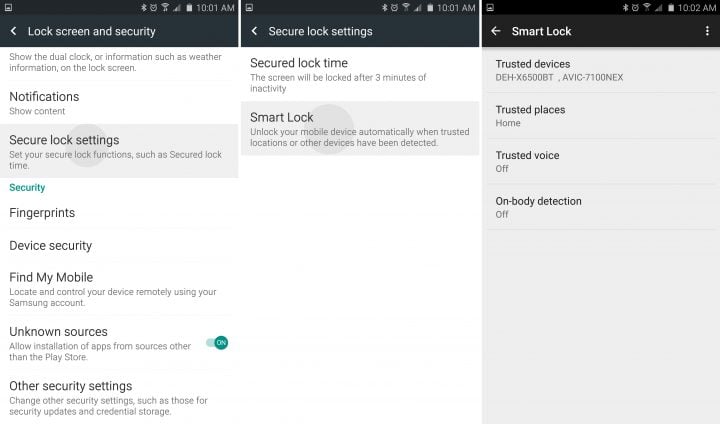 From here simply set your home address as a trusted place, or a trusted bluetooth device like your car stereo, Android Wear smartwatch, or other bluetooth devices. This will allow users to enjoy the phone and not have to enter a password, pin, or fingerprint to unlock the phone. The minute you disconnect from a device, or leave your house, the lockscreen security measure is re-enabled. This is extremely convenient and I love it.
Customize Quick Settings
Another useful software tweak from Samsung is called Quick Settings. The first panel or column in the settings menu is a list of "Quick Settings" or the settings and options a user needs the most. These are customizable, and only take a minute to setup.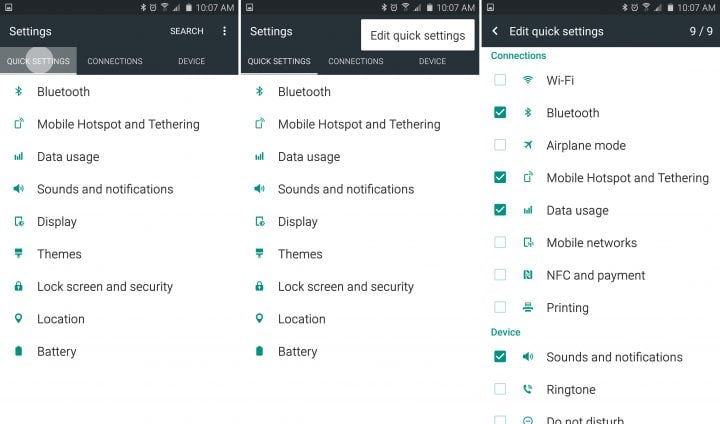 Pull down the notification bar and hit the gear-shaped settings button, and you'll instantly see Quick Settings. Tap the three dots near the top right and select "Edit Quick Settings". From here you'll be able to select the box for nine of your most often-used settings.
Change The Look & Feel (Themes)
Samsung makes some of the best phones, but not everyone likes their software. Thankfully we can change the entire look and feel of the settings menu, icons, colors of options or controls and more thanks to a new app and option in settings called Themes.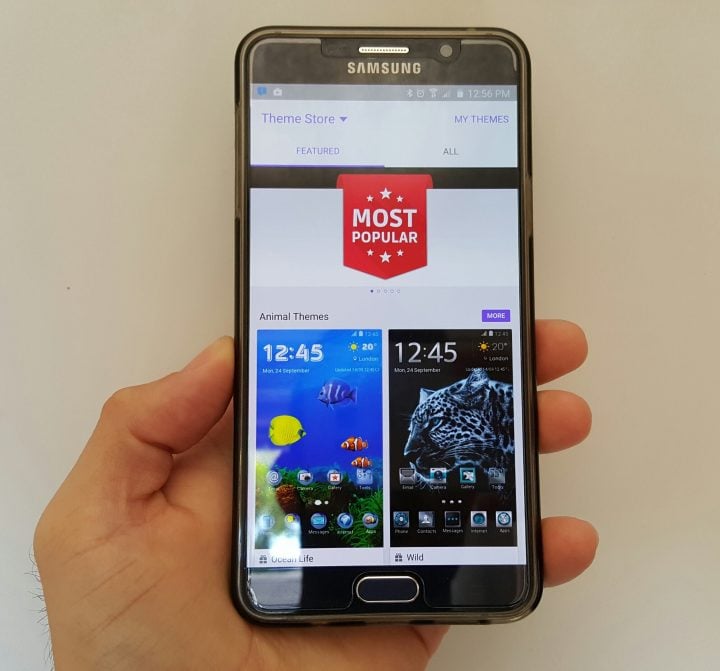 Simply find the "Themes" app. In here you can select from a wide array of custom themes. Look at my notification bar and settings menu (and icons) as they're all different.
I've installed a stock Android 5.1 Lollipop "Material" theme from the Theme Store to make everything simple and more pretty, and we'd suggest others hit the theme store to try any of the more than 100 themes available. You'll be glad you did.
Turn off the Notification LED
Some users have reported problems where the Note 5 notification light blinks all the time for no reason, or owners just want to turn it off. Thankfully this is an option in settings that only takes a few moments, so lets get started.
Users will start by heading into settings by selecting the gear-shaped settings button in the notification pulldown bar, or navigation to the settings app in the application tray. Once you're in setting head select the top column labeled "Device" then "Sounds & notifications" and scroll to the very bottom.
At the bottom of Settings > Device > Sounds & notifications we want to turn off the last option called the "LED indicator". Simply tap the switch to turn this off. Once done the LED light on the Galaxy Note 5 will no longer flash for notifications.
The only problem here is this also turns off the LED while charging. There's no way to have notification LED's off, but charging LED turned on. So choose what works for you.
Fast Charging
The Note 5 features something called Adaptive Fast Charging. It's also called Quick Charge, or Turbo Charging. Essentially it will go from 0-50% in under 30 minutes, and fully charge to 100% in only 90 minutes. Older devices like the Note 3 took nearly three hours, so this is a great feature.
Read: 5 Quick Chargers for the Galaxy Note 5
This is essentially the same technology as Qualcomm Quick Charging shown in the video below. Owners will need to use the charger included in the box, or from the link above, in order to get fast charging.
If you use an old charger or wall plug from a different device, an older smartphone, it won't charge nearly as fast, and could take over two hours to get a full charge. Use quick charging, and never worry about battery life.
Wireless Charging
The Galaxy Note 5 supports wireless charging, and is one of the first devices to support Fast Wireless Charging. Simply buy any of the wireless chargers available (the Note 5 works with both standards, as there's two different technology types available). However, buying the Fast Wireless charger from Samsung's website is your best bet.
Read: Note 5 Fast Charging: Everything You Need to Know
Once you have a wireless charging pad simply drop the Note 5 on, and it charges without plugging anything in.
Fast Wireless Charging fully charges the phone in 120 minutes, which is faster than older wired methods, but not as fast as the new fast charging wall charger mentioned above. Last month Samsung released a pre-order page for the Samsung Fast Wireless Charging Pad, and it will retail for $69.99 when it's released in the near future.