45 Galaxy Note 5 Tips & Tricks
Change the Font & Text Size
Many users buy the Note 5 for the big screen and huge font. Thankfully we can make the font bigger, change the font and much more. Here's how.
Settings > Device > Font > and Choose Away
There are five default fonts, more can be downloaded, and you can make it as small or as big as you'd like. It's very user-friendly.
Motion & Gestures
This isn't new to the Note 5, but if you're new to Samsung or the Note you'll love the motion and gesture controls built in. Heading to settings > device > Motions & gestures will allow for a few neat motion controls.
You can call a contact you're viewing by just putting the phone to your ear, get small vibrates when there's a missed call or notification you've yet to clear, turn the phone over to mute it, and take screenshots by swiping your palm over the screen. See the image above.
Connect an SD Card to the Galaxy Note 5 from Your Camera
If you want to look at the photos you took on your DLSR on a bigger screen or to share them on Facebook and Twitter, you can connect a full size SD card to your Galaxy Note 5 with two cheap adapters. You'll need a USB OTG cable and a USB to SD card adapter to make this work. The video below is from the Note 4, but works the same way.
Connect the USB OTG cable to the charging port on the Note 4 and then connect a cheap USB to SD card adapter and plug the cable in. A file explorer will launch so you can see your photos, edit them and share them.
Connect a USB Drive to the Galaxy Note 5
If you just need to look at a file quickly, or want to bring movies and photos with you on a trip you can do it, even though the Note 5 doesn't have a micro-SD slot. You can connect a USB drive to the Galaxy Note 5 with the same USB OTG cable. Again, the video is the Note 4, but works the same way.
All you need to do is plug-in the cable and then plug-in a USB drive and a file explorer will launch. You can view files and copy them to internal storage if you need to.
Keep the Screen On When You Look at It
If the Galaxy Note 5 screen keeps turning off while you are looking at it, you can turn on Smart Stay. This will detect when you are looking at the Note 5 and keep the screen on. The easiest way to make sure this is on is to go into settings, hit search, and type "Smart Stay". It's under display settings, and just turn this on.
The screen won't turn off no matter what timeout setting you have enabled as long as you're looking at the screen. This works for videos too. Look away and the video will pause, but only using the stock Samsung Galaxy Note 5 video player app.
Use the Note 5 as a Mobile Hotspot
Use you can the Note 5 data connection as internet on a tablet or computer, by turning on tethering or the mobile hotspot feature in settings. To enable a wireless personal hotspot you'll start by heading into settings by tapping the gear-shaped settings icon, or swiping down and hitting settings in the notification pulldown bar. The second column on the Note 5 is connections, and it's the fourth option.
Settings > Tethering and hotspot > and swipe the on/off switch to turn it on
This will turn on tethering with all of the default settings, so you'll want to change them and add a password if you're in public so others can't use it too. Next you'll tap on the device name, or menu (3 dots up top) and "configure hotspot" to change the name from Note 5 xxx to something more personal, and make sure to add a unique password. WPA2 is the most secure, enter the password, and hit save. Now just connect a tablet to the Note 5 for internet, just don't use all of your data streaming movies or WatchESPN.
Master the S-Pen Stylus
The slide-out S-Pen stylus can do a lot of neat things. We already mentioned scrolling screenshots, writing while the screen is off, but that's just a few of many features it has.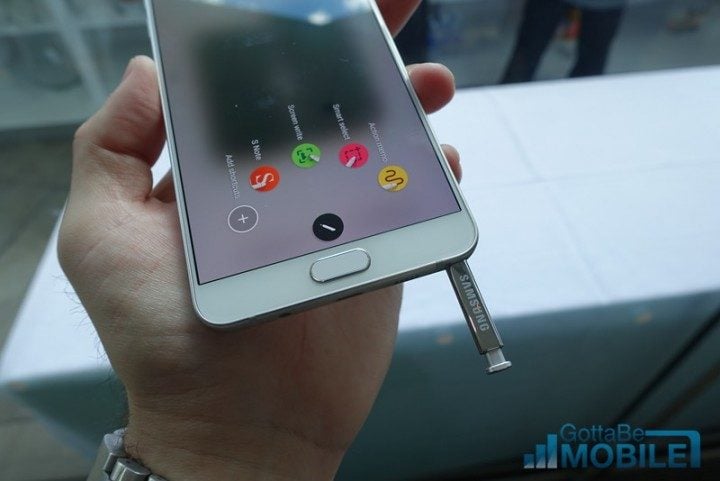 There's S-Note, Action Memo for taking Notes, Smart Select where you can crop and edit photos, texts, emails and more, and tons of other features. A few are highlighted here by Samsung.
https://www.youtube.com/watch?v=T52C6NXbuwE
Add shortcuts to the popup when you remove the stylus for easy access to drawing apps, photo editors and much more. It's extremely powerful once you get the full hang of it and all it can do.
Write Instead of Type
If you want to write your messages and notes instead of typing them on the Galaxy Note 5 keyboard, you can use the built-in writing keyboard. You need to be using the Samsung keyboard for this to work, not Google keyboard or something else. Tap and hold on the microphone. Choose the second icon, which is a T with a pen next to it.
The keyboard will switch to a small window where you can write your text with the S Pen and it will appear on the upper part of the screen as regular text. This is fairly accurate, but the screen is too small to make this our favorite way of entering text on the Note 5. I stick to a regular keyboard. It does have a neat feature where it turns writing into text, and it reads my awful handwriting better than I do and turns it into a text document.
If you see a small writing and text icon in a text field like Chrome, you can tap on it with the S Pen to open a writing window.
Emergency SOS Mode
This feature was on the Note 4, and gets overlooked by millions. Basically one quick setting could safe your life in an emergency situation. Once enabled, tap the power button 3 times very quickly and the Note 5 sends an emergency notification out to select pre-set emergency contacts.
Settings > Personal > Privacy & safety > Send SOS message
Once you set this up a quick triple tap will send your location, pictures using both cameras, or even audio recordings to a set contact, not to mention saves them to the device for usage later. These can be useful in court, or save someones life.
Track Your Health with S Health
There is a hear rate sensor in the Galaxy Note 5 that can track your heart rate, oxygen saturation, food, weight, sleep, UV exposure and even stress levels.
Open the S Health app and enter your information to get started. Now the Note 5 will track your activity and steps, set goals, and you can use the heart rate sensor on the back of the phone to track some of the items listed above. You'll need to open the app and manually do the heart related items with a fingertip, but the activity tracker works automatically as long as you have the Note 5 in your pocket.
<h2><a href="https://www.gottabemobile.com/2016/03/03/Galaxy-note-5-tips-tricks/5/">Continue to Next Page</a></h2>
<!–nextpage–>
Track Data Usage on the Galaxy Note 5
If you are on a limited data plan like most users, you can use the built-in data monitor to measure your data usage for the current billing period. This will show you how much data you used and which app used the most data.
Go to Settings > Data usage to see the usage. You can also set up notifications and limit data usage at certain amounts. Not to mention set the dates for your billing cycle.
Turn Off or Change Touch Key Lights
Depending on carriers the touch key lights on the left and right of the home button stay on for a long time, or turn off way too fast. This is the "Touch Key light duration" setting. You can set it to 1.5 seconds, 6 seconds, always off, or even always on when the screen is on. This customization option is great, so here's how.
Settings > Display > Touch Key Duration
Make the Note 5 Look Like Stock Android
If you don't like how Samsung's TouchWiz interface looks, a few steps can easily make your phone look and feel like a stock Android "Nexus" device. The guide below is for the Galaxy S6, but works the same way.
Read: How to Turn the Galaxy S6 into Stock Android
Download the Google Now Launcher, use a Material Theme from the store, and change a few other things.
How to Factory Reset "Erase" the Note 5
Last but not least, you'll need to know how to factory reset and erase the Note 5. This could be if it's acting funny after an update, to fix problems, or before you sell it.
Settings > personal > Backup & reset > Factory Data reset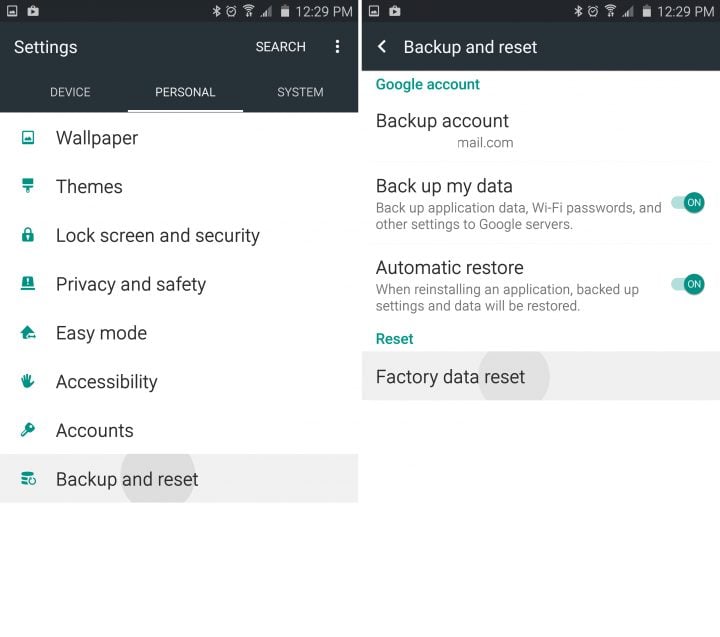 Scroll down and hit reset device and it will erase everything. Delete all accounts, photos, everything, and make it like it was out of the box. Clean, empty, and ready to be sold.
The Samsung Galaxy Note 5 is one of the best overall smartphones available today, and everyone who owns one will be able to do more with it than ever after following some of the steps outlined above. Enjoy! If you have any tips, drop us a comment below.

This article may contain affiliate links. Click here for more details.