45 Galaxy Note 5 Tips & Tricks
Reset a Frozen Galaxy Note 5
The new Galaxy Note 5 and Galaxy S6 Edge Plus don't have a removable battery like older models. That means if the phone is frozen or unresponsive, users can't just remove the battery to reboot it. However, we can reset it without losing anything.
All Galaxy Note 5 or S6 Edge Plus owners need to do is press down and hold the power button, and the volume down key at the same time, and hold them both down simultaneously for 7-10 seconds. This resets the phone, similar to how iPhone's reboot when they misbehave.
If the Note 5 was frozen most likely you'll feel a vibrate and it will restart just like usual, or it may reboot into a maintenance reboot mode as shown above on the Galaxy S6. If so, just use the volume up/down keys to navigate and tap power to select an option. Be careful to only reboot your phone, and don't accidentally do a factory data reset, as that will erase everything on the Galaxy Note 5.
Close Running Apps
When you open way too many apps on the Galaxy Note 5, or any device, performance could drop and battery will drain faster than usual. Android handles tasks quite well, but killing open apps like Navigation or Maps when not in use will save battery.
Simply tap the overlapping rectangle-like button to the left of the dedicated hardware home button. This is the multi-tasking menu key that brings up all currently open or running apps. From here swipe away to close open and currently running apps.
The image above shows the slightly redesigned look of this menu on Samsung devices. There's no more options or task manages of old. Simply a Rolodex-style card view of all currently running apps, and one big "Close All" button on the bottom. You have two choices here.
A simple swipe of your finger on each box will swipe them away, and instantly close the app. Any saved progress or website you may be on will have to reload next time you use that specific application. Or start-over completely and lose wherever you were. The image above shows the menu, and me swiping to clear something (right side). That's it, you're all done. It is that simple to clear and close apps on the Galaxy Note 5.
Use the Note 5 as a Flashlight
This is an old trick, but something I use almost daily. Turning on the camera flash and using it as a flashlight. Pull down the notification pulldown bar and there are a few shortcut quick icon buttons. Find the one called Flashlight, and tap it. This instantly turns on the flash and acts as a flashlight.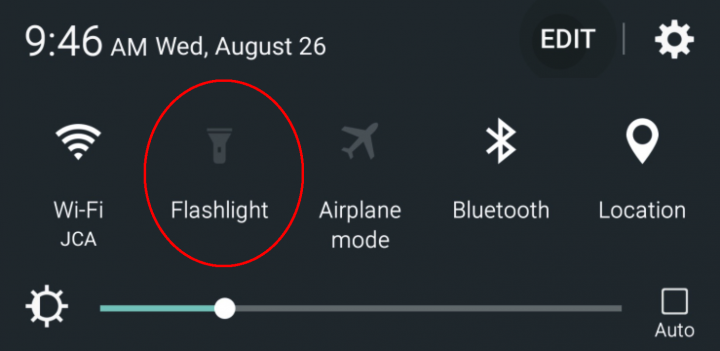 Pretty handy, right?
Get Rid of Bloatware
Unless you bought an unlocked model right from Samsung, your new Galaxy Note 5 will likely have well over 15-20 absolutely worthless apps taking up space, and making your application tray full. These apps take up space and rarely ever get used. Like T-Mobile TV, Sprint ID, Nascar, Verizon Apps or Navigator, and a slew of ridiculous AT&T apps, Amazon apps, Lookout Security and more. I disabled everything humanly possible on my Note, 33 apps to be exact. Which is a bit ridiculous.
Head into settings, and the easiest way is just hit search and type "Applications" and go to the application manager. Scroll over to the "All Tab" and disable anything that starts with AT&T, T-Mobile, Verizon, etc. I also disabled the Dictionary app, Yellow Pages, Skype, Uber, Galaxy Apps, the Milk Music app and more. Disable what you want, but make sure you don't go overboard or some apps and features won't work properly.
Delete The Note 5 Browser History
We won't ask questions, if you want to delete the Note 5 browser history, here's how.
Read: How to Delete the Note 5 Browser History
Simple go into the "Internet" app or Google Chrome, head to settings, history, and clear anything you don't want people to see. Sites visited, login information and more.
Change the Default Text Message App
First things first is you'll want to navigate to the Google Play Store and download one of the many different third party text apps. Textra is my favorite, GoSMS or Chomp are pretty fancy, and a few others made our list linked to above. Download one, and you're set. Most change the default app settings for you so you can use it instead of the built in messages app. Textra will have a big "Set as Default" button on first launch near the bottom. If not, here's how to do it yourself.
As you see above simply head into settings and under the "Device" column navigate to Applications > Default Applications > and tap "Messages" to change the default text message app. If none are installed, only Samsung's stock option will be displayed, as well as Google Hangouts. Tap which app you'd like to use (we chose Textra) and you're all done.
Change Grid Size (Icon Count on Home screen)
If you don't like how the bigger screen of the Note 5 allows for five icons to be on the screen at a time, as most only have four, we can change this. Simple long-press on a blank area of the homescreen to enter the same screen edit options we mentioned above. The first option on the bottom right is "Screen Grid".
This will change the grid of icons from 5×5 to 4×5, or even 4×4 if you'd like. It's a small change, but one that many enjoy doing to customize the look of their Note 5.
Add Battery Percentage to Notification Bar
If you're like me and would rather see an actual percentage of battery life remaining, we can add a percentage. It's actually really easy, and here's how.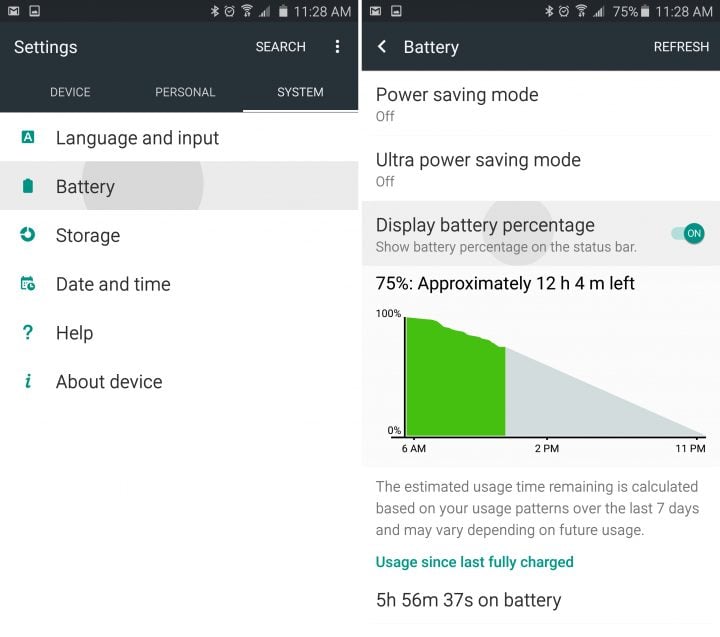 Navigate to settings > system > battery > and tap the show battery percentage button. That's it, you'll now see a number up top, not just an icon.
Ultra Power Saving Mode
Speaking of battery life, when you're running low you can enable "Ultra power saving mode". This disables any themes you applied, turns the screen black and white, and disables most battery-hungry apps. Turning the Note 5 into a basic device to make calls and send texts.
Settings > system > battery > Ultra Power Saving Mode > Turn On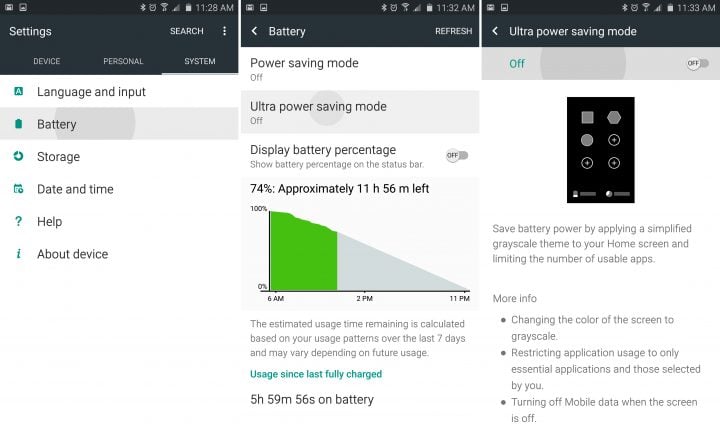 Once you've done this the phone will go into a power saving mode that can allow the last 15% of the battery to lat for hours and hours. Great for a night out, or emergency situations.
Disable Obnoxious Sounds
Out of the box the Note 5 makes sounds for every time to you touch the screen, lock or unlock the display, tap the keyboard and more. These are irritating, so lets disable them.
Settings > Sounds & notifications > Ringtones & Sounds > System (Disable any you choose)

This article may contain affiliate links. Click here for more details.