45 Galaxy Note 5 Tips & Tricks
Quick Launch the Camera
The Note 5 has one of the best cameras on any smartphone. A 16 megapixel lens that takes great photos. In order to never miss a quick shot, they have a way to instantly launch the camera.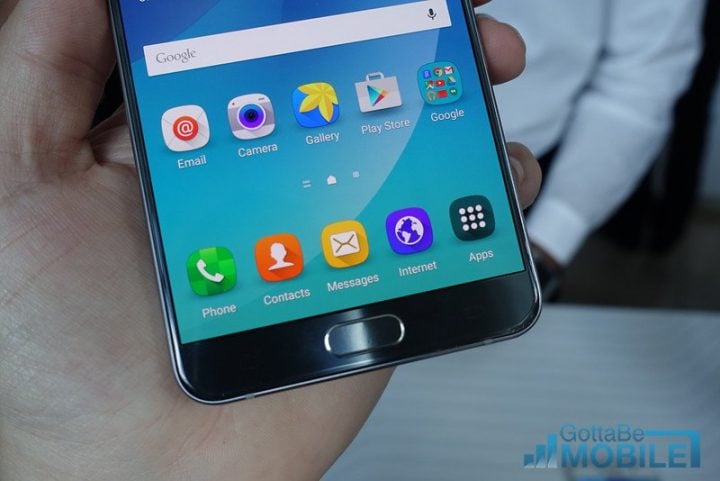 Simple double tap the home button at any time and it instantly launches the camera. This works while the screen is off, locked, inside an app, or anywhere. Instantly launching the camera in under one second to quickly snap photos.
Master the Camera
The Galaxy Note 5 camera is one of the most advanced we've ever seen. Make sure to hit the "Auto HDR" mode to get the best photos ever time. This captures the lights, regular, and dark shadows of a photo and blends it into one with the best possible lighting and shadows.
When you tap the screen to focus, a bar near the right side appears that is a slider to increase or decrease brightness on the fly. Making those dark photos bright while indoors, or toning down the sun in an outdoor shot.
Then users can hit the MODE button on the bottom right to go into Pro mode and control everything, like a professional camera. Take panorama photos, video collages, live broadcast videos directly to YouTube, take slow motion (and fast motion) videos, and even download additional camera tools like "beauty shot" which smooths skin for better selfies. Mess around with the settings, hit the gear-shaped settings button and enable 4k video recording and more. We'll do a big how to on the camera early next week.
Launch Camera from Lockscreen
This one isn't new, but some may not be aware of it. When you turn on the screen with the power button or home key, before you swipe to unlock or use a fingerprint, you'll see a camera logo near the bottom right. Simple swipe up from the button to instantly open the camera, rather than unlocking the phone and finding the camera app.
This is just one more quick way to get the camera open and ready, but I use the double tap of the home key personally.
Samsung Pay
Just like Google Wallet, Android Pay, and the popular Apple Pay, we have Samsung Pay. The benefit here though, is it works with all credit and debit card machines everywhere. Samsung Pay uses NFC wireless mobile payments, and is backwards compatible with regular magnetic swipe-based payment terminals.
Sign up for the beta, download the Samsung Pay app, and add a credit card. Then you can swipe up from the lockscreen or any homescreen to instantly pull up a credit card, and make a secure payment with your fingerprint.
Read: Samsung Pay vs Android Pay: What's the Difference
Tap. Pay. Go is what Google and Samsung has been saying, and that's exactly how it works. It's extremely convenient, but doesn't work everywhere just yet.
Samsung Pay is the best solution of them all, and works everywhere. Samsung Pay uses the same NFC payment method as Google or Apple, but is also backwards compatible with regular swipe-based credit card machines (MST) that read the magnetic strip on debit cards. Samsung acquired a company called LoopPay, and integrated it into the Galaxy S6, Galaxy S6 Edge, Galaxy Note 5, and Galaxy S6 Edge Plus.
This will officially launch on September 28th, so get ready to pay for things using the Note 5, almost everywhere that accepts a credit card.
One-Handed Mode
The Galaxy Note 5 is a big phone with a 5.7-inch screen. Users can head into settings > display > one-handed operation > and enable this. Once done, press home three times and the screen will minimize to a 4.7-inch type size, making it easier to use with one hand.
This can then be moved to either the left or right side for easy one-handed use. Great for those with small hands.
Open Two Apps at Once
Samsung has a feature called Multi-window, one that recently came to the iPad Pro. This allows owners to have two apps open at once. Simply open something like Gmail or Google Chrome, then hit the multi-tasking button to the left of the home key.
Tap any of the cards in the multi-tasking window that have a little icon on the right side that looks like two boxes on top of each other. This turns on multi-screen mode. Then select a second app and you'll have two apps open simultaneously. You can even drag one window to be bigger than the other. Read emails while watching a video, or watch a how-to while reading instructions from the web browser. It's very useful.
Multi-Window Mode
There's another feature that does a little of both of the last two tricks. That being multi-window mode that opens apps on top of one-another. Allowing for one small window to be above the screen. Essentially having multiple windows or apps. This is something to minimizing pages on a desktop computer.
Open any support app like Google Chrome, then slide from the right or left corner inwards towards the middle, and it will minimize the browser and open it in a separate window. This can be moved, resized, and minimized, then you can open another and do the same. Tap the circle on any window to move it, resize, or minimize. It's easy once you figure it out.
Turn Off Auto-Update Apps
No one wants apps updating on their own, unless you'd rather not be bothered to do it manually every few days. This is more of an Android trick, but is helpful for Note 5 owners. Navigate to the Google Play Store by tapping the icon on your homescreen, or by finding it in your application tray.
Once you're in the Google Play Store users can select the top left (3-lines) menu button next to the "Google Play" search bar. From here just scroll down to "Settings" and select that as shown below.
This will bring users to the general settings for the Google Play Store. In this menu the first option listed is "Auto-update apps" and you'll want to select this. From here simply choose what works best for you. By default it will be set to automatically update apps over Wi-Fi, which is what most users should leave it on. We don't want apps updating while using data, as that will use a full 2-4GB data plan and cause overage fees from a carrier. Instead select "Do not auto-update apps".
Easy Mode
If the Galaxy Note 5 is your first smartphone, or you just want a simpler way to use the device, you can turn on Easy Mode. This is a basic mode that allows you to see just the apps and features you need to get started. You can still download apps and use many features, but if this is all new to you it is a good place to start.
Settings > Personal > Easy Mode > and turn this on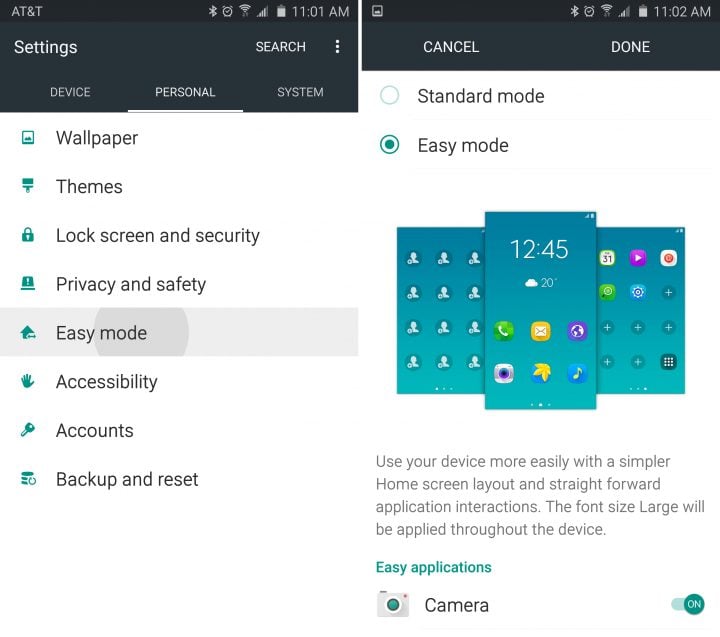 The Galaxy Note 5 will now be a pretty basic regular phone, easier to understand for beginners full of shortcuts to make calls, send texts, and do most thing with ease, rather than having a full-fledged smartphone.
Disable Briefing (Flipboard)
One swipe to the left on the Note 5 brings users to something called Briefing. It's a one-stop-place for all kinds of news, updates, social site details and more. Similar to a news app called Flipboard. It's nice, but seems to slow my phone down so I disable it.
Long-press anywhere on your homescreen, and this brings up an area to add widgets, change wallpapers and more. Simply swipe over to the left and uncheck briefing. This completely turns off this somewhat helpful app, one that many don't care for. You can then add another homescreen where it was, and put many often-used apps in that place instead.

This article may contain affiliate links. Click here for more details.