Where to Buy the Galaxy Note 9: Everything You Need to Know
The Samsung Galaxy Note 9 is finally official, pre-orders live, and plenty to love. Whether that's the bigger screen, powerful S-Pen, dual cameras, or all-day battery life. With pre-orders shipping early you're probably looking for more details or the best Note 9 deals. Here we'll go over where to buy the 9, the best deals, what to expect and more.
All of your favorite carriers or retail stores are carrying the new Note 9, and you can try it early in stores soon. Pre-orders kicked off August 10th, and the release date is August 24th. However, Samsung and Sprint both started shipping early.
Read: Helpful Galaxy Note 9 Release Details
On stage, Samsung confirmed the new Galaxy Note 9, a Galaxy Watch, and the all-new Galaxy Home Bixby smart speaker. Whether you live in the United States or somewhere else, here's everything you need to know about buying or pre-ordering your new Note.
Galaxy Note 9 Pre-Order Date & Time
As expected, the Galaxy Note 9 went up for pre-order at midnight on August 10th. Carriers and stores are accepting them as we speak. Additionally, Best Buy, Target, and many other retail locations will have the phone available soon.
Galaxy Note 9 Pre-Order Date & Time: August 10th at 12:01 AM
Those who pre-order Samsung's new phone from now until late August will get some free goodies too. Samsung's offering a stunning 15,000 Fortnite V-bucks for free. Or, you can get $300 Samsung AKG headphones for free if you don't want to game. Or, get them both for only $99. Head to the promotional site to get started once you buy the phone.
Galaxy Note 9 Shipping Info
If you pre-ordered the Galaxy Note 9 we have good news. It looks like Samsung.com orders started shipping early, on August 20th. You could have the phone in your hands as early as August 22nd. Additionally, Sprint confirmed they'll deliver devices by the 22nd too, ahead of the official August 24th release date. If you get a shipping notice from FedEx out of Indianapolis, IN it's your new Galaxy Note 9 coming early.
Where to Buy the Galaxy Note 9?
Being the latest and greatest Galaxy Note this phone is available almost everywhere. Samsung confirmed every major US carrier along with smaller regional carriers will offer it. That includes Verizon, AT&T, T-Mobile, Sprint, US Cellular, Straight Talk, and others. Additionally, head to a nearby Walmart, Best Buy or even Target to get yours.
In an effort to help you pre-order your Galaxy Note 9, below are links to all major carriers, their announcements, and pricing details. We even found the best Galaxy Note 9 deal for you.
Samsung.com
The best place to buy the Galaxy Note 9 is directly from Samsung's own website, just like last year. They guarantee delivery by August 24th, for free, and they have it for almost every carrier or an unlocked model. We recommend unlocked, as that means you can use it anywhere. However, it's the trade-in discount that makes Samsung the best option.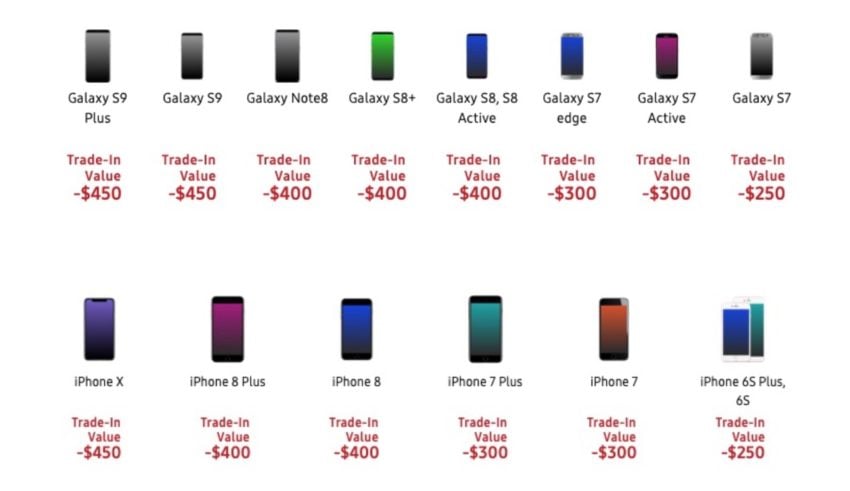 Samsung is offering $450 off with select trade-in devices, up from the typical $300 they usually give out. So your Galaxy S8 is worth $400 when you trade it in, while places like Verizon probably won't even give you $300. Then, other phones will give you $450 off.
At Samsung.com you could end up paying only $550 for the Galaxy Note 9, and you'll get a free $300 pair of headphones or 15,000 V-Bucks to Fortnite. That's a pretty darn good deal if you ask me.
The phone regularly costs $999 or $1,249 so make your choice wisely.
Get the Note 9 from Samsung.
Verizon Galaxy Note 9
It looks like pricing will be the same from almost all carriers, but they could offer deals or different monthly payment plans to help with the big price tag. You can get the Galaxy Note 9 almost anywhere in 128GB for $999, or pay over $1,200 for the 512GB model.
However, to make things easier to deal with, Verizon's also running a buy one, get one free promo when you pre-order the Note 9. As long as you add a new line of service and get them both on payment installment plans, you'll get monthly credits for the second phone. That's basically $999 off.
To pre-order the Galaxy Note 9 from Verizon click here.
AT&T Galaxy Note 9
This is an expensive phone no matter where you buy it. Most carriers have both the 128 and 512GB model, although we're still waiting on information about which colors will be available.
You can pay $999 or $1,249 at AT&T too, or finance either storage configuration for 24 months by paying $41/month and $52/month.
Get the Note 9 from AT&T.
T-Mobile Galaxy Note 9
The popular Un-Carrier is selling the Note 9 in 128GB and 512GB flavors too, and they have all of their usual perks.
Basically, you can get the phone for $999 anywhere, but we recommend a monthly payment plan or a deal if you can find one. At T-Mobile, you can trade-in an old phone and get the Note 9 for 50% off.
Get the Note 9 at T-Mobile.
Sprint Galaxy Note 9
Sprint will only offer the 128GB Galaxy Note 9 for $999. So, if you want more storage buy a microSD card or go to a different carrier. And unfortunately, like every other carrier, only the Blue and Purple models are available. The Black Note 9 isn't in the US.
You can get the Galaxy Note 9 from Sprint for 50% off and only $20 a month with a Sprint Flex Lease, or use the Galaxy Forever upgrade if you've had your old phone for 12 months. As a bonus, Sprint promises phone deliveries by August 22nd, two days early.
Get the Note 9 at Sprint.
Straight Talk Wireless Note 9
If big carriers and contracts aren't your cups of tea, try Straight Talk Wireless. They have the 128GB Galaxy Note 9 for $999 like everyone else and will stretch that out over 24 payments.
Get the Note 9 at Straight Talk.
Amazon has the Galaxy Note 9
These days more and more people are buying phones from Amazon instead of carriers. It's just easier to get a device delivered than deal with people in a store. You can get both storage models from a wide array of carriers at Amazon, but they won't let you do the monthly payments with no interest.
If you can't afford this phone, try getting it with an Amazon credit card which also gets you 5% back on any purchase for Prime users.
Get the Note 9 from Amazon.
Xfinity Mobile & US Cellular
Next, two smaller regional carriers will offer the Note 9 right away too. And while we're expecting others like Cricket and MetroPCS to join in, these are the announcements we have thus far.
Both of these smaller carriers have the 128 or 512GB models, and they cost the same as everywhere else. And, both will let you pay it off over a 24 month period to make life easier. If you snag the Note 9 and a new line at Xfinity they'll give you a $300 pre-paid card to use anywhere, making the Note 9 only $699.
Get the Note 9 from US Cellular, or from Xfinity Mobile.
Best Buy Galaxy Note 9
And last but not least, your big-box Best Buy retail store have the Galaxy Note 9. Not only that, but you can try it out in person before you buy one. That way you know if it's the right phone for you.
If you're looking for the best Galaxy Note 9 deal you'll want to go to Samsung or Best Buy. That's because they'll match any promotion from AT&T, Verizon or Sprint, and they often have their own too. The site mentions up to $200 in savings, but we're not sure how. Either way, get the Note 9 from multiple carriers or unlocked right at a Best Buy store near you.
Get the Note 9 from Best Buy.
Galaxy Note 9 Release Date
You can pre-order the Galaxy Note 9 right now but you still have to wait for it to ship. The official Galaxy Note 9 release date is August 24th. That said, Sprint will deliver phones by the 22nd, Samsung.com has free shipping, and we're expecting T-Mobile to offer the phone early too.
So far we're only seeing signs that Samsung.com shipped pre-orders early. If you paid for overnight shipping you could get it as early as the 21st.
Before you go, here's how the Note 9 compares to the Galaxy S9+ for potential buyers. Then, snag a Galaxy Note 9 case and keep your phone safe.