Galaxy Note 9 vs OnePlus 6: Which One to Buy?
Now that the Samsung Galaxy Note 9 is readily available potential buyers have a tough choice to make. With so many great phones available right now it's hard to know which one to buy. Especially when great affordable options like the OnePlus 6 are available.
With that in mind, here we'll go over everything you need to know about the Galaxy Note 9. Then compare it to the OnePlus 6. That way you'll know if the Note is for you, or to save hundreds of dollars and get something else.
Read: Note 9 vs Pixel 3 XL: What Phone to Buy
Most of the leaks and rumors were right on target. The Note 9 has a bigger 6.4-inch screen, two powerful cameras, and a big battery. All the important stuff. However, the OnePlus 6 delivers a very similar experience for a lot less money. That's why you'll want to know all about both in our slideshow below.
If you are buying a new phone in 2018 you have lots of options so far and more are on the way. You can snag the impressive Galaxy S9+, get a Note 9 on August 24th, or save a few hundred dollars and get the OnePlus 6. It's a tough choice.
Both of these phones have huge screens, fast performance, tons of features and plenty to love. If a big screen is all you're after, either phone is a great choice. With a big 6.2 or 6.4-inch curved AMOLED display, everything looks good. That said, the big screen isn't all these phones have to offer.
OnePlus has nearly stock Android with fast updates, while Samsung's Note 9 delivers an S-Pen and a better camera experience. There are a lot of pros and cons with each one.
Our slideshow below compares all aspects of both phones so you'll make the right choice on your next phone.
Galaxy Note 9 vs OnePlus 6: Display & Design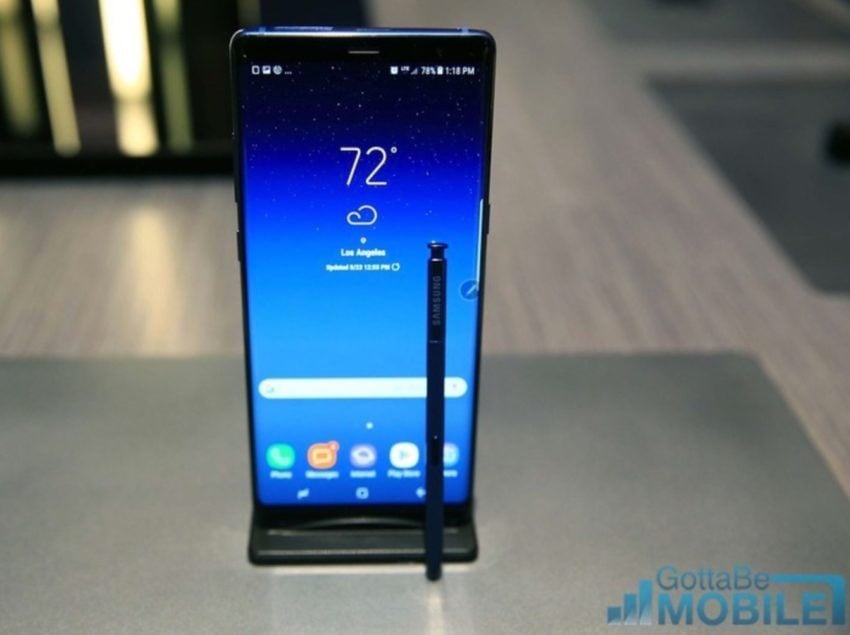 One of the first things any buyer looks at when they consider a new phone is the screen size. I know I do. These days almost everyone expects a big screen, and these two phones deliver exactly that.
Both the Galaxy Note 9 and the OnePlus 6 have great screens in similar sizes. In fact, the OnePlus 6 comes in at 6.28-inches. The OnePlus screen is flat though, not curved, and has a notch at the top for the front-facing camera. Similar to the iPhone X design. It's only 1080p, but they do use a nice Samsung AMOLED inside.
Samsung's Galaxy Note 9 rocks a slightly bigger 6.4-inch Quad-HD display that looks great. These sound like huge devices, but they're not. Thanks to smaller bezels the phones have big screens while still being easy to hold and use. How big of a screen do you need or want? If the Galaxy S9 is too small and the Note 9 is too big, the OnePlus 6 might be perfect.
As for the design, these phones are both premium devices made from metal and glass, with two cameras on the back. The biggest physical difference is the notch in the screen or the Galaxy Note 9's S-Pen.

This article may contain affiliate links. Click here for more details.