The Galaxy S8 Can't Compete with Secret New Android Phone
Back in March, we learned the co-founder of Android, Andy Rubin, was working on a stunning new Android smartphone with his company Essential. And if the latest teasers are any indication it will blow away the Galaxy S8 and iPhone 8 competition.
Today Essential tweeted "something big is coming" on May 30th. Then, Andy Rubin confirmed that they're almost ready to share what the company is busy working on. From the few images we've seen so far, Samsung could be in trouble.
All we know is this phone will have nearly no bezels around the large display. Bezels that are smaller than the Galaxy S8 or LG G6. The company is also teasing a new magnetic strip up top for modular accessories. Rubin's secret feature is likely an add-on 360 degrees camera, AR lens, and other accessories.
Back in January, Bloomberg suggested this premium new Android smartphone is using metal and ceramic build materials on the back. Not to mention a big screen on the front with no bezels similar to the Xiaomi Mi Mix. The report also states the company is developing "a proprietary connector that serves double duty for charging the battery and expanding the phone's functionality over time." The magnetic connector will work with 3rd party accessories.
Based on those comments, we can expect the phone to have modular features like what we've seen from Motorola and LG. The company confirmed that rumor with the image above, which was just posted to Twitter.
After one fan modified the image a bit, we can clearly see some sort of lens attachment on top of the Essential smartphone. The image also suggests a larger bezel on the bottom for capacitive navigation buttons, a front-facing camera, or even a fingerprint scanner.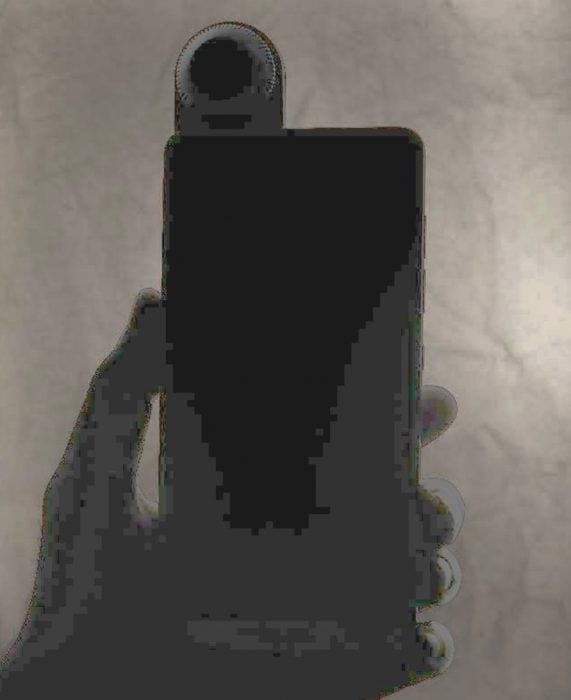 Based on everything we've seen this phone should have a large 5.5 to 6-inch bezel-free display and a proprietary new connector up top for fast charging and connecting accessories. Additionally, expect it to run the latest Android Nougat software and possibly be priced to undercut the competition. Here's the first image revealed by Andy Rubin himself back in March.
Again, everything else about this exciting new Android smartphone is a complete mystery. Given what we do know though, it could have some killer new features that blow away the Galaxy S8 and Apple's upcoming iPhone release.
One important factor will be the price of the phone. Bloomberg suggested it will compete in the high-end market, but we'll have to wait and see. Stay tuned for more details come May 30th.

As an Amazon Associate I earn from qualifying purchases.