iPhone 8 Release Date, Design, Photos, Features and News
The iPhone 8 release date is just over a month away and we know a lot about the iOS 11 update that is coming alongside the new iPhone. This is the 10th iPhone release, and it looks like Apple could announce the iPhone 7s, iPhone 7s Plus and iPhone 8 at an event in mid September.
iPhone 8 rumors point to major changes for the iPhone and consumers are already waiting to upgrade to a 2017 iPhone. Apple CEO Tim Cook told investors that "Earlier and much more frequent reports about future iPhones," are slowing sales of the iPhone 7.
If the iPhone 7 is too similar to the iPhone 6s and iPhone 6, the iPhone 8 is one you should look forward to as all signs indicate that it will deliver a new design, new features and more reasons to upgrade from your old iPhone. Even though there is still a short wait ahead, interest in the new iPhone outpaces that in the Galaxy S8.
iPhone 8 Release Date: September 22nd 2017 rumored
How Much Will the iPhone 8 Cost? $649 to over $1,000 depending on rumors and options.
What is the iPhone 8? The iPhone 8 is a brand new iPhone with a new design that will likely include a glass body as well as a new edge-to-edge OLED display that may include a built-in Touch ID sensor and front facing camera. We could also see major iPhone 8 upgrades that add Augmented Reality.
Here are some of the iPhone 8 features we expect:
Larger, OLED display
Faster, more efficient Apple A11 Processor
Wireless charging
Brand new design
No home button
Augmented Reality – if the tech is ready
These match up with some of the iPhone 8 features we want to see most in 2017. Some of these could change as Apple routinely tests multiple iPhone prototypes in the lead up to a new iPhone announcement.
Now that you know the basics, it's time to dive deeper into what those iPhone 8 features might look like, why Apple could make a major change and other important details like when you might be able to buy it.
iPhone 8 Release Date
Essential Detail: Expect an iPhone 8 release date in September 2017
You can count on an iPhone 8 release date in 2017, and in all likelihood one that takes place in September 2017. There is a small chance Apple may delay the release slightly. The latest report suggests an iPhone 8 event on September 12th. That translates into the following timeline;
iPhone 8 Event – September 12 at 10 AM Pacific
iPhone 8 Pre-Orders – September 15 at 12:01 AM Pacific
iPhone 8 Release Date – September 22
Apple releases new iPhones in the fall. For the last five years, every major iPhone announcement and release took place in September. This timing is further cemented by the annual upgrade program that allows participants to upgrade to the new iPhone every year.
The iPhone 8 release date will likely be on a Friday in mid to late September. This allows time for Apple to take iPhone 8 pre-orders after the event and coordinate shipping to buyers and to Apple stores for the release date.
There is a chance that Apple will push the iPhone 8 release date to later in the year. We see this happen with major updates to products and when Apple is still refining the experience. This happened with the iPad Pro, Mac Pro, AirPods and other devices.
iPhone 8 Display
Essential Detail: Larger OLED Display, possibly edge-to-edge
The new iPhone 8 display is the most exciting aspect of the new iPhone. We continue to hear that Apple will use a 5.8-inch OLED display in one of the new iPhones. We may see several models this fall, and it is likely the iPhone 8 flagship that will come with new technology.
Many leaks indicate the iPhone 8 display will span the front with narrower bezels on the edges and that we will see a stainless steel frame on the edges. Initially rumors indicated Touch ID would appear under the screen, but it's not clear if that is something Apple will be able to pull off this year. Apple is working on facial recognition technology.
Bloomberg outlines a new stainless steel frame and a curved glass front for the iPhone 8. There is a chance we could see Touch ID moved to the back, like on the LG G6 and Galaxy S8, but it is not shown on dummy units and iPhone 8 cases are covering the Apple logo, which wouldn't be the case if it supported Touch ID.
Rumors going as far back as 2015 outline the deal and the progression of Apple's drive to include a new OLED display in the iPhone 8. According to The Korea Herald, Samsung will deliver as much as 80% of the new iPhone 8 OLED displays.
We continue to hear that Apple will upgrade to a 5.8-inch screen on the iPhone 8. This may use a new 18:9 aspect ratio like the LG G6 and similar to the one found on the Samsung Galaxy S8. This screen size allows for a larger screen in a smaller area. With smaller bezels, this also means the iPhone 8 won't be as big as a Galaxy Note, despite the bigger size. For comparison, the Galaxy S8 uses a 5.8-inch screen and is very similar in size to the iPhone 7.
A bottom portion of the iPhone 8 screen could be dedicated to a function area where a virtual home button exists. If this sounds familiar, it's how most Android phones work.
One reason for the wide range of iPhone 8 rumors is that Apple is reportedly working on more than 10 different iPhone 8 prototypes. iPhone 8 leaks may contain bits of information from any of these early iPhone 8 designs.
iPhone 8 Design
With Apple testing many iPhone 8 variations, it's no surprise that we also see many different ideas for what the iPhone 8 design looks like, but we are close enough that we have a pretty good idea of what you can expect.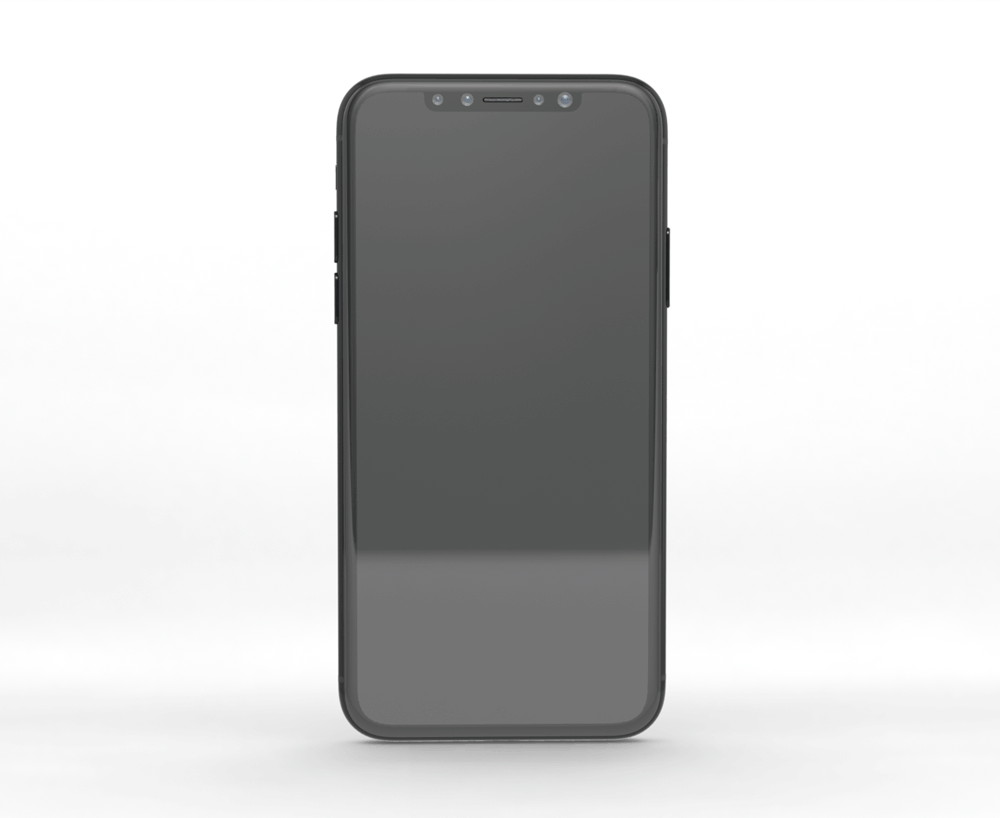 The Bloomberg report from Mark Gurman and Min Jeong Lee share an overview of the prototypes Apple is experimenting with that could lead to a final design. This includes a prototype design that "…includes symmetrical, slightly curved glass on the front and the back. The curves are similar in shape to those on the front of the iPhone 7. The new OLED screen itself is flat, while the cover glass curves into a steel frame. The design is similar conceptually to the iPhone 4 from 2010. An earlier prototype design had a thinner steel band, leaving more noticeable curved glass on the sides."
We may see a design that brings glass back to the iPhone body, replacing the aluminum of the iPhone 7 with a glass back like we saw on earlier iPhone models. Stronger glass could make this possible without the same threat of breaking your iPhone with a simple drop. A report in Nikkei cites Catcher Technology, a major Apple supplier, as saying there will be at least one iPhone model with a glass design in 2017. This lines up with an iPhone 8 dummy unit shared by Ben Miller.
At this stage, you can count on an iPhone 8 with a water-resistant design, like the iPhone 7. It's not likely that Apple will up the resistance to that of the Apple Watch, though. A Wall Street Journal report suggests Apple will use USB C connectivity with the iPhone 8, but this likely means packaging a Lightning to USB C cable with the iPhone instead of putting a USB C port in the iPhone 8. This report does point to the curved display we've heard rumored elsewhere.









Don't expect to see a headphone jack return this year, but you will likely still see a Lighting to 3.5mm adapter included in the box for at least one more year according to Barclays.
iPhone 8 Features & Specs
We are hearing about many iPhone 8 features, including potentially game-changing iPhone 8 features that change how you use the camera on the iPhone. The line between feature and spec is continually blurring as better specs enable new features, so we'll intermingle the two here.
Count on a new Apple A11 processor that is smaller, more powerful and able to deliver better battery life. That's the trend in processors and we don't expect it to change anytime soon. The iPhone 8 is expected to come with 3GB of RAM like the iPhone 7 Plus. Expect faster NAND storage in the iPhone 8 and there is a chance we will see more storage.
All signs point to Apple finally bringing wireless charging to the iPhone 8. Apple was experimenting with long-range wireless charging, but it looks like users may only see induction charging on a new iPhone in 2017. This is a fairly standard feature on Android phones like the Galaxy S7 and the LG G6.
JPMorgan analysts note that Apple could increase the volume from the iPhone 8 speakers and improve the waterproofing to an IP68 level.
We may see the iPhone 8 use a new Touch ID interface that is under the screen, though some reports suggest this will not make the final design. The iPhone 8 may also use facial recognition, according to a Ming-Chi Kou report from January 2017. There are also reports that Apple could use iris scanning to add to device security.
The iPhone 7 includes a Taptic engine that uses vibrations to enhance the user experience and Nikkei reports that Apple is working on an upgrade that is able to allow "complex tactile vibrations on the display." Count on 3D Touch to remain as an iPhone 8 feature, but Apple may need to change how they implement this technology.
Fast Company reports that the iPhone 8 will come with a larger battery, but we could see new features use more power. MacRumors shares a Ming-Chi Kou report that Apple will use a new battery design that could help boost battery capacity. This report also outlines the lower power consumption of OLED, which could help deliver longer iPhone 8 battery life.
The iPhone 8 cameras could help deliver augmented reality features for gaming or incredible selfies thanks to new technology that would allow the front-facing camera to scan your face. A leak directly from Apple appears to confirm this.
The main cameras on the iPhone 8 will include a dual-camera design similar to the iPhone 7 Plus, according to Kou, and could add optical image stabilization for both lenses. The iPhone 7 Plus only features this on the wide-angle. The Korea Economic Daily reports that Apple could work in 3D camera support if the company uses camera sensors from LG.
AppleInsider shares a new Apple patent that uses a new way to deliver smart facial detection. This adds to the claims that the iPhone 8 camera will support facial recognition in some way.
A new report from Bloomberg outlines Apple's plans for an iPhone 8 with augmented reality. Mark Gurman reports that Apple has hundreds of engineers on the project including individuals with experience on the Oculus Rift and Microsoft Hololens. In the report, Gurman outlines that we may see some of these AR features on the iPhone 8 this year:
"One of the features Apple is exploring is the ability to take a picture and then change the depth of the photograph or the depth of specific objects in the picture later; another would isolate an object in the image, such as a person's head, and allow it to be tilted 180 degrees. A different feature in development would use augmented reality to place virtual effects and objects on a person, much the way Snapchat works"
This matches up with the earlier rumors about the iPhone 8 cameras coming with powerful new features. Apple is currently pushing iMessage stickers, and it wouldn't be too much of a leap to see the company push out an Apple exclusive version of Snapchat Lenses for iMessage and FaceTime. Alternatively, Apple could choose to open up these features to apps with an SDK.
iPhone 8 Price
The iPhone 8 price is up in the air, but at least one report suggests the new iPhone will cost over $1,000 off contract. The current iPhone 7 starts at $649 and the iPhone 7 Plus starts at $769.
The iPhone 7 Plus with 256GB of storage is already $969, so it's possible that the most expensive iPhone 8 is going to cost over $1,000 with the most storage. The Fast Company report doesn't state which model of the iPhone 8 is going to cost
A new report from DigiTimes claims that the 3D Touch modules for the OLED iPhone 8 could cost nearly twice as much, jumping up to $15 per device. Small increases on components like this can add up to a higher iPhone 8 price.