Galaxy S8 Notification Bar Icons Explained
In this guide we'll help you understand what all the notification bar icons mean on the Galaxy S8. The little icons at the top of the screen near the time and battery indicator. Whether you see a weird circle with a plus sign on it, a lightning bolt, a bullseye or even a stop symbol. Here's what you need to know about your phone.
Don't spend your evening reading the manual or calling customer service for help. Not only will we tell you what some of the most common notification bar icons are, we'll help you get rid of them too.
Read: 23 Galaxy S8 Tips & Tricks
Most of the icons at the top of your screen are important. These let you know what settings or features you have turned on or off. They also display your 4G LTE data connection, 2G, 3G, WiFi connections, battery levels, and upcoming alarms, to name a few. If you're seeing an icon you don't recognize, or don't know how it got there, we're here to help.
Galaxy S8 Notification Bar Icons Explained
Even if you do read the Galaxy S8 user manual, Samsung only explains what a few of the icons are or mean. A lot of the most common icons that users have questions about are missing completely. Here are two images provided by Samsung detailing a few of these icons. If you have questions about something else, like a circle with a plus in it, keep reading for more details.

Some of the Galaxy S8 notification bar icons above are what you likely see the most. These display when you have a missed call, new emails, messages, downloads, GPS, or app updates. These are all pretty common, and mostly self-explanatory.
Next, here are a few other fairly common notification bar icons you'll see on your phone. Each carrier has a different logo for 2G, 3G, 4G, H, H+, and 4G LTE. These notify you that you have an active connection with your carrier, like Verizon or AT&T.
If you didn't find what you're looking for above, here are a few other notification bar icons that users see often and don't understand.
What Do These Other Weird Icons Mean?
The most common question we see about the Galaxy S8 notification bar icons is an odd half-circle with a plus sign in the middle. You can see it in our photo below. This doesn't go away, even if you reboot the phone.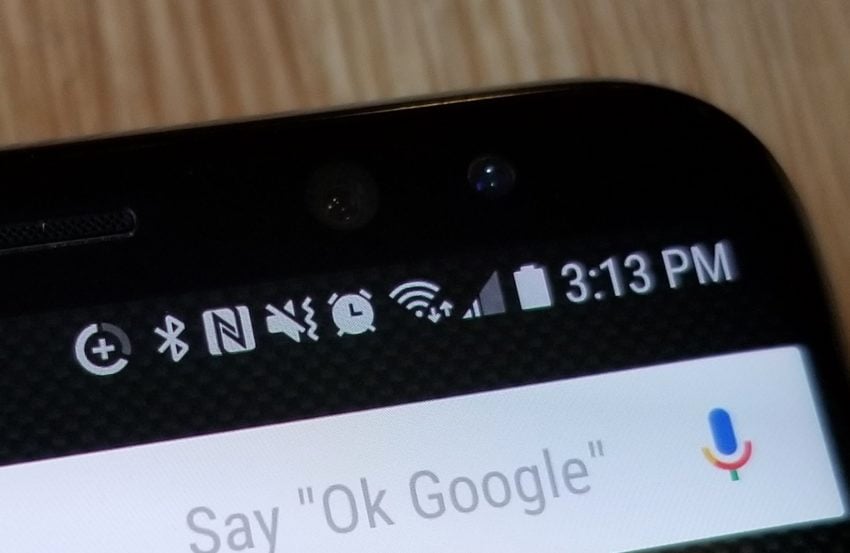 If you see a circle icon with a + sign, it means at some point you turned on a feature known as Data Saver. This cuts down on data usage by preventing some apps from sending and receiving data in the background. If photos aren't loading right in some apps (like Facebook) it's because of Data Saver.
Pull down the notification bar and tap the gear-shaped settings button. Go to Settings > Connections > Data usage > Data Saver > and turn it off. Now that little icon will finally disappear. However, your phone will use more data than it did before, and you might go over your monthly data plan. Next, the odd B icon stands for Bluetooth, as I constantly connect my phone to my car stereo and headphones, so it's always on.
The weird N-shaped icon stands for NFC, or Near Field Communications. Some apps use NFC to quickly pair Bluetooth accessories like a speaker, by tapping your phone to the speaker. They talk to each other using NFC and pair together automatically. You also use NFC when you make mobile payments with Samsung Pay or Android Pay.
You might also notice a bullseye, which is GPS on certain models of the Galaxy S8. If you're using Google Maps, you'll see it. Another one is a circle with a line through it, like a no smoking sign. This means you have no mobile connection or you took your SIM card out of the phone. If you see an "R" by your signal bars, it means you're roaming. Roaming is when you're an AT&T customer but there's no AT&T service around, but your phone still works because it found service from T-Mobile, or someone else.
Other Common Icons
Another question we see often is regarding the airplane icon on the Galaxy S8. This is airplane mode, which you probably accidentally turned on by hitting the icon when you pull down the notification bar.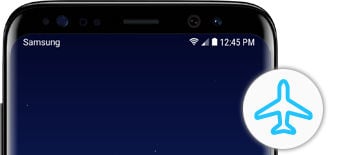 Airplane mode turns off all the wireless signals inside your phone. Like WiFi, Bluetooth, 4G LTE, internet, etc. Some airports believe these signals can interfere with an aircraft, so they make you turn everything off while you fly. Hence the name, airplane mode.
If you see a circle with a line in the middle, this stands for Do-Not-Disturb mode. Again, you probably accidentally turned this on by hitting the DnD mode when the notification bar was open. This prevents any and all notifications from coming through and is a feature millions of people love.
To turn these off and get rid of the icons, pull down the notification bar and look for the symbol. Find it, and tap once to turn it off.
Last but not least, is the weird lightning bolt on your Galaxy S8 notification bar. This is a feature known as download booster. It's an awesome feature that carriers in the United States disable on most Galaxy S8, S8+, and Note 8 devices. Download booster lets the phone combine both 4G LTE and WiFi for the fastest possible speeds while downloading a file. It's nothing to worry about, but you can turn it off if needed.
Go to Settings > Connections > More Connection Settings > and uncheck download booster.
How to Cut Down Your Notification Bar Icons
If you hate having a ton of notification icons at the top of your phone in the morning, there's a way to cut down on how many get displayed. Head to Settings > Display > Status Bar > and select to "show recent notifications only" from the list of options. Now, you'll only see three icons at a time, at least on the left side of the screen.
We've now explained some of the most common Galaxy S8 notification bar icons, what they do, and how to get rid of them if you'd like. While you're here, take a look at these 25 best Galaxy S8 cases, or learn how to disable notification icon badges on your phone. If you have a question about any other icons, drop us a line in the comment section below.

As an Amazon Associate I earn from qualifying purchases.