23 Exciting Samsung Galaxy S8 Tips & Tricks
The Samsung Galaxy S8 and Galaxy S8+ offer a ton of features and allow you to do things your old phone couldn't. Our Samsung Galaxy S8 user guide includes the tips and tricks you need to get the most out of your new phone without spending an evening reading your Galaxy S8 manual.
This guide of Galaxy S8 tips and features will help you learn how to use the phone and all of the cool features that you paid for. We'll be updating this guide as Samsung adds new features to the Galaxy S8 and we see apps add awesome new capabilities.
Get the Full Galaxy S8 Resolution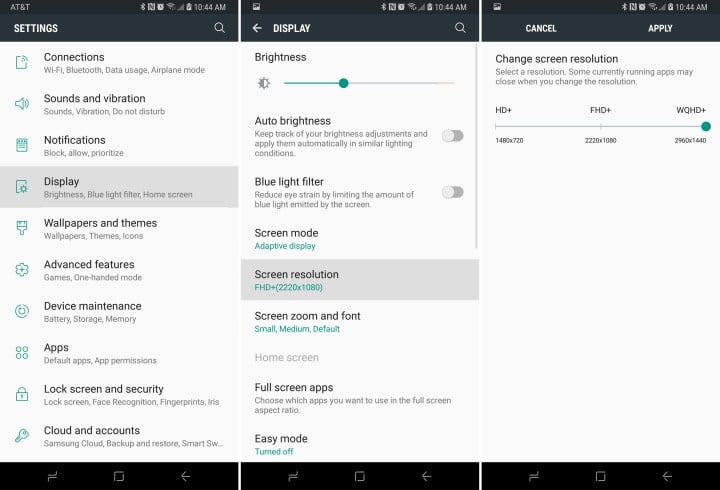 The Galaxy S8 and S8+ ship with the screen in FHD+ mode. This may help with battery life, but it also means you aren't getting the full resolution that the screen can offer. Upgrade your screen instantly in settings.
Go to Settings and search for Screen resolution. Slide it over to WQHD+ 2,560 x 1,440.
Customize the Always On Display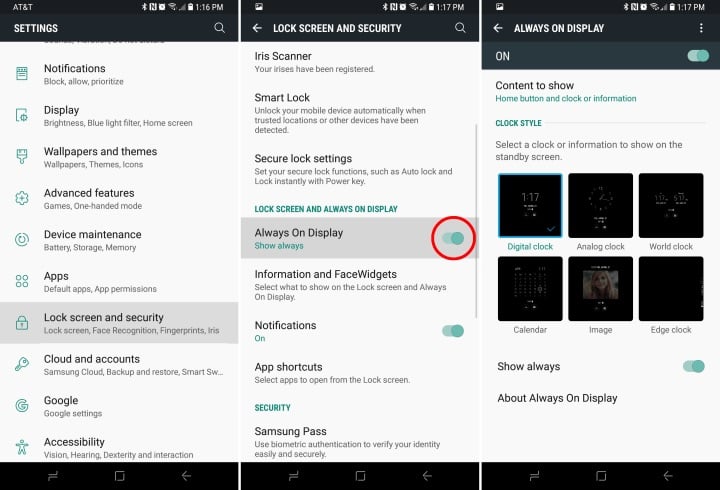 Now that you have your screen at the full resolution, you should customize the always on display. Samsung's phones keep a clock and some notifications on the screen even when the phone is locked and the screen is essentially off. It's an easy way to see information at a glance and you can control what is there.
Go to settings and search for always on display. Tap the On toggle to turn it on if it isn't already. Now you can choose from the options and even select when the Always on Display is on so that you see what you want.
Set a Galaxy S8 Theme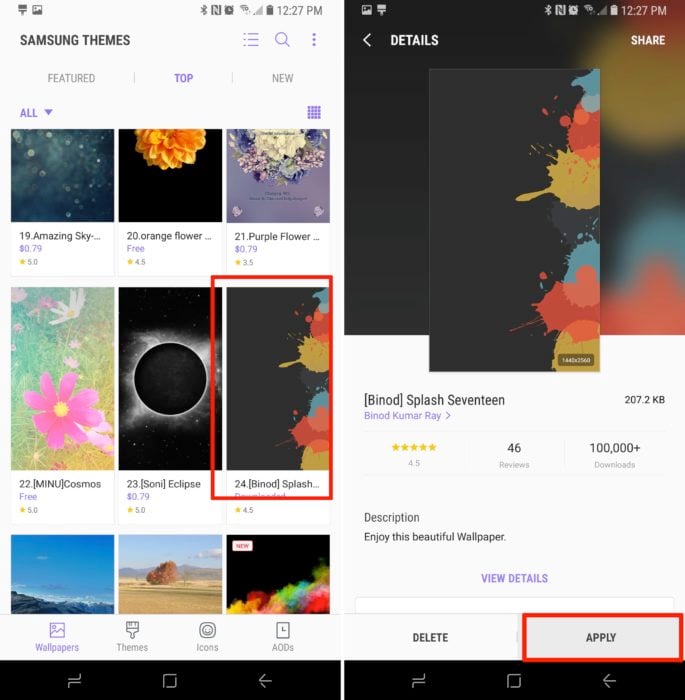 Samsung includes the option to set up a Galaxy S8 theme that completely changes the look of your phone's home screen, icons and even inside of some stock apps.
Go to Settings and search Wallpapers and Themes. You will need to download the Samsung Wallpapers and Themes app and then you can browse and search through a range of cool and interesting themes. Many of them are free, but there are others that you will need to pay for if you want them.
Set Up Galaxy S8 Unlock Options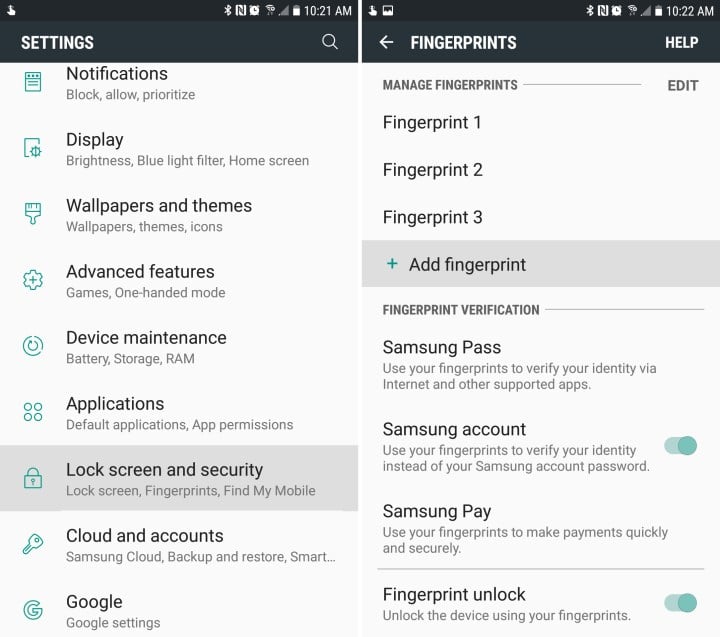 The Galaxy S8 fingerprint reader can be a pain to deal with, especially if you are right handed. Instead of swiping in a code every time or leaving your Galaxy S8 unlocked, set up face and iris recognition.
Go to Settings and search for lock screen and security. Once here you can set up a PIN or pattern as your default unlock. Next, you can set up the fingerprint scanner, face recognition and the iris scanner. You need to spend a little more time training the iris scanner, but it is more secure than dace recognition.
Set Up Find My Lost Galaxy S8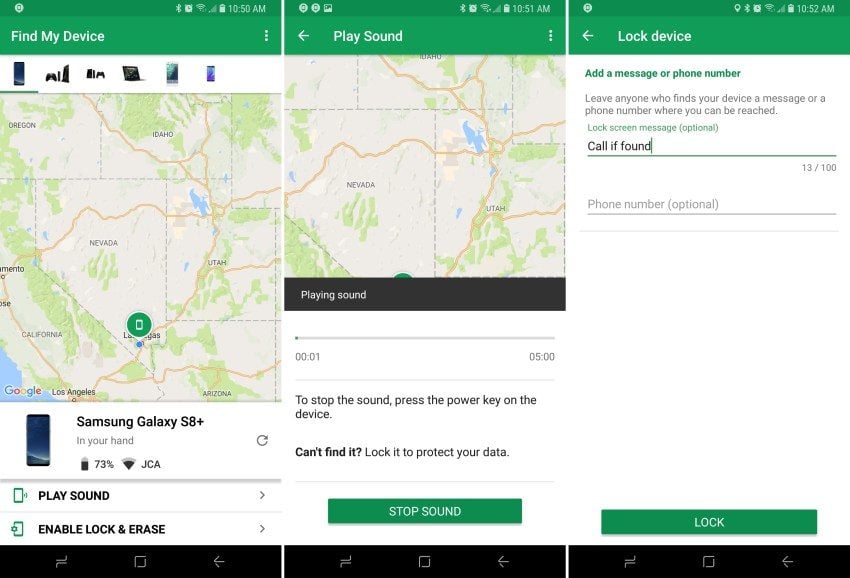 It's not called Find My S8, but that's basically what this is. If you lose your Galaxy S8 or it is stolen, you can use this service to track it down or remotely wipe it. This is an essential step, since you cannot do it after the phone is lost.
Go to Settings and search fro Find My Mobile. Log in with your Samsung account, or create an account, and then turn it on. Make sure you allow any prompts to use your phone's location and use Google Location service for a more accurate location.
Set Up Quick Camera Launch
You can quickly launch the Galaxy S8 camera with a double press of the power button. You'll see a prompt when you do it the first time, but if you didn't turn it on, you can do it now.
Go to Settings and search for Quick Launch Camera. Turn on the slider to enable this feature. Now you can quickly double press the power button to open the camera.
Turn on the Galaxy S8 Games Launcher
Samsung includes a handy feature that lets you keep all of your games in a central location and that allows you to play without interruptions by blocking notifications. You can also choose to mute the game sound or put the phone in high performance mode for better graphics at the expense of battery life.
Go to Settings and search for Game Launcher. Toggle it on and then you will see a new folder on your home screen. This should have your games in it and when you open it you can toggle on the Games options on your Galaxy S8 or S8+.
Set Up Your Galaxy S8 Secure Folder
https://youtu.be/Eq5ve0P1L70
You can set up a special folder on your Galaxy S8 that other people cannot open and look at if you let them borrow your phone or if you lose your phone. Samsung calls this a Secure Folder and it's built into your Galaxy S8. You need to use your fingerprint, iris or password to access this folder.
Go to Settings and search for Secure Folder. IF you haven't already you may need to sign into your Samsung account. Choose which way you want to be able to unlock this folder and then you will see a new folder on your home screen that you can only access with that method, and that other people cannot access.
Get Better Galaxy S8 Battery Life
The Galaxy S8 battery isn't bad, but if you let things get out of hand or something goes wrong, you can end up with very short Galaxy S8 battery life. You can use this guide to fix bad Galaxy S8 battery life so that your phone lasts longer without the need for a battery case.  It walks through;
Apps using your battery life
Screen Brightness and Sleep Time
Why You Need to Reboot your Galaxy S8
Galaxy S8 Features to Turn Off
A Secret Trick for your Background
In less than 10 minutes, you should be able to fix most Galaxy S8 battery life issues on your own, without a trip to a carrier or a call to Samsung.
Download and Master Bixby
The Galaxy S8 includes a special voice assistant called Bixby. You need to download Bixby Voice and then learn how to use the tool. here's how to install Bixby Voice on your Galaxy S8 or Galaxy S8+.
Once that is complete, you can learn how to use it. Here are 175 Bixby Voice commands that you can use to control your Galaxy S8 with just your voice.
How to Change and Download Galaxy S8 Fonts
Samsung makes it easy to change the font that you use on your Galaxy S8. You can choose from built-in fonts or download additional fonts if you want to further customize your Galaxy S8.
Go to. Settings -> Display -> Screen zoom and font and tap on Font Style. Now you can choose the one you want or tap the + to download other fonts. The other Galaxy S8 fonts are a little crazier if you like that.
Samsung Galaxy S8 Camera Tips
Now that you've set up the quick camera button, there's a lot more you can learn about the Galaxy S8 camera. Here's our guide on how to use the Galaxy S8 camera like a pro. It covers;
What the Galaxy S8 camera modes are
Galaxy S8 camera options for voice control, tracking stabilization and more
Timer options
Motion Photos
How to save photos to your SD card
The Galaxy S8 camera editor options and more.
Spending 10 minutes learning about the Galaxy S8 camera options will make your photos look 100X better and they'll get more likes on Facebook and Instagram.
Set Up the Galaxy S8 Hotspot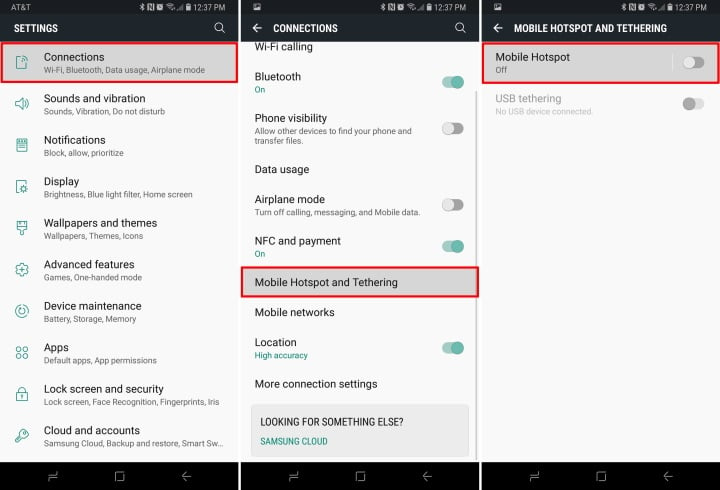 The Samsung Galaxy S8 and S8+ hotspot feature allows you to share your internet connection with a laptop or tablet easily. Most smartphone plans support this and make it easy to do without running out of data thanks to the many unlimited plans. You can use this s a WiFi hotspot, or plug in with your USB C cable to directly connect a laptop to the internet.
Go to Settings -> Connections -> Mobile Hotspot and Tethering -> Mobile Hotspot. Here you can turn this feature on and you can also change settings. You'll name the hotspot and create a password for it. Once this is done, test it on a computer or tablet before you go mobile and need it. Here's more on how this works and how to set up a USB connection and quickly turn the hotspot on and off.
Use Galaxy S8 Fingerprint Gestures
You can use fingerprint gestures on the Galaxy S8 to quickly access the notification bar or use Samsung Pay. You need to turn on Finger Sensor gestures before you can use this option. Go to Settings and then search Finger sensor gestures. Slide the toggle to on and if you want, turn on Samsung pay as well. There's more to it in this guide and the video above.
Use the Galaxy S8 Smart Lock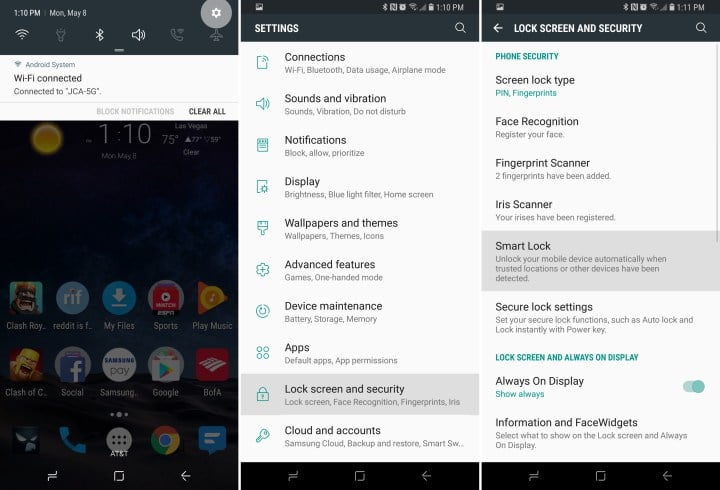 Samsung includes a really cool Galaxy S8 feature that allows you to automatically unlock the phone when it is connected to a specific Bluetooth device like your headphones or car, when it is on your body, when it is in a trusted place like your home and with a trusted voice.
Go to Settings -> Lock screen and security -> Smart Lock and then enter your Pin. Tap on trusted devices and click the + to add your devices. You can also add places, a voice and set it up so the S8 won't lock when it knows it is in your pocket. Here'a a more detailed walkthrough of how this works.
Turn Off the Galaxy S8 Notification Light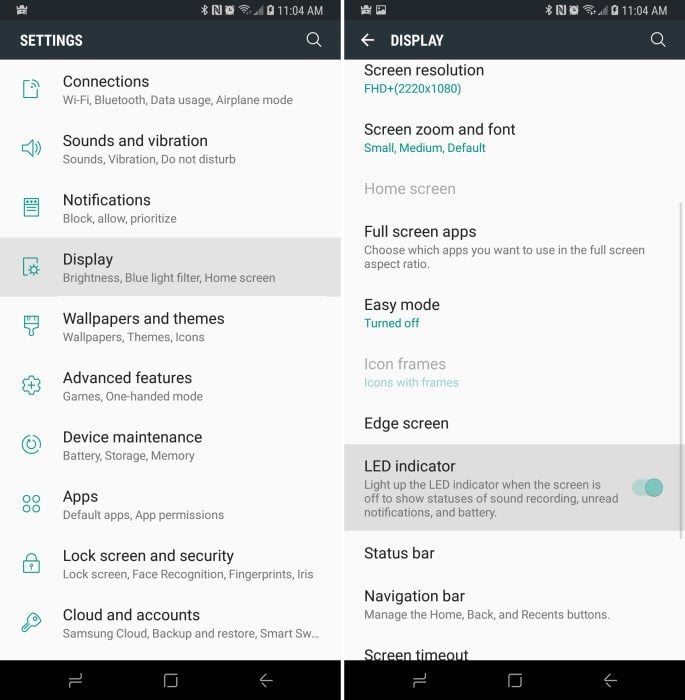 You can turn off the Galaxy S8 notification light in about 5 seconds without the need to install any third party apps. This will stop it from annoying you at night or tempting you to look at the screen in a meeting.
Go to Settings -> Display and then turn off LED Indicator. That will stop you from seeing this annoying light.
Customize the Galaxy S8 Notification Bar
You can make the Galaxy S8 notification bar your own with built-in customization options. The video above walks through this process and you can see this guide for more detailed walkthrough of the Galaxy S8 notification bar customization steps and options.
Disable Galaxy S8 Bloatware
The Samsung Galaxy S8 bloatware can take up space on your phone and it may even annoy you to see the apps and interact with them even sparingly. You cannot delete every app on the Galaxy S8. No, that would be too easy.
Thankfully, you can disable Galaxy S8 bloatware with this guide. It will take you a few minutes to disable each app, but it's worth it in the end.
How to Use the Galaxy S8 Night Mode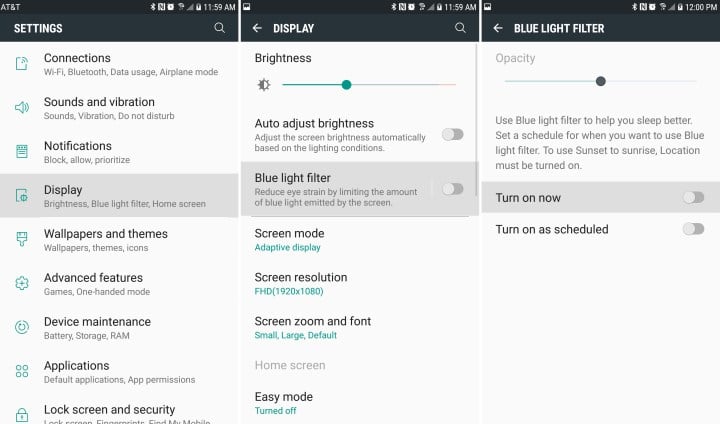 Samsung calls the Galaxy S8 Night Mode a Blue Light Filter, which is a description of what it does. If you set it up, the screen will change slightly as sunset approaches and overnight to show less blue in your display. This makes it easier for you to use your phone and then go to sleep. Apple calls this Night Shift on the iPhone.
Go to Settings and search Blue light filter. Turn it on and adjust the level and decide if you want to change the schedule as well. Here's more on how to use Blue Light Filter on the Galaxy S8.
Change the Galaxy S8 On Screen Buttons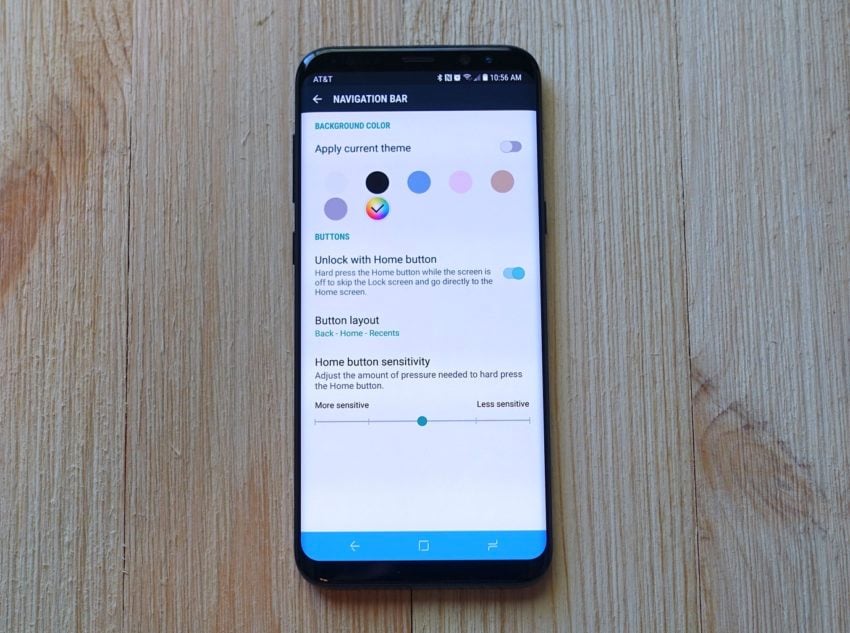 You can change the placement of the on screen Galaxy S8 buttons and customize the colors to match your preferences or a theme. You can also customize the sensitivity of the buttons at this stage.
Go to Settings and search for Navigation Bar. Here, you can tap on a color or choose one with a color picker. You can customize the home button unlock function change the position of back and recents and adjust the sensitivity of the home button.
Move Apps to the Galaxy S8 SD Card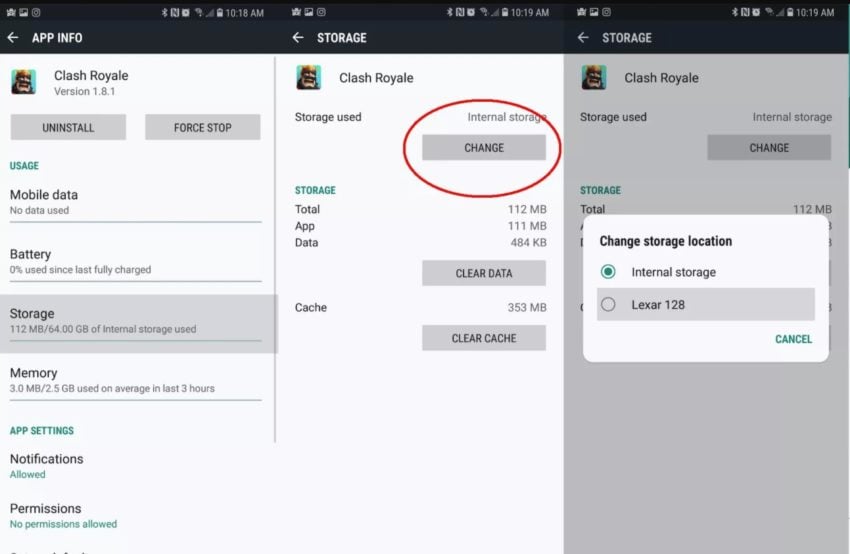 If you want to save room on your Galaxy S8 or S8+, you can move apps to the SD card to keep your internal storage open. This will work with most apps, but you will need to do it manually, one by one.
Go to Settings and then to Apps. Now choose All Apps. Find the app you want and look for a storage option part way down the screen. From there tap on change and select your SD card. Wait for this to export the app to the SD card and then do it over and over for all of your apps.
How to Speed Up the Galaxy S8
You can speed up the Galaxy S8 in three steps. It's a super useful feature if your S8 feels slower lately or if it just isn't snappy enough out of the box. You are simply disabling the animations, which doesn't technically speed it up, but it will feel a lot faster for many users. Here's a full walkthrough on how to speed up your Galaxy S8 or S8+.
Close Apps on the Galaxy S8
It can be confusing to close apps on the Galaxy S8 if you haven't used a phone like this before. There are two ways you can close apps on the Galaxy S8. The video above shows you how this is done, but simply put, you press the recents button and then either swipe an app right or left, or tap on close all.
Keep in mind that you don't need to always close apps on your phone. Doing so can make you wait longer to open them up again and actually hurt battery life. The best time to close apps is if one is acting up or if your phone is getting very hot or very slow. Even then, it may be better to restart the Galaxy S8 instead of closing apps one by one.

As an Amazon Associate I earn from qualifying purchases.