These are the best Galaxy S8 cases worth buying in 2019. Whether you're trying to ensure it lasts long enough for you to upgrade to the Galaxy S11 next year, or just got a hand-me-down, you'll want to keep it protected. Plus, the Galaxy S8 is a slippery phone covered in glass on the front and the back, which is why we recommend everyone get a case.
Galaxy S8 protective cases come in several different styles, colors, and materials. Some are better than others, but all of them should keep your phone somewhat safe. And if you have the bigger Galaxy S8+ click here.
Below, our list has everything from thin cases, cheap Galaxy S8 cases, kickstand cases, to heavy-duty protection. Some even have built-in screen protectors. We've found some under $5, and that's certainly cheaper than spending $150 to replace a broken screen. You'll need to spend about $40 to get the most durable cases, or something officially made by Samsung.
While we recommend investing in a high-quality case from a trusted brand, even a cheap $5 TPU case is better than nothing. It's also a good idea to get a screen protector for your phone.
We have some nice clear cases too, for those that don't want to cover up the design with a big bulky case. Just keep in mind that thin clear cases might not offer as much protection as the others.
There are so many cases to choose from that some buyers may get overwhelmed. We've done the hard work for you. Basically, we found great coverage from big names including Spigen, Speck, Griffin, Incipio, UAG, and much more for the Galaxy S8. So, if you're still using one or just got it after a family member upgraded, you'll want to keep it safe with one of our cases. While you're here consider checking out some of Samsung's official accessories for the Galaxy S8 too. 
Samsung Clear View Standing Case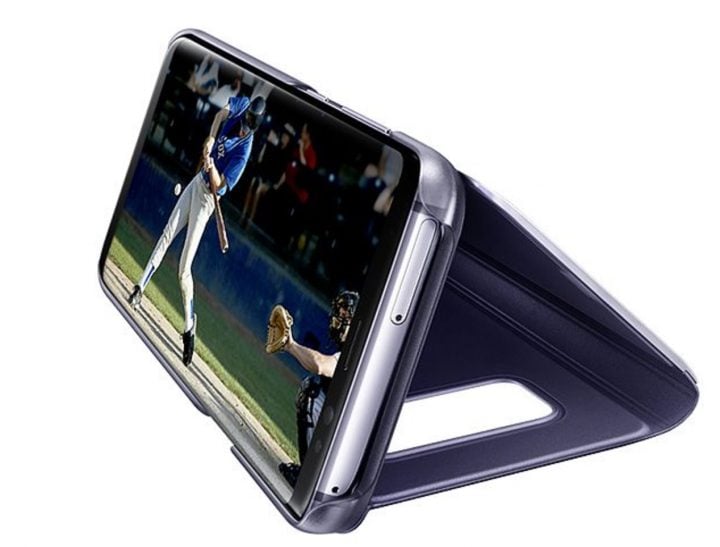 First, are a few Samsung cases then we'll move on to some of the more popular (and cheaper) brands available. As we see every year, Samsung has a decent select of great cases and accessories for the Galaxy S8 and Galaxy S8+.
Our favorite among them is the Clear View Standing Cover. It doubles as a kickstand and folds closed to protect the screen. When shut, the clear front displays the time, date, or battery levels. It's expensive but one of the better cases available.

As an Amazon Associate I earn from qualifying purchases.