Game of Thrones Season 8: When it Starts & How to Watch
Winter is here. In this guide we'll go over everything you need to know about the 8th and final season of Game of Thrones. The show starts on Sunday, April 14th and if you don't want to get caught beyond the wall and miss any action we have all the details.
Don't worry about reading any spoilers below, either, as we won't get into any past, current, or upcoming details about the show. Well, aside from the fact that it's going to come to a bloody end in May after 6 extra-long episodes.
When Does Game of Thrones Season 8 Start?
The eighth and final season of Game of Thrones starts this Sunday, April 14th at 9 PM or (8 PM Central) in the United States. Get ready for cold nights, the long winter, and fear throughout the Seven Kingdoms and in Westeros. It will air every Sunday at 9 PM ET.
For those on the West Coast, it will air on HBO on your TV through your cable provider at 9 PM PT. However, it will be available starting at 6 PM Pacific for West Coast viewers who are using a streaming service like HBO Now or HBO GO. So, if you're having a watch party, use the app.
Yes, Game of Thrones will air at 9 PM ET and then it airs again at 9 PM PT for those on the West Coast.
Game of Thrones Season 8 Schedule
Unfortunately, this last season of Game of Thrones will toy with your emotions for only six (6) episodes. That said, HBO has confirmed fans will get to enjoy or cry through supersized episodes that will be at least an hour long, if not longer. Here are the Game of Thrones Season 8 air dates:
Episode 1 – April 14th
Episode 2 – April 21
Episode 3 – April 28
Episode 4 – May 5
Episode 5 – May 12
Episode 6 – May 19
sad face :(
Basically, GoT S8 will consist of six "hour-plus" episodes and conclude in Mid-May. Then, it will ALL BE OVER. Who do you think will be standing at the end? Well, sitting, sitting on the Iron Throne?
How to Watch Game of Thrones Online
If you're ready to watch Jon Snow, the Starks, and Daenerys Targaryen take on the Lannisters and the Army of the Dead, we have you covered. This is how you can legally watch Game of Thrones online without doing anything shady or dealing with Torrent sites.
These are your options when it comes to watching Game of Thrones online, streaming, or enjoying it aside from traditional cable TV. Keep in mind that both Sling TV and DISH recently removed HBO, as they got into a dispute with AT&T. So, unfortunately for people using those services, you're out of luck.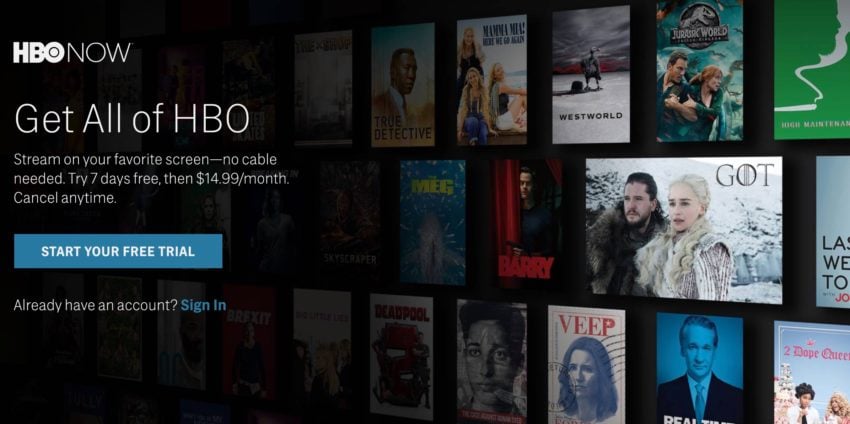 Your best bet is likely HBO Now, the network's stand-alone streaming service, which is how those with PlayStation Vue can watch Game of Thrones. HBO Now is free for the first month, then just $15 a month for the second month of the show. Students can try it for only $10, too. Additionally, the company has HBO Go, a free streaming option for subscribers to the cable channel. If you have HBO with your home TV provider, you can sign into the HBO GO app and watch Game of Thrones anywhere. Both services give you on-demand access to HBO's huge library of original content, movies, talk shows, comedy and more.
That's all you need to know. And, if you're outside the US, most likely you can tune-in and watch Game of Thrones on Monday.
The Battle of Winterfell will be a crazy, wild, emotion-fueled ride. Grab some popcorn, wine or beers, tissues, and prepare yourself.

As an Amazon Associate I earn from qualifying purchases.