GameStop Black Friday 2014 Ad: What to Expect
We're still waiting for the GameStop Black Friday 2014 ad to arrive with all the Black Friday gaming deals and details, but here is an early preview of what you can expect from GameStop in 2014.
Last year the big news was simply that you could buy a PS4 or Xbox One at GameStop on Black Friday, but this year you can count on deals that cut $50 or more off the price of a new console and a collection of deals on older consoles and games.
Last year the GameStop Black Friday ad leaked in October, but this year you won't likely see the ad for another week or so, when the full ads start to appear online.
Instead of the normal two or three pages of savings, expect a GameStop Black Friday 2014 ad that includes 10-12 pages of deals across gaming systems, games, tablets, and accessories.
You'll want to make sure these are deals worth lining up for, as some deals only cut $10 off accessories, games and services. If you plan to buy several items, or can buy online you can justify the time, but otherwise you will want to stay on the lookout for all Black Friday 2014 gaming deals.
Here's an early look at what you can expect from the GameStop Black Friday 2014 ad and deals.
GameStop Black Friday 2014 Deals & Hours
Overall you can count on GameStop Black Friday 2014 deals on the Xbox One, PS4, PS3 and Xbox as well as savings on the Wii, Wii U and portable gaming systems like the PS Vita, Nintendo 3DS and Nintendo 2DS. Popular savings will include deals on Xbox Live and PS Plus as well as controllers and recently released games.
We may see some GameStop Black Friday 2014 hours start at midnight on November 28th. Last year over 4,000 GameStop stores opened at midnight for Black Friday deals. The rest of the stores opened at 5 AM. You can expect to see similar hours for 2014.
GameStop Black Friday 2014 Xbox One Deals
You can already save $50 on the Xbox One thanks to Microsoft cutting the price through the rest of 2014. We could see GameStop tack on additional savings with bundles or with special trade-in deals for users upgrading from the PS3 or Xbox 360 to the Xbox One.
Last year GameStop offered a 30% bonus credit when trading in for any purchase, which helps boost the value of older consoles and games. Count on savings on controllers and $10 or more off a Xbox Live subscription.
Read our Xbox One Black Friday 2014 deal predictions for more on how this can compare to other stores.
GameStop Black Friday PS4 2014 Deals
The big trend so far for PS4 Black Friday 2014 deals are bundles with multiple games. Dell leads the pack with a $399 PS4 bundle that includes GTA 5 for PS4 and The Last of US Remastered. This is a deal we may see at GameStop. There's also a chance GameStop will offer some form of straight up discount, but so far we aren't seeing many price-cuts on the PS4.
There is also the potential of a trade-in deal like the current option that delivers $125 in credit for a PS3 or Xbox 360 towards the purchase of the PS4. Last year GameStop's Black Friday ad also cut the price of pre-owned consoles. We might see a refurbished PS4 drop from $379 to $349 or $329, but this is only speculation. Count on picking up a PS Plus subscription for $20 off and for some controller and accessory deals.
Read our PS4 Black Friday 2014 predictions to see how these compare to overall expectations.
GameStop Black Friday 2014 PS3 & Xbox 360 Deals
We also expect to see some big deals on the Xbox 360 and PS3. These older consoles still include access to many of the recent games and should see new games for a few more years.
You can already buy the Xbox 360 for $179 any day online and in many stores, and the PS3 is the same price. On Black Friday look for discounts of $30 or more on these consoles and bundled games as an option.
There is a chance you might find some refurbished or pre-owned bundles at GameStop for as low as $99.
GameStop Black Friday 2014 Game Deals
There's little doubt that the GameStop Black Friday 2014 ad will include a lot of game deals. Expect to see $10 off recent games like Call of Duty: Advanced Warfare, GTA 5 for PS4 and Xbox One and many other games. Sports games like Madden 15 and FIFA 15 as well as other EA titles will likely go on sale for $39.99.
Older consoles will include games for $9.99 and up and there will likely be several Buy One Get One or Buy Two Get One promotions on used games. The used game deals may be limited to select titles or systems.
Black Friday 2014 Deals & Ads
Walmart Black Friday 2014 Ad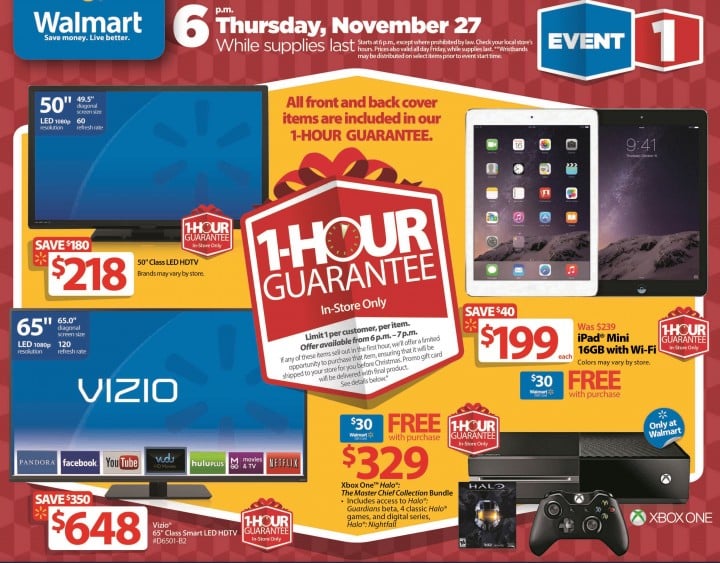 Walmart Black Friday 2014 deals start at 6PM on Thanksgiving and roll all the way through Cyber Monday. There are three specific events on Thanksgiving and Black Friday 2014, including nine 1 Hour Guarantee items that are in stock or you can get it by Christmas at the Black Friday price.
This includes a 65-inch Vizio HDTV for $648, the Xbox One with Halo for $299 after gift card rebate and an iPad mini for $169 after gift card.
You can check out more details on how the Walmart Black Friday 2014 1 Hour Guarantee will work. Duncan Mac Naughton, chief merchandising officer at Walmart states, "We've taken significant steps to improve the 1-Hour Guarantee process from beginning to end. It's simple and seamless."
Walmart beat our Xbox One and PS4 Black Friday 2014 predictions with big savings on the Xbox One and the PS4 GTA 5 and The Last of US Remastered bundle for $399. Here's a look at the nine guaranteed in stock items for 2014.

50" Class LED HDTV for $218 ($180 savings)
Vizio 65" Class Smart LED HDTV for $648 ($350 savings)
Apple iPad Mini 16GB with Wi-Fi for $199 with a $30 Walmart Gift Card ($70 value)
Xbox One Halo "The Master Chief Collection" Bundle for $329 with a $30 Walmart Gift Card
RCA 7" Google Play Wi-Fi Tablet for $29 (special buy)
Samsung Galaxy Ace Style on Straight Talk Wireless for $29 ($100 savings)
LG Blu-ray Disc Player for $35 (special buy)
Beats by Dr. Dre Wireless Headphones for $149 ($130 savings)
HP Intel Celeron Touch Laptop for $249 (special buy)

You can see the full Walmart Black Friday 2014 ad and deals online now. Wlaamrt will post store maps on November 18th and share more detials as the event approaches.