Get the Android Keyboard Autocorrect Bar on iPhone Without a Jailbreak
If you have switched from Android to iPhone, you may be missing the familiar Android autocorrect bar.
The iPhone 4S does a good job of picking the right word even with multiple misspellings, but this bar is a handy way to pick the second most likely word, which is the one you really want.
The iPhone autocorrect bar shows you a number of word choices, instead of correcting to a single word choice. This tweak comes from Sonny Dickson, who shares the screenshot below on Twitter.
The new Android-like auto correct bar can be enabled on your iPhone and iPad right now, even the iPhone 4S without a jailbreak.
As an Android and iPhone user, constantly looking for a new way to do more with the iPhone 4S keyboard, I'm going to give this a shot right now. It will be interesting to see how smart the auto correct options are in this hidden feature. I'd hope they are as good as the Swiftkey keyboard, but I'm not holding my breath.
How to Enable Android Style Autocorrect on the iPhone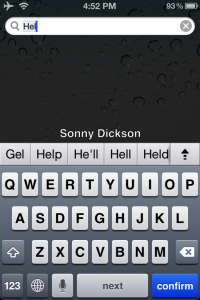 (from Sonny Dickson)
1. Download iBackupBot
2. Backup your iPhone/iPod in iTunes
3. Open iBackupBot and find the backup, then load it.
4. Find Library/Preferences/com.apple.keyboard.plist and open the file. (if your software isn't registered you'll have to press cancel and then it will open)
5. Add in the following code: <key>KeyboardAutocorrectionLists</key><string>YES</string>
6. Save your modifications, and then restore from backup from within iBackupbot.
Via 9to5Mac

As an Amazon Associate I earn from qualifying purchases.