Gift Guide: 10 Awesome Android Accessories
There are as many Android smartphones as there are holidays in the last two months of the year. No matter which phone you have or which holiday you are celebrating, we have a list of top notch Android accessories that will give you or your gift recipient an awesome experience.
Android phones don't always enjoy the same variety of accessories as the iPhone 4S, but there are a number of high quality accessories that will work with almost any Android smartphone out there.
From protection and sound to car and travel, we have you covered.
Protection
While many Android phones can survive well without protection, our favorite cases and skins offer protection to save your phone from damage scratches and drops or just add some flair.
OtterBox Cases
Tough protection for Android phones from HTC, Google, LG, Motorola, Samsung and Sony

Otterbox offers various levels of protection from the stylish Commuter Series and silicon Impact Series to the super protective Defender Series for a number of popular Android devices.
The Impact Series starts at $19.95 and offers protection in a silicon sleeve. If you need a bit more, the Commuter Series brings a hard case and silicon liner for around $35. For the ultimate protection — we're talking contractors and outdoor enthusiasts — the Defender series is designed to handle drops that come with high intensity work and activities. The Defender Series is $50, but well worth it if you need to keep your Android smartphone safe.
If you want to see these cases in person, you can find them in many retail outlets and cell phone stores.
From $34.95 @ Otterbox

Gelaskins Custom Photo Covers
Scratch protection and personalized covers.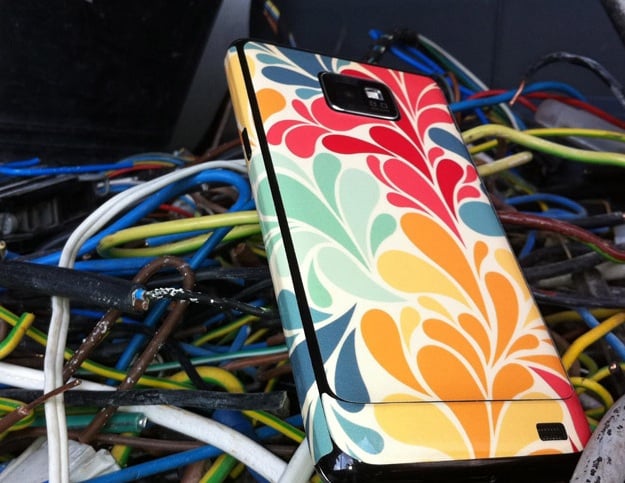 Gelaskins are my favorite form of minimal protection. Since you can add your own photo in addition to choosing from dozens of pre-made skins, they also a great personalized gifts. I gave my wife a skin with her Toy Poodle's picture on it for Christmas last year and it was a huge hit.
You can upload your own photos or, if you prefer, pick from a number of great looking designs, photos and licensed images from Frank Miller and other comics. The choices are broad and impressive.
You can take these skins off without leaving any residue and they can be reapplied if you need to clean your device.
$14.95 @ Gelaskins

BodyGuardz Armor Carbon Fiber Skins
Protection with a stylish carbon fiber look.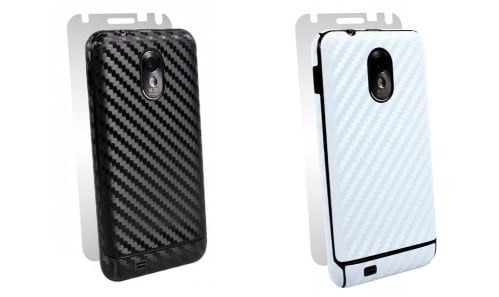 BodyGuardz makes a high quality skin and throws in a nice screen protector for the $20 price. These skins have a good feel to them, and added grip to my HTC ThunderBolt's slippery back. Check out my BodyGuardz Armor Carbon Fiber review.
You can get the skins for a number of Android phones, and the skins come in red, white and black. While I am a big fan of the black carbon fiber look, red is pretty sexy looking.
These skins have a lifetime replacement, and can be removed and reapplied without leaving residue.
$19.95 @ BodyGaurdz

Speakers
When your built in speakers aren't loud enough, turn to these solutions ranging from $20 to $299.
iHome iHM60 speakers
Small, loud and portable
The iHome IHM60 speakers come in a variety of colors, but these aren't just small speakers with loud looks; they also deliver a quality sound in a small package.
When you aren't using them, you can push the top and bottom together for storage. And you don't need power at hand to use them. After you charge the battery with the included USB cable, you just turn them on and plug into any 3.5mm headphone jack to start listening.
With the speaker open, you get a good amount of sound that beats your Android's built-in speakers any day of the week.
$19.95 @ Amazon

Logitech Mini Boombox
Wireless speakers with backlit controls on top.
The Logitech BoomBox promises 10 hours of playback in a small package that can also deliver good quality music.
I'm drawn to this boombox for three reasons, which is why I think you will like it for your holiday wishlist.
At $99, the price is just right for bluetooth speakers.
Logitech brings good sound to your gadgets at an affordable price.
There are controls on the top to play, pause and fast forward your music as well as control volume.
Available for preorder today, you should be able to pick one up in time for the holidays.
$99 @ Logitech

Jambox by Jawbone
Great wireless sound in a resilient package with a speakerphone as a bonus.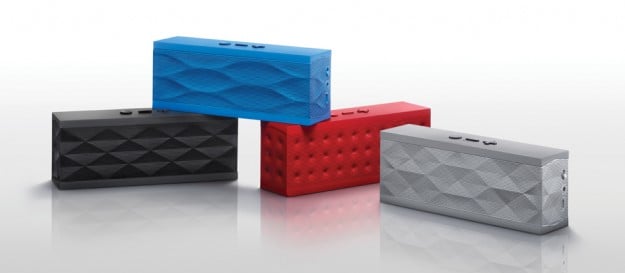 I've been using the Jambox to listen to audiobooks and music from my iPhone and Android smartphones for the past week, and I'm already a huge fan.
This small speaker pumps out quality tunes and packs in a speakerphone that will allow you to set up shop wherever you are. Pairing is super simple, and the speaker connects automatically when you turn it on.
The battery promises 10 hours, and I have yet to run it down despite listening to hours of an audiobook. I love putting this speaker in the bathroom to listen to music while getting ready in the morning, and it even survived a large drop from a ledge without so much as a ding thanks to the rubberized corners. As an added bonus, it fits in your bag easily and looks nice.
$199 @ Amazon

Sonos PLAY:3
Wireless HiFi with access to Pandora, Radio, Rhapsody and many more web services.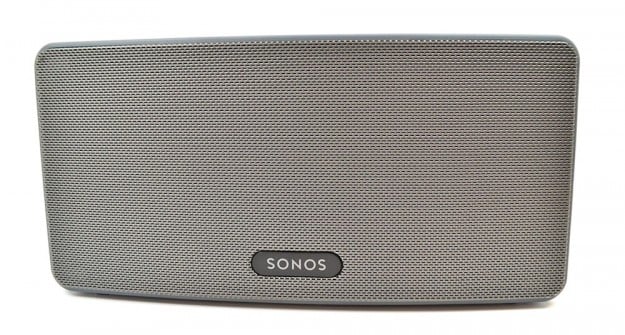 My favorite speaker solution is the Sonos PLAY:3. This wireless HiFi system is the most expensive of the bunch at $299 + $50 for a wireless bridge, but it is so worth it. You can add multiple speakers to your home to create zones. You can link the speakers to play the same music or programming throughout your house, or play Heavy D in one room and Mozart in another. All you need to bring sound to a room is a free power plug.
The Android app allows you to control the speaker playback and volume, giving you control of your entire home audio at any time. The killer part of this is that you can tap into Pandora, Rhapsody, podcasts, local radio and so much more from the free Sonos app.
You can also control these speakers with your iPhone, iPad, computer and Android tablet. For more, read our Sonos PLAY:3 Review.
$299 @ Amazon | Wireless Bridge $50 @ Amazon

Office, Car and Travel
Perfect accessories for use in the car, at your office or on the road.
Breffo Spiderpodium
The perfect universal Android car mount
The Spiderpodium is the most versatile smartphone accessory I've seen. My favorite use is to hook it to my car vents and keep any Android phone I have on the dash for navigation and to keep media playback handy. I have used it with every phone I have reviewed, and no matter the size this 8 legged wonder works great.
You can also use it to strap your smartphone to a chair, as a tripod for taking pictures, or to get the right angle while watching a movie. Seriously, this is an awesome Android accessory, and it is affordable too. Checkout my Breffo SpiderPodium review.
$12.86 @ Amazon

Belkin Conserve Valet
Smart Charger turns off when your device is charged to save energy.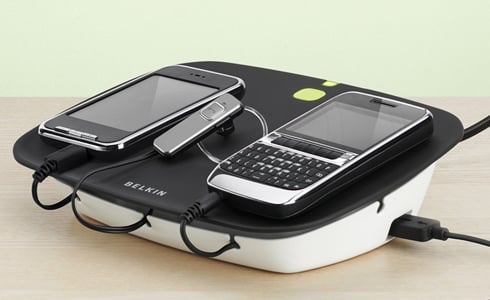 The Belkin Valet will keep your gadgets topped off, but won't waste energy after you take your gadget with you. I've been using this to charge up multiple Android smartphones at once over the 4 USB charging ports, and it has worked well.
This is more of an office accessory than a nightstand charger because it turns off when your phone is charged. This means your phone will actually lose some battery life before you wake up. At the office, however, it makes much more sense than a charger that pulls power until you unplug it.
$35 @ Amazon

Micro HDMI Cable
Connect your Android Phone to your HDTV.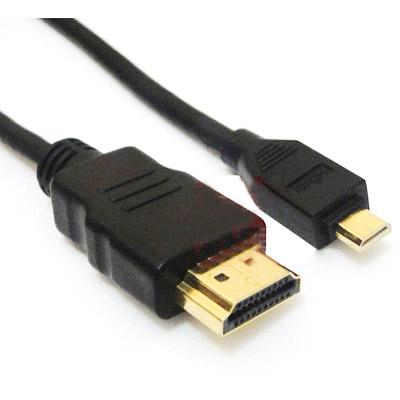 If you want to watch your movies and TV shows on the big screen, this cable will let you connect for a more enjoyable picture. This gift is perfect for users with newer Android phones that include a Micro HDMI output, so double check that the recipient's phone supports it.
I recommend this mostly for travelers who want to plug into a hotel TV instead of watching on their small phone at the end of the day.
$10 @ Amazon

As an Amazon Associate I earn from qualifying purchases.