GooApple iPhone Clone Merges Iconic iPhone 4 Design with Android Brains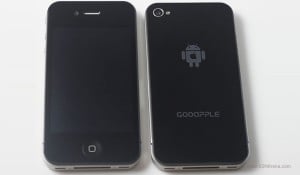 For iOS and iPhone 4 users who wished their smartphones could do a little more, or perhaps even play Adobe Flash videos through the Mobile Safari browser, but cannot fathom to switch to Android because they disdain the design of current smartphones, then GooApple has a solution that marries Apple's iconic design with the Android OS.
It's unclear if this device will even be sold as it is a blatant copy of Apple's iPhone 4 design down to the 9.3 mm thickness, rear camera and flash, and home button. There's no telling right now if the phone will have the now famous Retina Display, or if the glass panels are made to withstand scratches and drops with a Gorilla Glass-like properties, or if the phone in fact sports a working front-facing camera.
As the form factor is similar to Apple's most iPhone 4 cases should work on this design.
The device does run Android 2.2, so hopefully it has a decent processor that will allow users to play Adobe Flash videos, if this device even gets released.
Via: GSM Arena