Google Pixel 2 and Pixel 2 XL Release Date Breakdown
The new Google Pixel 2 and Pixel 2 XL are finally official with a release date right around the corner. With pre-orders available as we speak potential buyers are looking for more details. Below we'll go over the Pixel 2 release date, pre-orders, pricing, and shipping info. This is our Pixel 2 release date breakdown and everything you need to know.
On October 4th the search giant unveiled its successors to the original Pixel smartphone. Two new phones made "inside and out" by Google. These phones have twice as much storage, water-resistance, a great camera experience and dual front-facing speakers.
Read: 5 Reasons to Wait for the Pixel 2 & 3 Reasons Not to
While both new phones look similar, the bigger Pixel 2 XL has the most changes. Including a big new edge-to-edge display and the latest Android 8.0 Oreo. As expected, Google confirmed pre-orders will instantly be available for potential buyers. Here's everything else you need to know as we await their arrival.
Here, in an effort to help those looking to get Google's next big thing, we break down the now official Pixel 2 release for the US and elsewhere. From pre-orders, color, pricing and so much more. Including any deals, the new Daydream View VR headset, and what each phone has to offer.
Pixel 2 and Pixel 2 XL Release Date
Rumors were all over the map regarding when these phones would be available, but Google confirmed all the details up on stage. Well, kind of. While Google didn't reveal an exact release date, orders begin shipping on October 17th for both phones. We're expecting an in-store release date of October 20th at Verizon. My pre-order has an estimated delivery date of October 20-23rd.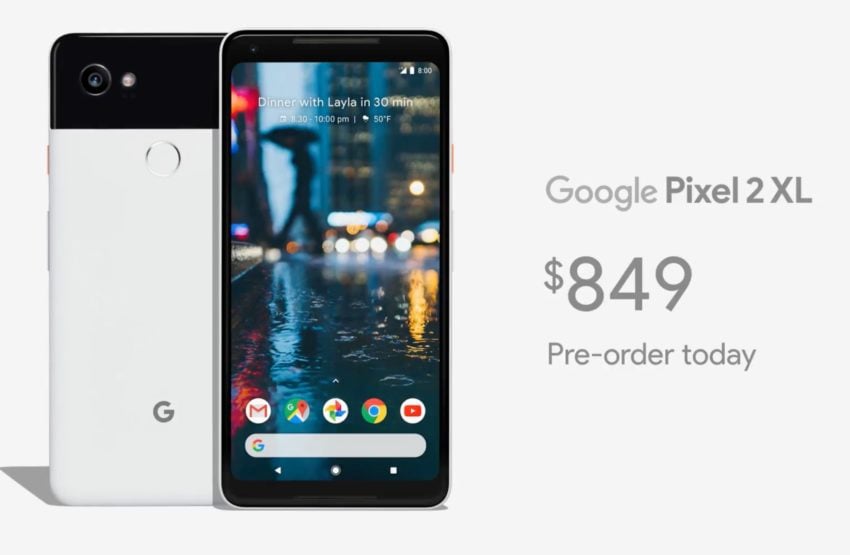 Google once again partnered with Verizon Wireless. However, the unlocked model on the Google Play Store works everywhere, including Project Fi, and begins shipping on October 17th. Keep in mind that pre-orders will fill up fast, and shipping dates may get pushed into November. Order yours today. Orders from Verizon will start shipping on October 19th.
Pixel 2 Pre-Orders
As many Pixel or Nexus owners know, getting Google's latest phone is never easy. Inventory ends up severely limited and some ended up waiting over three months for the Pixel XL in 2016.
This means that you'll absolutely want to pre-order the Pixel 2, and reserve yours before it's too late. As expected, Google confirmed pre-orders begin today, October 4th. They're live at the Google Store as we speak.
Your best bet is to pre-order with Google, as they offer fast shipping and great customer support. Additionally, you'll be able to reserve your own from Verizon right here. According to Verizon Wireless, pre-orders start shipping on October 19th, likely re-confirming the October 20th in-store date.
In closing, Google is giving everyone who buys a new Pixel a free Google Home Mini, for a limited time.
Where to Buy the Pixel 2 and Pixel 2 XL?
Sadly, the options are limited again this year. The Pixel 2 and Pixel 2 XL are available exclusively from Verizon Wireless, or from the Google Store. Additionally, we expect retail sales at Best Buy and other retail shops in the near future.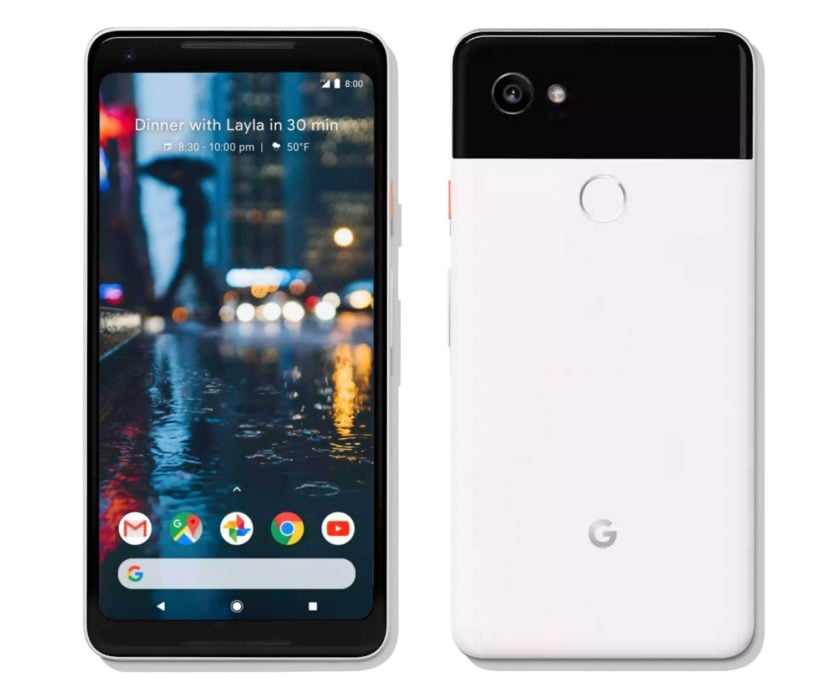 Last year T-Mobile eventually offered the Pixel, and we could see something similar this year. However, as of right now the only option is the Google Store or Verizon Wireless. Along with various partners outside the United States. T-Mobile is however, giving buyers $350 in credit if they buy a Pixel 2 and bring it to T-Mobile and add a new line of service. So technically that's the best deal available right now.
Google Pixel 2 Specs & Features
Sporting a beautiful new 6-inch edge-to-edge display and dual front-facing speakers, the Pixel 2 XL could be Google's best smartphone yet. Being able to trim the bezels and offer dual stereo speakers is something owners will enjoy. That isn't all though, and here's the full spec rundown for potential buyers.
Google Pixel 2 (left) and Pixel 2 XL (Right) Specs
5-inch 1080p HD display and 6-inch Quad HD OLED Edge-to-Edge display
Snapdragon 835 processor with 4GB of RAM
64 or 128GB of internal storage, no microSD expansion
Android 8 Oreo with Pixel Specific Features
12.2 Megapixel rear camera, OIS, EIS, 4K, more
8 Megapixel front wide-angle camera (Portrait mode on front and back)
Dual stereo front-facing speakers on both phones
2,700 and 3,520 mAh battery options with Fast Charging (70% in 15 minutes)
Rear mounted fingerprint scanner
IP67 Dust and Water Resistance up to 3ft
Google Assistant, Google Lens, Active Edge (Squeeze) feature, Daydream VR compatible, Always-On Display
USB Type-C port, dual speakers, no 3.5mm headphone jack
More
As you can see above, these are two high-end smartphones meant to compete with Samsung, LG, Apple, and others. Both phones have nearly identical specs across the board, with some noteworthy differences for the bigger Pixel 2 XL.
Just like last year, the XL has a bigger screen, this time coming in at 6-inches. It's slightly taller and skinnier than some devices and uses the popular new 18:9 aspect ratio. So you get a huge screen in a small package that's no bigger than last years Pixel XL. Which, by the way, only had a 5.5-inch display.
Pixel 2 Carriers & Colors
Last year the original Pixel was only available on Verizon Wireless, or from the Google Store. Sadly, those details are the same this year. That said, the unlocked model works almost everywhere. Meaning buy it unlocked and take it to T-Mobile, AT&T or elsewhere.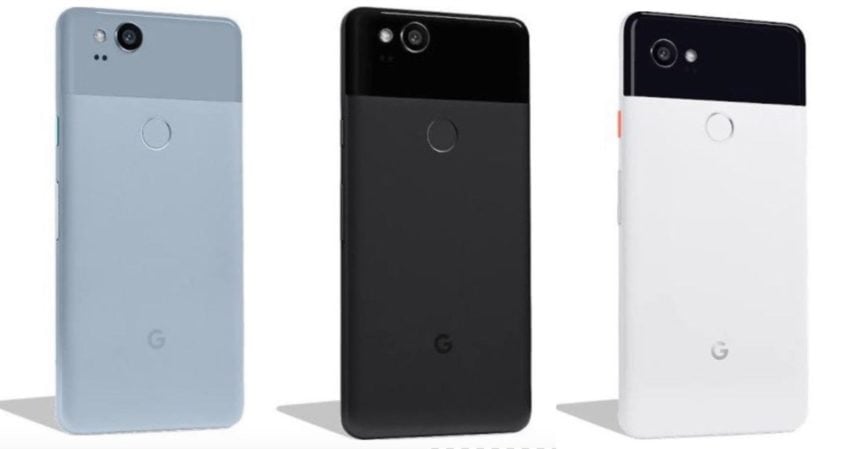 As for colors, the options are Black, Blue or White. Google called these Just Black, Kinda Blue, and Clearly White. It's worth mentioning that the white model has a two-tone finish, with black on the top. The front of each device is black, to blend in with the big edge-to-edge display on the Pixel 2 XL. The Clearly White model has a colorful Red power button.
Pixel 2 Price
Another important factor for potential buyers is the price of these phones. In a world where the Galaxy Note 8 is $950 and the iPhone X costs over $1,000, some are likely looking for something more affordable. This isn't the answer, although they do cost less than the competition.
During the announcement, Google confirmed the smaller Pixel 2 starts at $649 for 64GB. Then, the bigger Pixel 2 XL starts at $849. These prices will climb by $100 if you choose the 128GB option. As a comparison, last year the 32GB Google Pixel cost $649 while the bigger Pixel XL cost $769, with higher pricing for a 128GB model. So while they're more expensive, it isn't by much.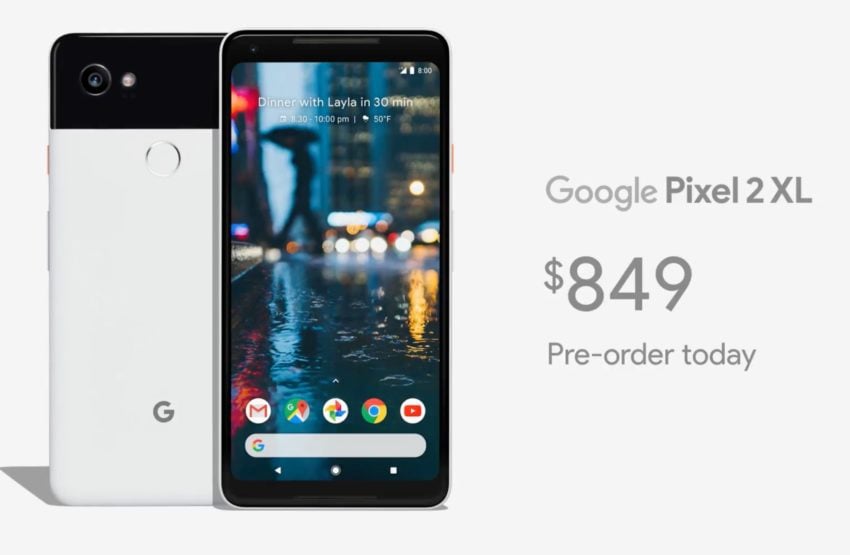 Don't worry though, these phones will be available with financing through the Google Store, and sold through Verizon on a monthly payment plan to make it easier to swallow. Additionally, Google added a new trade-in offer. I just pre-ordered the Pixel XL and traded in last years Pixel XL, and will receive $410 back.
With bigger screens, longer battery life, and water-resistance a price increase makes sense. Look out for deals and discounts in the coming weeks and months.
Other Details
So, the new Google Pixel 2 and Pixel 2 XL are finally official. They're available for pre-order right now and hit shelves around October 20th. Google is giving out a free Google Home Mini with pre-orders, so reserve yours as soon as possible.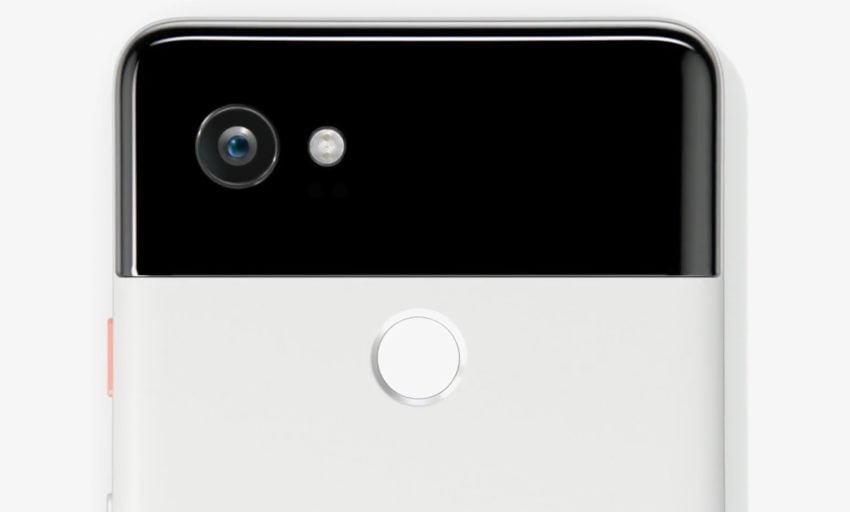 Early rumors claimed the Pixel 2 XL would arrive in November, but that isn't the case. Pre-order today and get yours before the end of October. It's worth noting that pre-orders already say shipping in 2-3 weeks, so they're going fast.
Additionally, Google announced a new PixelBook, a camera, and an improved Daydream View VR headset. We'll update this post with more information as it's released.

This article may contain affiliate links. Click here for more details.