Google Pixel 2 Pre-Orders and Shipping Info
The new Google Pixel 2 and Pixel 2 XL are finally official with pre-orders available as we speak. Now that both phones are here, potential buyers are likely looking for more information. With the October 19th release date near, here's everything you need to know about pre-orders and when they'll ship.
Just as expected, Google debuted two new smartphones on October 4th. In addition to a new Google Home Mini, Home Max speaker, a camera, and the PixelBook laptop. These new products are very exciting, but the phones are what most want.
Read: 5 Reasons to Wait for the Pixel 2 & 3 Reasons Not to
Google instantly opened pre-orders for both phones. They're available now on the Google Store, shipping is about to begin, with Verizon in-store availability on October 19th. So when will orders ship and what can you expect? Read on for more details.
Pixel 2 Pre-Orders & Release Date
In a surprise move, Google instantly opened pre-orders for its new smartphones. Most expected this to begin on October 5th, but you can reserve yours as we speak. A missing piece of the puzzle was the release date. These phones will officially be available starting October 19th from Google, Verizon, Best Buy and other locations.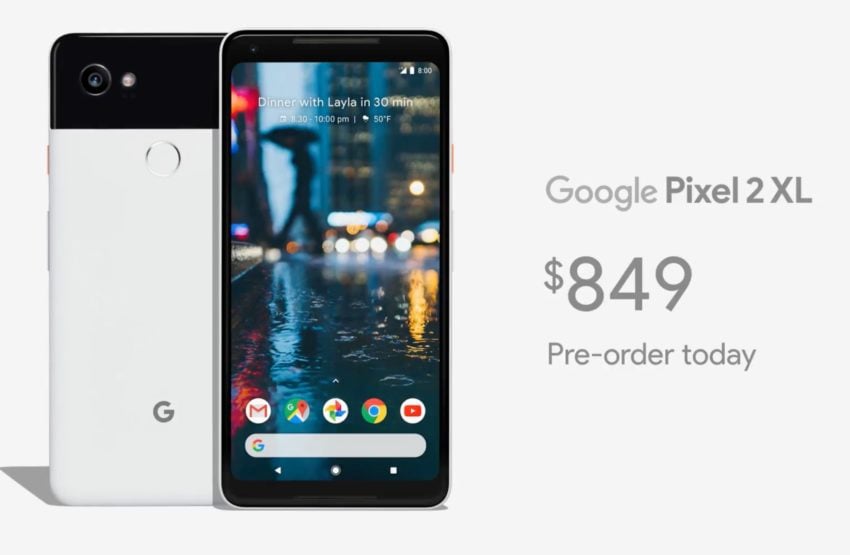 Verizon's website promises the orders will get delivered by October 19th, which is right in line with Google's announcement of an October 19th release date.
Buy the new Pixel 2 right here.
When Will My Pixel 2 Arrive?
So if pre-orders are available now, when will the Pixel 2 actually arrive? Well, after asking a few questions and buying our own, we have the answer. Both the Pixel 2 and the bigger Pixel 2 XL will start shipping on October 17th from Google. Our image below confirms the date in the bottom right corner. Additionally, my pre-order has an estimated delivery date of October 20-23rd.
However, I might get it sooner than expected. Google already charged my credit card, the device is headed to the warehouse, and I have an estimated delivery date of October 18-19th. We're seeing countless users state the same thing over at Reddit. It looks like both the Pixel 2 and 2 XL will start arriving on the 19th.

Those that didn't pre-order on October 4th likely have a later shipping estimate. However, multiple Reddit users said they too received shipping emails and credit card charges, meaning most should get their phone before the end of the week.
Furthermore, the Google Store is completely out of the Black and White color variant, and select other models have shipping estimates of October 22nd. So while the dates are slowly getting pushed back, most orders should ship in October. We'll update this post if anything changes.
Google Pixel 2 Price
The Pixel 2 is available in Clearly White, Just Black, or Kinda Blue color options. The Pixel 2 XL is only available in Clearly White and Just Black. As you can see from our images above, pricing is a little higher than last year but cheaper than most flagship phones released lately.
Google's smaller 5-inch Pixel 2 comes with 64GB of storage and costs $649. Alternatively, get the 128GB model for $749.
The bigger 6-inch edge-to-edge Pixel 2 XL with 64GB of storage is $849, or $949 for the 128GB version.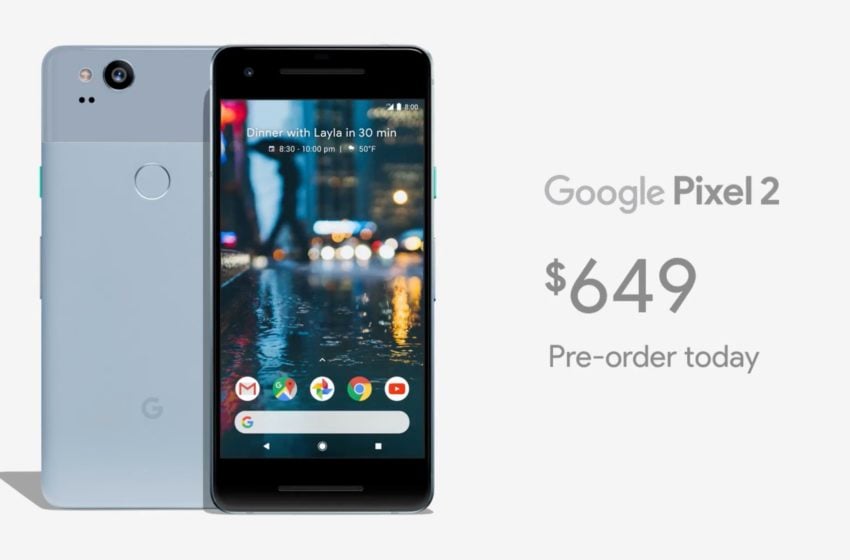 And while this is pretty expensive, it's less than competing devices from Samsung or Apple. The Galaxy Note 8 runs nearly $950 while the new iPhone X is over $1,000. Additionally, Google is offering financing plans with monthly payments of $35 a month for 24 months, or less for the smaller Pixel. Those who went with Google financing are getting shipment notices already too.
Then, Google has a trade-in program where buyers can get the new Pixel 2, and after it arrives send their original Pixel from 2016 back to Google. This saves you upwards of $350. Google accepts trade-ins from most major manufacturers. Each pre-order will come with a free Google Home Mini worth $50, for a limited time.
More information about the Google Pixel 2 and 2 XL is available right here. Before you go, check out a few reasons the Pixel is worth buying in our slideshow below. Then, grab one of these 15 best Pixel 2 XL cases.
Google Pixel 2: 5 Reasons to Wait & 3 Reasons Not To
Wait If You Want the Best Android Software Support
If you want the best Android software experience, speed, and support available, you'll want to hold out for the two new 2017 Pixel phones.
This is the second phone released by Google, and the company will want everything perfect. A huge reason many will choose the Pixel 2 is that it will run the latest software from Google. Android 8.0 Oreo is available for some right now, but many expect Android 8.0.1 or even Android 8.1 to debut with the Pixel 2.
Google updates its products first, releases developer previews and betas, and gives its users access to new features before the rest of the world. Yes, you may deal with bugs during these times, but many of the benefits outweigh the cons.
Additionally, Google supports its devices longer than some manufacturers, so you know the Pixel 2 will get software and security updates for more than a year. The experience should be top-notch, and performance buttery smooth.
Finally, information from XDA Developers suggests Google has some neat software features in the works. Like an improved always-on display, squeezable frame to launch the Google Assistant (even when the screen is off) and more. Some include an always-on display, enhanced camera features, and even Google Lens, which we saw at Google I/O. We'll have to wait and see.