Google Play Free App of the Week: What to Know
Everyone likes free stuff, and that's why Google has just introduced a brand new "Free app of the week" program. A new section in the Google Play Store dedicated to highlight a game or app once a week that's completely free. Here's what Android users need to know.
We've seen something similar to this in the past, both from Apple and Amazon. Essentially giving Google a way to showcase an app or game every week or so. This helps new apps get noticed, and gives device owners free content.
Read: 95 Best Android Apps for 2017
Typically Apple does this with new apps, which can sometimes cause sales to suffer. That being said, many apps these days have in-app purchases on top. Which is another revenue source for developers. Meaning their new app or game gets noticed, and they still get paid. Not to mention Google probably foots the bill, instead of just giving it away to everyone absolutely free.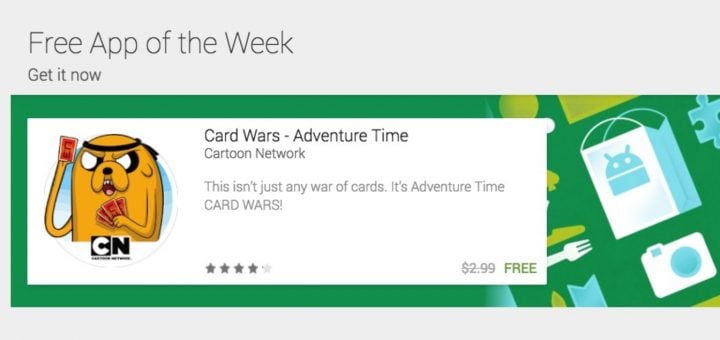 The idea behind this is simple. Whether its on a smartphone, tablet or a computer, users just need to head to the free section and get something new each and every week. We're not sure how long this idea will last, or if Google plans to keep it forever. In the past they offered free music daily on Google Music, so now this is something similar for any and all apps.
Similarly, Google had a free weekly app for the family sharing plans in 2015, which was quickly canceled. Although this time we believe the program will stick around. Here's what to know.
How to Get the Free App of the Week?
Simply go to this Google Play Link, once a week.
As you can see, to kick things off Google is sharing a new game from the Cartoon Network. Called Card Wars – Adventure Time. Letting fans of the show play games inspired by the Adventure Time episode called Card Wars. Which was apparently really popular.  Owners can also just open the Google Play Store and scroll down until they see the free app each week.
Users just need to navigate to the page above and click "Install" on the app or game. It may show a price it was previously being offered at, but you won't be charged.
How It Works
Just download the free game or app each and every week. One thing worth mentioning is you need to do this for any device you'd like the app of the week on. If you try to install it a week later on a tablet, it will no longer be free. Users will be required to pay, even though they've installed it before.
On the other hand, all app updates will work as usual, meaning you won't have to ever pay for the game. Most likely a new game or app will be selected and offered by Google every Monday. Although this current deal is running from Thursday to Thursday, and ends on March 30th. So expect a new game or app on the 31st.
How Long Will This Last?
As of right now we're unsure if Google will continue offering an app for free once a week. According to varying sources this is a pilot program. Where once every week for the next four weeks something will be free.
However, Google may decide to continue the free deals after four weeks, or shut down the idea completely. It's worth noting that Apple has offered something similar since 2012, so quite a while now, and we're expecting this to stick around.
Once we have additional details or a new app is available we'll update with all the information. For now, get the free Cartoon Network game and check back soon for more details.

As an Amazon Associate I earn from qualifying purchases.