How to Block Calls and Texts on Android
This guide will show you how to block calls on Android. Whether a random number keeps calling or you just want to block certain people, we have you covered. Some manufacturers bury options to do this in settings, or you can download a quick app or two and do it yourself. Read on to get started.
Telemarketing is still extremely common, which is very frustrating. Not to mention some spam callers can actually cost you money these days. Lets block them all. This also works for an EX calling at night, bill collectors and even text message blocking.
Thankfully, there are several ways to block calls on your Android phone. We'll share a few ways you can do this with the tools that come installed on your device, then suggest some call-blocking apps from the Google Play Store.
Many devices from popular manufacturers like Samsung have tools built-in, and any stock Nexus or Pixel phone with Android 6.0 or newer do too. Before Android 6.0 Marshmallow Google didn't have this feature included by default. Now they do, so lets take advantage of it.
How to Block Calls on Android
First off, we'll explain how to block calls on our Android smartphones using the built-in methods. Meaning you won't have to download an app or do anything crazy. Simply head into settings that already exist on your phone. Considering Samsung sells the most phones, we'll start with them first.
Block Calls on Samsung Phones
Samsung has excellent tools for blocking calls and messages, along with a call-reject messages you can employ at specific times.
Select the "Phone" icon on your home-screen, tap "More" at the top right and hit the "Settings" button. Depending on the Samsung model or software version you'll likely see "Call Blocking" as the third or fourth option in settings. As shown below.
From here you can start creating a list of blocked numbers, add any caller that is pestering you to the auto-reject list and more. Conveniently right in here owners can head to their call log to find a specific number they want to purge, or navigate to contacts to prevent an ex from getting through. After this is done, you won't even see they called. Perfect, right?
Alternatively, Samsung users can head into Phone > Call Log > and tap a specific number that recently called. From here hit "More" at the top and "Block" that number right on the spot. Making it easier than ever before. In the Samsung Messages application a similar option is provided in settings to stop select numbers from even sending you text messages.
Block Calls on Nexus, Pixel or Stock Android Phones
The steps above for blocking calls on Samsung phones applies to any Nexus smartphone, Google Pixel, or most stock Android devices like the OnePlus 3 or Moto X. Any stock Android phone running 6.0 Marshmallow or newer has the capability. Any older software versions will likely need to download an app.
On a Nexus or Pixel phone instead of tapping the "More" button at the top like Samsung, there are three small dots at the top right. Tap here, head into "Setting" and find "Call Blocking" to create a list.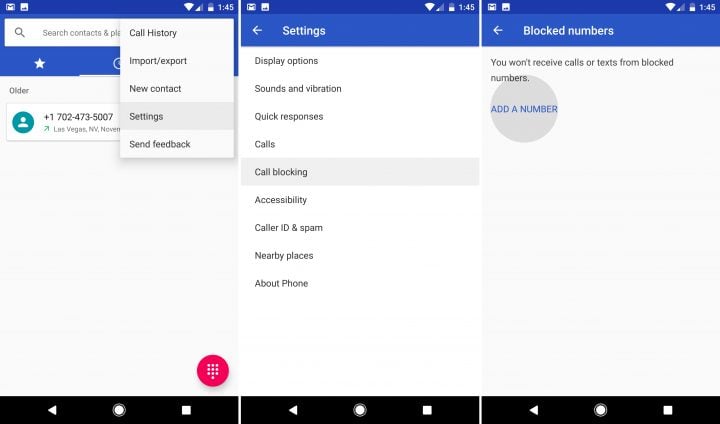 Add any and all numbers you don't want to hear from and tap save to finish. It's as simple as that. Furthermore, the stock Android dialer makes it even easier by long-pressing any number in your call log. Find a number you don't want, press and hold down, and you'll find an option to block it inside a small pop-up window. See our image below.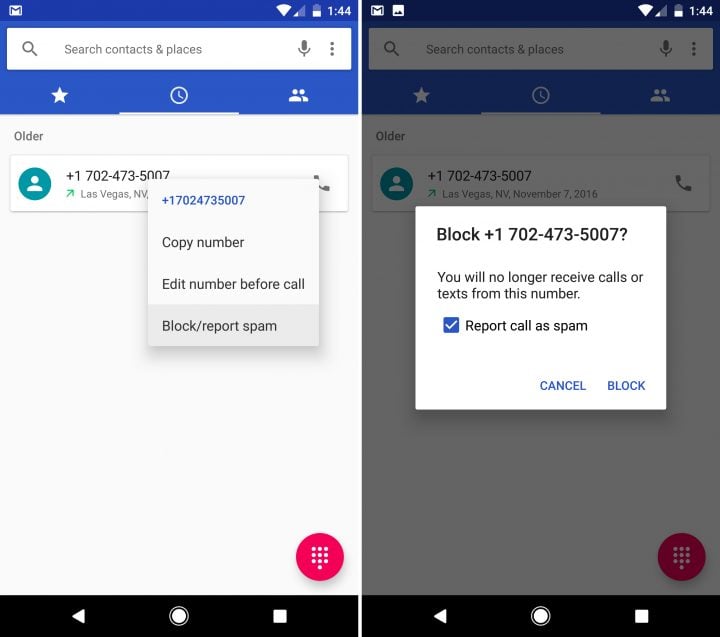 Blocking a call from the call log is the fastest and easiest method. To make things even better this will prevent them from sending you any text messages at the same time, and there's an option to "Report as Spam" to Google at the same time. Death to telemarketers.
Blocking on HTC, LG and More
These days this is pretty much a must-have feature. Which means almost every company has included a way to block calls on Android. With HTC just open the phone app, go to call history and long-press the number you want to block. Then simply select "Block Caller," or "Block Contact" if the number is saved in your phone.
Those using an LG phone can do it too, just like Samsung's steps but with slightly different wording. Open the Phone app, tap the three dots or more button at the top and in the dropdown menu select: Call Settings > Call Reject > Reject Calls From > and select the number from either your contact list or the call log for recent calls. It's relatively easy and the same process for most Android phones.
Download Apps To Block Calls & Messages
Of course another option to block calls or messages on Android is to download one of the hundreds of apps on the Google Play Store. Developers have created some awesome apps that do a lot more than just call blocking too.
A popular one I've used in the past is called Mr Number — and you can download it right here. Mr Number will let you block any calls/messages from one person, or even an entire area code. It will stop telemarketers, intercept unknown callers and send them away, and much more. Mr Number is our first choice for call blocking.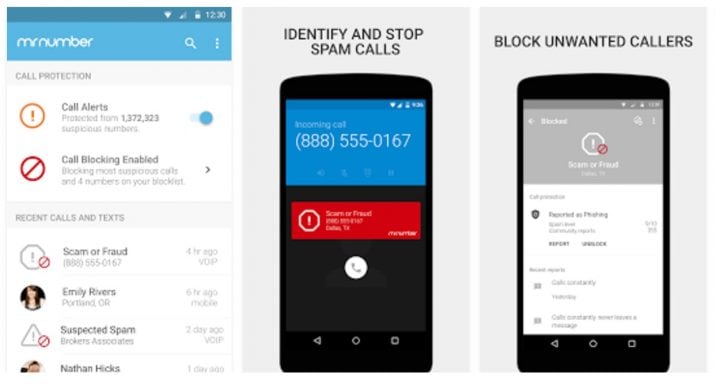 However, there are countless other great apps that do the same or more. Another favorite is called Should I Answer?. If you've ever debated picking up for a random number, you need this app. It will give out a star-based rating for unknown numbers using a huge database from the internet, known spam lists, and a growing community. Should I Answer? will pretty much tell you how risky it is to pickup, and if you should or not.
We'd also recommend the SMS Blocker / Call Blocker app, or even TrueCaller: Caller ID. This last one is actually a replacement dialer application for Android. It will give you caller ID for numbers that aren't saved, blocks spam, has a detailed blocking system and more. TrueCaller is an extremely useful app.
Block Calls Through Your Carrier
For those who'd rather not dig through settings menus or download an app, we have one last solution. We can actually block certain numbers from calling through your carrier. Verizon Wireless, AT&T, T-Mobile, Sprint and more all allow this in some fashion.
While it will vary by carrier or the plan you're on, give it a try. Dial 611 or call your carrier of choice and ask a service representative to help you block a phone number. Most allow a small list of five, but we'd recommend double-checking just in case. And if you need to add more than five to the list, you may have a bigger problem or you put your phone number on a site somewhere when you shouldn't have.
As a friendly reminder, never give out information like a phone number online unless you know where it's going. Making a purchase or select verified situations are usually ok.
In closing, we hope you found what you're looking for. If you need to block someone from calling or texting you, give any of our multiple solutions above a try.

This article may contain affiliate links. Click here for more details.