How to Buy Apps on Google Play Without a Credit Card
This guide explains how to buy Android apps without a credit card. Then, we'll explain all the different payment methods available. Whether you're too young to have a debit/credit card, don't have one, or are giving a phone to your kids here's what you need to know.
When it comes to buying apps, games, music, movies and more from the Google Play Store there are multiple different ways to pay. Just because you don't have a debit card doesn't mean you can't enjoy apps and games. Take a look at the list of supported and unsupported payment methods below.
Payment Methods Not Supported by Google Play
To start, these are the unsupported methods so you're not surprised when you can't buy an app or game. That said, these are pretty uncommon and shouldn't be a problem for most users.
Google specifically states you cannot use bank or wire transfers, Western Union/Money Gram, Virtual Credit Cards, Health Savings Accounts, Transit Cards, Escrow payment types, Bitcoin or digital currency.  However, in the future, we could see Google add popular payment methods like Adyen, Venmo, or Zelle, but not yet. For now, your only options are what we've detailed below.
Payment Methods Accepted by Google Play
Credit or Debit Cards – VISA, American Express, Discover, JCB, Mastercard, VISA Electron
Google Play Gift Cards – Buy and use Google Play gift cards or some promotional codes
Google Pay – In the US and UK you can use your Google Pay balance on the Play Store
Direct Carrier Billing – Add purchases to your AT&T, Boost, Sprint, T-Mobile, US Cellular, or Verizon bill
PayPal – Use your PayPal account to buy apps or digital content
As you can see, Google offers multiple choices for buying apps and other digital content on the Google Play Store. If you don't have a credit card the easiest method is a Google Play gift card.
Read: How to Redeem Google Play Gift Cards
Keep in mind that our list is for the United States. Most regions around the globe only support debit cards, carrier billing, or gift cards. PayPal and Google Pay aren't supported in many countries around the world. Click here to see your options.
Buy Android Apps with a Google Play Gift Card
One of the easiest ways to purchase paid apps and games without a credit card is using Google's gift cards. You can get a Google Play gift card at a nearby convenience store, supermarket, or even on Amazon with instant email delivery.
So, whether you buy or get one as a gift, or use a gift card exchange site, this is the easiest way to buy apps on the Google Play Store without a credit or debit card. Here's a list of stores that sell them.
Buy Android Apps with Google Pay
If you don't have a credit card you can use Google Pay, which recently replaced Android Pay as Google's mobile payment method. Google Pay is similar to Apple Pay, and works online, with 3rd party sites and services, and on select phones like the Pixel 2.
You can link your checking or savings account directly to Google Pay, that way you're able to get apps or games without a credit card.
Direct Carrier Billing or Pay by SMS
You can buy apps or games on the Google Play Store with a text message. Basically, Google will directly bill your cell phone carrier for the purchase. The way this works is the cost of the app, game, or in-app purchase gets added to your monthly phone bill. In the United States, you can add purchases to these carrier plans.
AT&T
Boost
Sprint
T-Mobile
US Cellular
Verizon Wireless
This is an old way of doing things, but it still works great if you don't have a credit card. Just be careful not to rack up too many charges or you'll have "bill shock" at the end of the month.
Use PayPal for Apps on Google Play
Another popular choice for those without a credit card is PayPal. Not only is PayPal used and accepted around the world, but it allows you to directly link your bank account. This way you can easily buy apps on the Google Play Store from your checking account through PayPal.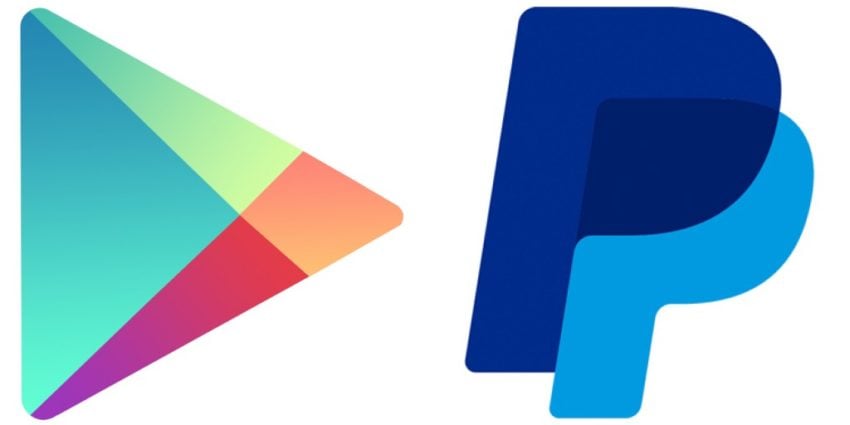 Additionally, you can wire transfer funds into a PayPal account, then connect PayPal to the Google Play Store. That way you're not giving PayPal access to your entire bank account. Click here to get started, or follow our instructions below and choose PayPal from the options.
Google Play Balance (Pay for apps by getting free money)
If you didn't notice in some of my screenshots, I have a Google Play Balance of around $7 available. If you don't have a credit card you can use any Google Play Balance for apps, games, or in-app purchases. Most of this didn't come from gift cards either.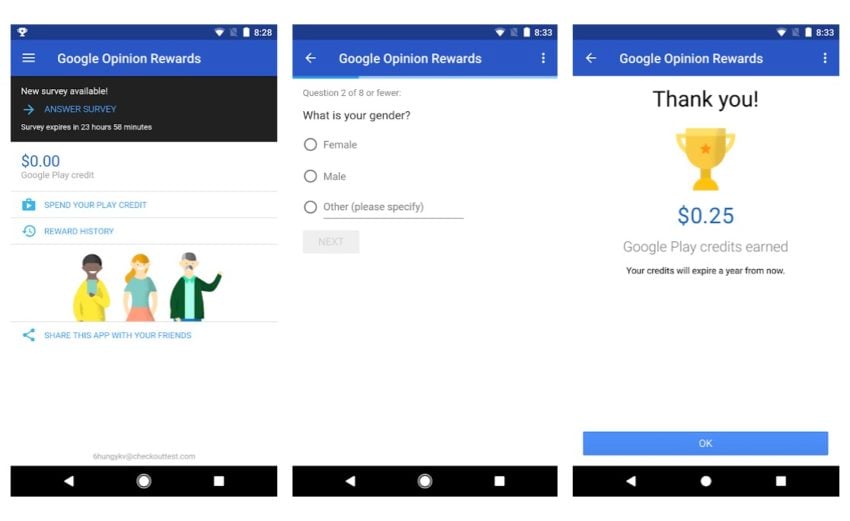 I've earned over $150 by answering questions and surveys inside Google's Opinion Rewards app. It's one of several apps you can use to earn money. Simply answer questions occasionally, and you'll earn anywhere from $0.10 to over a dollar at a time. It all adds up and these funds are instantly available on your Google account on the Play Store. You can also redeem Samsung Pay rewards for Google Play gift cards, and buy apps that way.
How to Add a Payment Method to Google Play (How to Buy Apps without a Credit Card)
And finally, now that you know all of your options here's how to add a payment method to the Google Play Store. This way you can easily connect PayPal or redeem a gift card and start buying stuff. Click here for instructions on a PC, or see our screenshots below to add a payment method right on your Android device.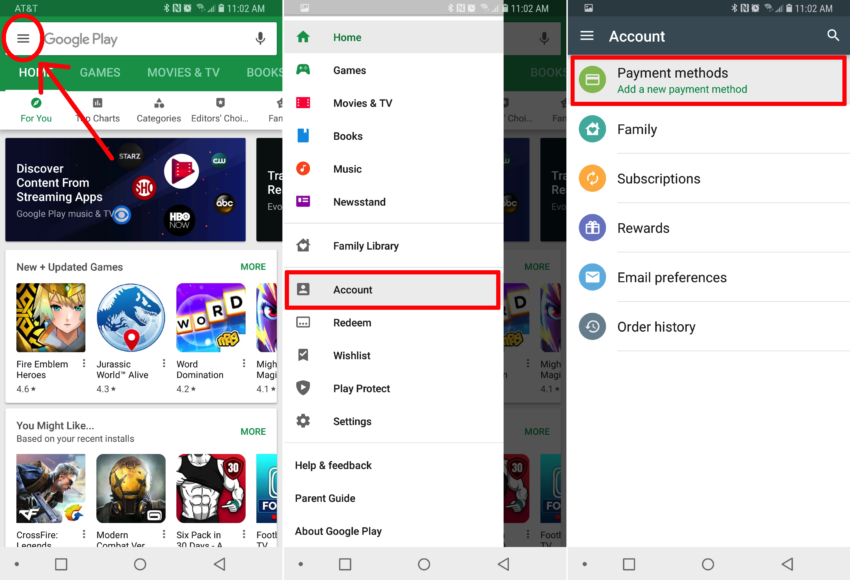 On your Android phone or tablet, Open the Google Play Store app 
Tap the  3-lines Menu button near the top left
Scroll down and select Account  
Tap on Payment methods
Follow the onscreen instructions to add one of the various payment methods
The new option will be added to your Google account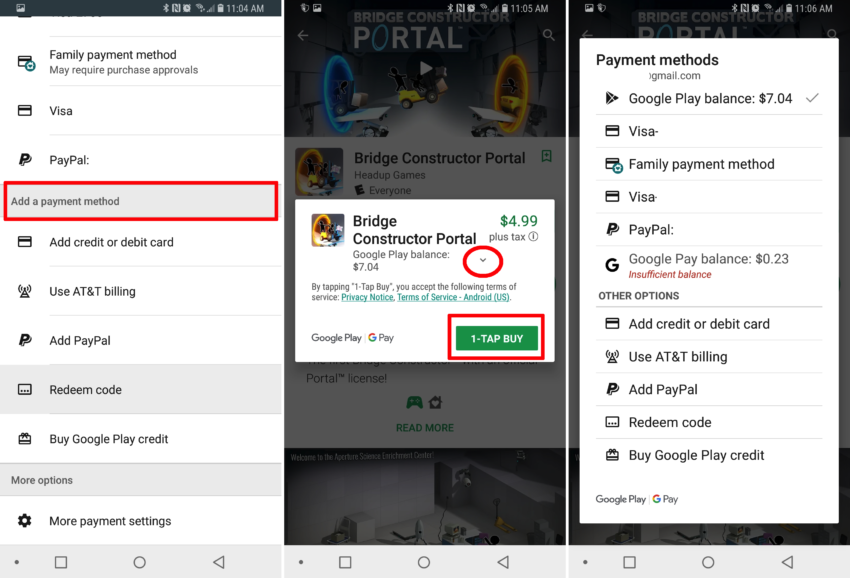 Now, simply go to an app you'd like to buy and tap the Green buy button. From here you'll see a pop-up with your default payment method. You can click to buy the app or game, check the box to use some of your Google Play balance, or select the drop-down arrow to choose from a list of payment methods or redeem a gift card.
Google Play App Store Alternatives
In closing, we want to suggest a few potential alternatives for those that don't want to (or can't) use the Google Play Store. And while we don't recommend downloading apps or games from 3rd party sources, there are a few legitimate alternatives to the Google Play Store. Here are a few worth checking out.
Amazon App Store
APKMirror
Aptiode
F-Droid
GetJar
Keep in mind that you'll have to enable app installs from unknown sources, which is a potential security risk on Android smartphones and tablets. Try to stick to the Play Store, and only venture out to safe sites. All those random apk downloads, hacks, and mods sites aren't worth the risk.
Before you go, and now that you know how to buy apps on the Google Play Store without a credit card, here are 10 of the best FPS shooter games for Android. Try some of these exciting racing games, or save your money and enjoy these 35 best free Android games.

As an Amazon Associate I earn from qualifying purchases.