How to Change the Galaxy S9 Screen Resolution
In this guide we'll explain how to change the Galaxy S9 and Galaxy S9+ screen resolution and why you should. Your phone has a stunning big 5.8 or 6.2-inch Quad-HD display with curved edges. However, Samsung lowers the resolution down to only 1080p HD.
If you want the full 2k resolution you paid for, you'll want to quickly change the Galaxy S9 screen resolution in settings. These phones are highly customizable, and luckily this is one of many quick settings worth changing. In an effort to improve performance and battery life, Samsung ships these phones at 1080p HD instead of Quad-HD. And while the difference is negligible for some, here's how to change it back if you want to.
How to Change the Galaxy S9 Screen Resolution to Quad-HD
Go to Settings by pulling down the notification bar and tapping the gear-shaped settings button
Scroll down and select Display
Choose Screen Resolution
Slide to the right to select 2560 x 1440 WQHD+
Then hit Apply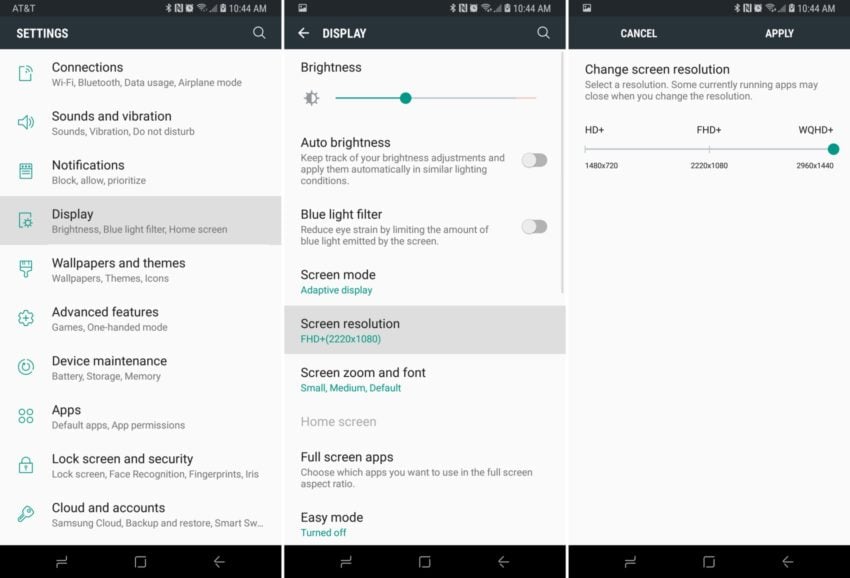 Once owners hit apply it will take a moment to change, and you'll see a flicker on the screen. Similar to changing the resolution on a desktop computer monitor. As you can see, this is very easy and only takes a few moments in settings. Now, all of your apps, games movies and YouTube videos can potentially get viewed in 2k. And while it's not 4k, it's pretty close.
Other Details & Tips
If you notice some of the font or icons are now too small, we can fix that too. In the same Settings > Display menu, select Font and Screen Zoom. Then change the font to a bigger size, or zoom in to increase the size of any and all content on your screen.
Alternatively, we're seeing reports that many have actually lowered the Galaxy S9 to 720p, instead of using the standard 1080p Full HD it's set to out of the box. The point of this change is to get better battery life. If that's something you're interested in, give it a try, or check out these Galaxy S9 battery-saving tips. One user on Reddit claimed he was getting over 8 hours of screen-on time in a single charge. All thanks to lowering it to 720p.
There is also a blue light filter that's basically a night mode which removes blue color from the screen. This makes your screen easier on the eyes, especially at night, and can help smartphone users fall asleep easier. Another last-minute tip we have is to disable the always on display. While you're here, take a peek at these 9 Best Galaxy S9+ screen protectors.