How to Use the Galaxy S9 Night Mode Filter
In this guide we'll show you how to use the Galaxy S9 night mode filter and explain why you should. Samsung's Galaxy S9 has lots of exciting features but the blue light filter, or Night Shift for recent iPhone converts, is one of our favorite. Use night mode to put less strain on your eyes and sleep better at night.
Studies suggest that the blue light from smartphone screens causes eye strain. Not to mention keeps us awake at night due to brain stimulation and reduced melatonin. As a result, Samsung and other manufacturers have added blue light filters to their phones.
Read: How to Turn Off the Galaxy S9 Always On Display
In less than a minute you can easily turn on the Galaxy S9 night mode filter, and give your eyes a break. We'll also show you how to schedule it to automatically turn on, add customization, or adjust the filter strength to fit your personal needs.
How to Turn on the Galaxy S9 Blue Light Filter (Night Mode)
There are a few different ways to enable the Galaxy S9 night mode filter. For one, pull down the notification bar, then pull it down a second time to the expanded view. You'll see a bunch of settings like WiFi or Bluetooth, these are your quick settings. Find the icon labeled "blue light filter" and tap it once. This quickly turns the filter on and off, without fumbling through settings.
However, we recommend going to your settings menu and customizing night mode first. This way you can choose how much light gets filtered out, or have it instantly turn on/off at sunrise or sunset.
Instructions
Pull down the notification bar and tap the gear-shaped settings button
Select Display from the list
Tap the 2nd option labeled Blue light filter
Click Turn On Now then adjust the filter levels to your preference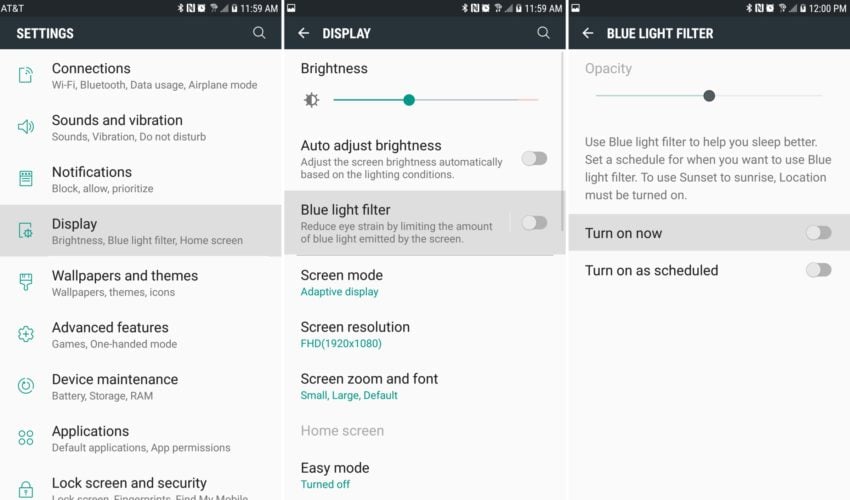 As soon as you turn this on you'll notice a crazy change to the Galaxy S9 display. Instantly, you'll see a yellow-orange tint to the screen and all the white or blue light is gone. It might take a few minutes or night to get used to, but we highly recommend doing so.
Adjusting the Opacity slider will add more or less of the filter, in case the change is too drastic for you. Find a good middle ground and what works best for your eyes. Keep in mind that Samsung's AMOLED screens run on the cool side already, so it might look overly blue when you turn the filter back off.
Set a Galaxy S9 Blue Light Filter Schedule
If you want the night mode to turn on automatically, simply set a schedule. You can choose for this to happen at sunrise or sunset, or choose a specific time yourself. At night it will turn on and reduce eye strain, helping you get sleepy and sleep better. Then in the morning revert back to normal.
Go back to Settings > Display
Select Blue light filter
Choose Turn on as scheduled
Select Sunset to sunrise or Custom to set time intervals 
Choose your Start and End time
In the end, it's all up to your own personal preference. Choose how strong the filter actually is, when it comes on or turns off, and you're all set. From here, everything happens automatically and you can simply use and enjoy your phone.
When the sun sets or your scheduled time arrives, the phone will instantly change. That way you'll start to have less eye strain, not as much stimulation, and you'll have an easier time falling asleep at night. And not just fall asleep, but stay asleep.
In the morning hours when the coffee is brewing and your alarm goes off, the phone will already be back to its normal self. The filter turns off before you wake up. Well, if you set a schedule, of course. While you're here, take a peek at these 10 more settings we recommend everyone change. Or, keep your Galaxy S9+ safe with these best screen protectors.
10 Best Galaxy S9+ Screen Protectors
Caseology Tempered Glass (Easy Install Tray)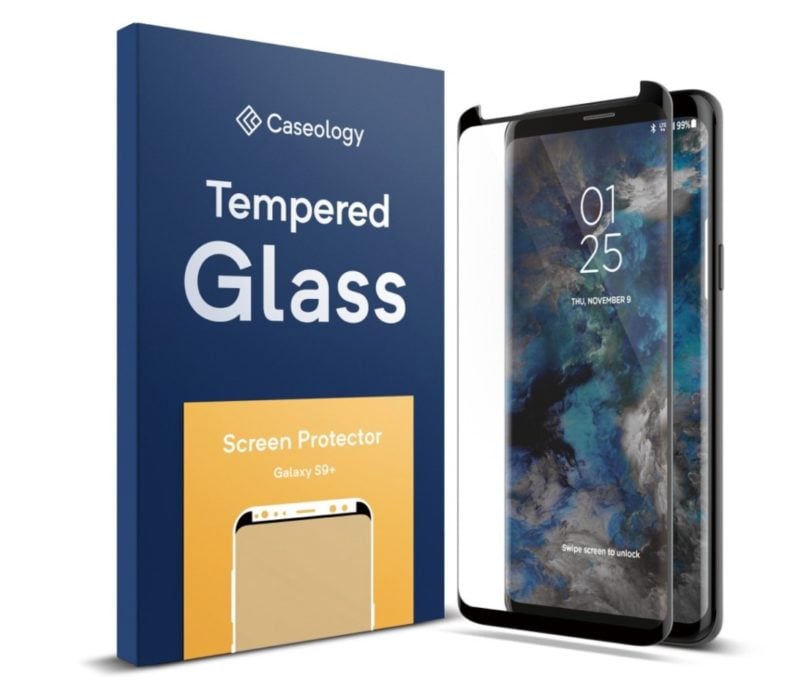 First off, we're recommending the Caseology Tempered Glass Screen protector kit for the Galaxy S9+. While they make great cases, the reason this made our list is because of the easy installation tray.
No one likes putting on screen protectors, and half the time we mess up anyways. This is especially true with the curved glass edge on Samsung phones. With Caseology, you'll get a super simple easy installation tray that perfectly aligns the glass protector for you. Pull off the protective film, line it up, and drop it in place. Then use the included squeegee to get rid of any bubbles.
Each Caseology glass works great with cases, which means the edges are just a tiny bit short so your case doesn't pull it up and ruin your screen protector. They're using 9H reinforced glass with anti-fingerprint coatings, rounded edges to prevent chipping, and it's pretty affordable too. Don't forget Samsung sells official accessories as well.