How to Change the Galaxy Note 7 Text Message App
Samsung's impressive new Galaxy Note 7 is readily available around the globe, and millions of users are enjoying all it has to offer. At the same time they're customizing each aspect of the phone, installing themes, and downloading new apps. One that many love to change is the default text message application. This guide will explain how to change it to something better available on the Google Play Store.
The Note 7 is an impressive phone loaded with features. From an improved S-Pen and GIF making tools, an SD card for storage expansion, a great camera and even water resistance. It can do a lot, and even more once customized with 3rd party apps like a new text message application.
Read: 35 Galaxy Note 7 Tips & Tricks
Samsung has their very own app for sending and receiving texts, called "Messages" and anyone that has used a Samsung device will feel right at home with it. And while it's pretty good, others on the Google Play Store have more features, more customization, better Android wear notifications and other options. That's why changing this is so popular. Read on for more details.
When it comes to the Note 7 Samsung's stock Messages app has some backup options and a few quick controls to swipe and call people, or change the font but that's about it. It is still very limited compared to options readily available on other phones, or from the Play Store. On Android, users can quickly replace key app components like the text app, camera, calendar, gallery and more with alternatives, and below are a few of our favorite text message apps worth trying.
Read: 5 Best Android Text App Alternatives
When you replace your stock app with something from the Play Store it will likely be customizable with themes or backgrounds, customized font, change the look of the message bubbles or colors and much more. It all depends on which app a user decides to try, and the link above details a few good options. Choose which one you'd like to try, I'd recommend Textra, then follow our guide below or the apps built-in instructions.
Instructions
There is now a dedicated option in settings that turns one text app on and the other off, so users won't get double notifications like older Android devices. It won't let two be set as "default" at once. Most apps will make the user set it as the default text app during setup, so it takes over Samsung's "Messages" but if not we'll show you how.
First, navigate to the Google Play Store and download one of the many different third party text apps. Textra is my favorite, GoSMS or Chomp are pretty great, and a few others made our list linked to above. Download one and get started. Textra has a big "Set as Default" button on the first launch near the bottom, which is the easiest method.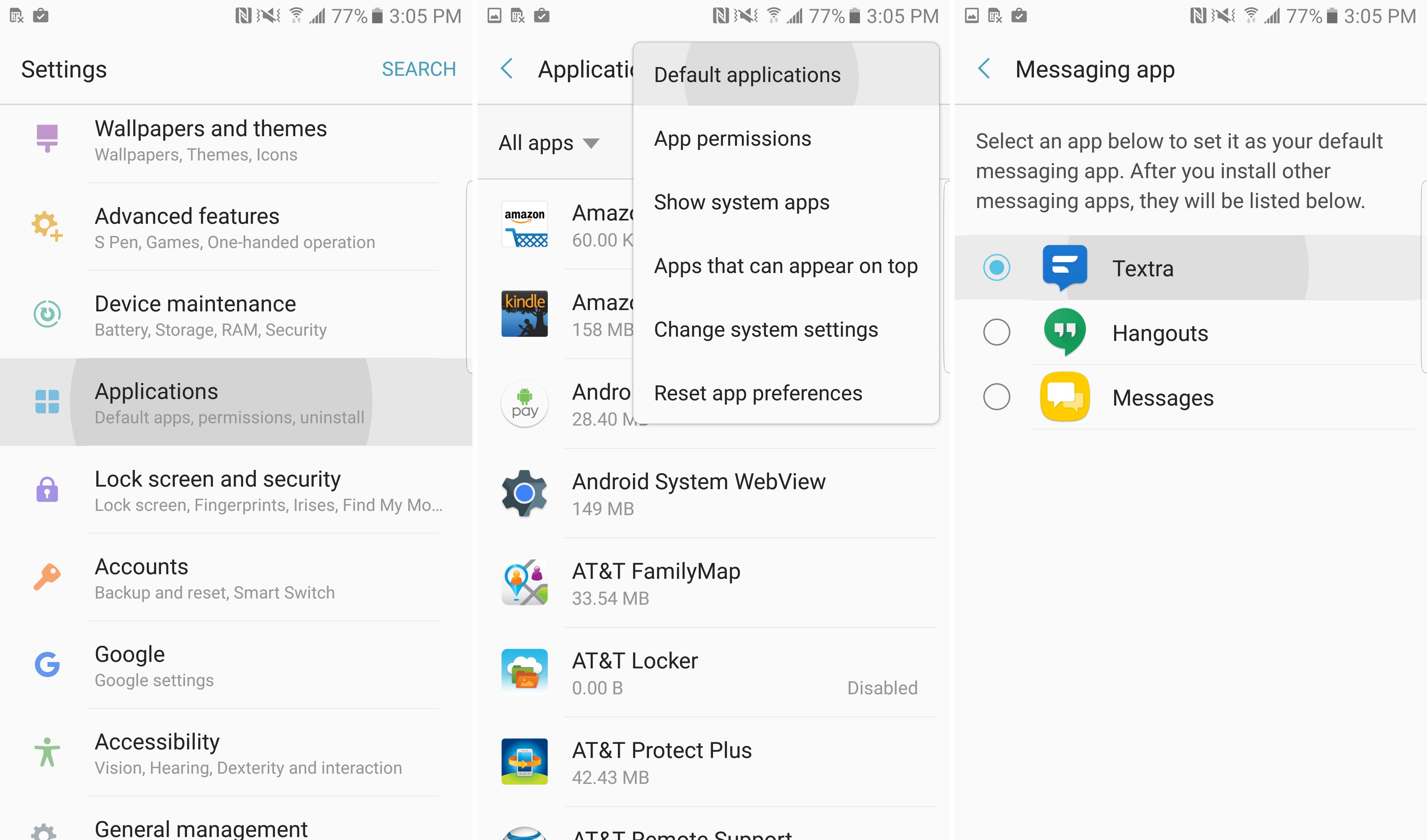 Otherwise, just head into Settings > Applications > Tap the 3-dots at the top and select "Default Applications". Choose Messaging and select the app you'd like to handle all text and picture messages. If none are installed, only Samsung's stock option will be displayed, as well as Google Hangouts. Select one as shown above.

Now only that application can and will send, receive, and notify the Galaxy Note 7 of incoming text messages. If you chose something like Textra go in and change the font, style, colors, bubble colors, and even the notification icon. You can change these for each contact too, so setup something personal for friends or family members. It's a level of customization that many enjoy, which isn't available in Samsung's own messages app.
There are countless excellent app options available on the Google Play Store, so try any of them our or the ones we suggested above. That's all there is to it. If you ever want to revert back to Samsung's app, just uninstall the text app you downloaded, and everything will switch over and you won't lose any messages. Good luck, and check out some Note 7 cases below while you're here.
17 Best Galaxy Note 7 Cases
Spigen Rugged Armor Note 7 Case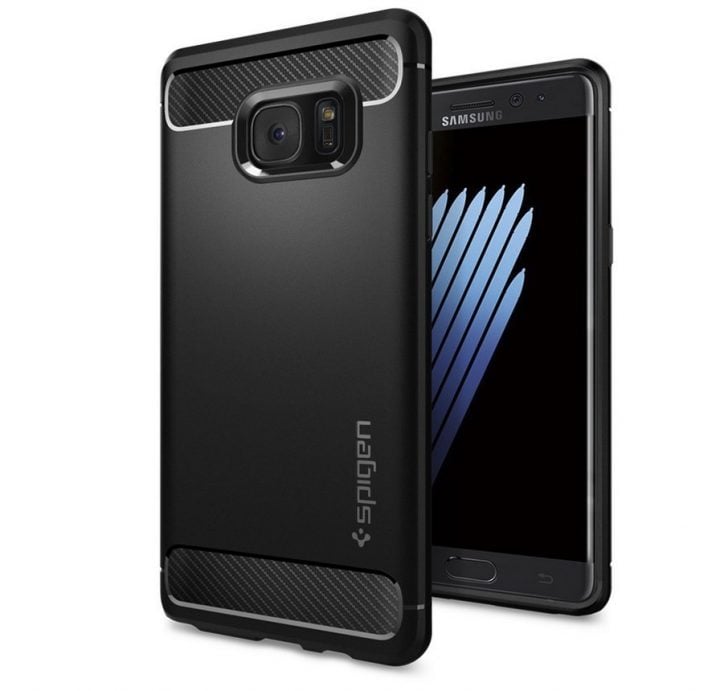 Spigen is a household name at this point, and if you've never tried one of their cases you should start with the Galaxy Note 7. Spigen makes everything from ultra-thin lightweight cases to some of the most durable options on the market.
Myself, I always choose the perfect middle ground model like the Spigen Rugged or Tough Armor. This is a durable and lightweight (and also cheap) TPU case with a flexible design, air-pocket technology to protect the phone from drops, and a small lip on the sides to protect the screen.
Even with the Edge curved glass laying face down this case will protect the Note 7. It's as good as it gets, has a faux carbon fiber design, and is under $12. You can't go wrong with anything from Spigen, and this probably won't be their only case on our list. Like this one.