How to Connect an iPad to Ethernet
A wireless connection is fine for most tasks you do on your iPad, but there are some things that would just be way better with a solid hard-wired ethernet connection. Here's how to connect your iPad to ethernet in order to get the best internet connection. When you are on iOS 10.2 or above, there are new settings to help connect the iPad to ethernet.
The iPad doesn't include an ethernet port, so you will need to buy some adapters and accessories. This isn't cheap, but if you need to connect an iPad in a bad WiFi area or at a trade show this is a purchase that is worth looking into.
With the right accessories, you can connect your iPad directly to a modem or router with an Ethernet cable and in iOS 10.2 and higher, you can make changes to the Ethernet settings right on the iPad or iPhone.
We've updated an older version of this guide that required a powered USB hub. If you are using an iPhone with a Lightning adapter you should be able to use a normal USB Ethernet adapter without any powered hub to give it extra juice.
What You Need to Connect Your iPad to Ethernet
This is a little bit of a hack, but it is officially supported by Apple so you don't void your warranty and there is no need to worry about breaking something.
Here's what you need to buy to use your iPhone or iPad with an ethernet cable.
You need to buy the official Lightning to USB camera adapter, but you can buy a cheaper USB to Ethernet adapter if you don't want to pay Apple's price.
How to Set Up an iPad Ethernet Connection
This is the short list of steps you need to follow to use the iPad ethernet connection. You can use the same directions for the iPhone. Here's a step-by-step guide on connecting your iPad to ethernet:
First off, disable WiFi on your iPad, as well as cellular data if it's an LTE model.
Plug one end of the ethernet cable into a free port on your router, and the other end into the ethernet port on the USB Ethernet Adapter.
Connect the USB end of the adapter to the Lightning to Camera connection.
Plug the Lightning end of the adapter into your iPad.
You can see a similar setup in the video below, but you no longer need to use a powered USB hub to make this work.
After a few seconds, the iPad or iPhone will recognize the ethernet connection. If you are on iOS 10.2 or higher, you can now go to Settings and you will see an option to change Ethernet settings on your iPhone or iPad.
https://twitter.com/stroughtonsmith/status/836548572527079424
This is a recent addition to iOS that will allow you more control over using ethernet as your main way of connecting an iPad.
Once you have everything connected, open Safari and see if the connection is working before you move on to other options.
This is a great way to use the iPad at a trade show or another area where WiFi connections are often spotty. A simple investment in these adapters can save you from trying to fix a broken demo on the show floor.
13 Best 9.7-inch iPad Pro Cases
Stylefolio Pencil 9.7-inch iPad Pro Case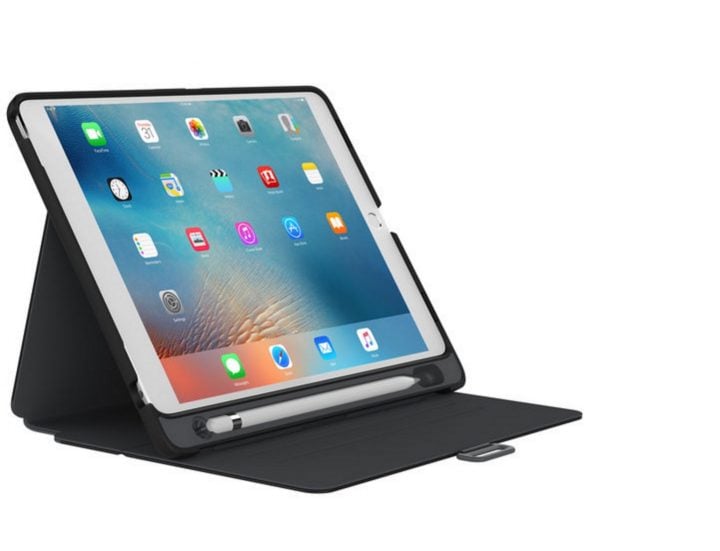 The official 9.7-inch iPad Pro cases don't include any way to carry the Apple Pencil and the smaller iPad Pro together without worrying about losing the pencil.
There is a small carrying area to store the pencil while you go somewhere with the iPad Pro, and there is also an inkwell spot to place the Apple pencil while you are switching between using it and using a keyboard.
In addition to carrying the Apple Pencil, this case protects the front and back of the iPad Pro while allowing you to use the iPad in a variety of positions. The pencil holder makes this slightly wider than other cases.
$59.95 at Speck

As an Amazon Associate I earn from qualifying purchases.