How to Turn Off the Galaxy S10 Always-On Display
This guide explains how to turn off the always-on display on your Galaxy S10. One of Samsung's best software features is the at-a-glance info on the screen that stays on 24/7. However, if it's too distracting or you just want better battery life, we'll show you how to get rid of it.
When you turn off the Galaxy S10 or S10+ screen, a small area stays on. This displays the time, date, battery level and even incoming notifications or message alerts. It's called an "Always-on Display" but it's not for everyone. Follow these steps to turn it off.
How to Disable the Galaxy S10 Always On Display
Thankfully Samsung's phones are pretty versatile and customizable these days. Flipping through the settings menu you'll find options for almost everything.
To disable the always on display feature simply head into settings as you see below.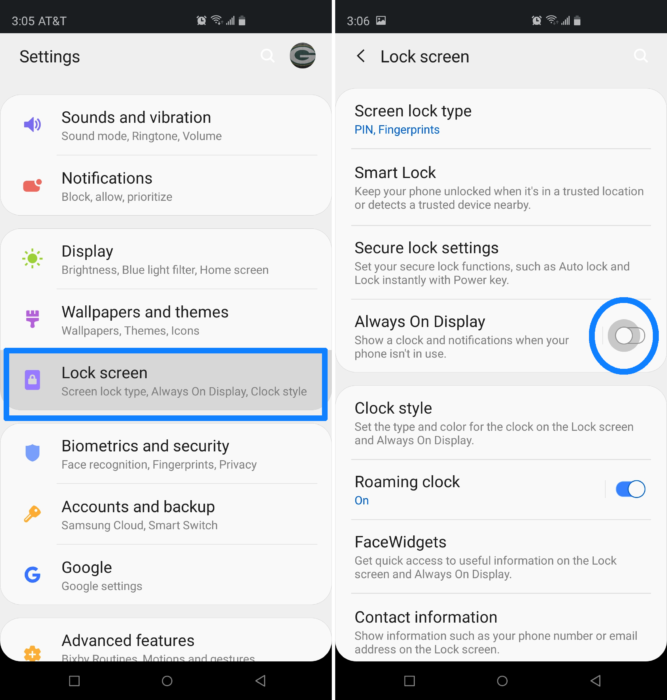 Pull down the notification bar and tap the gear-shaped settings button
Find and select Lock screen & Security
Scroll down to Always On Display and flip the switch to OFF
Or tap on Always On Display for more options
It only takes a few taps in settings to disable this helpful feature. Now the screen will completely turn off and show absolutely nothing. That said, users will need to tap the power button in order to quickly check notifications and such. Something most people do over 150 times a day. Realistically this feature probably saves battery life, instead of hurting it.
Make Changes Before You Disable It
If you're like me you love the always-on display, but find it a distraction in certain situations, like at night. And while it's highly customizable and you can change everything about the always-on display, our next steps will simply show you how to control when it turns on/off.
Follow the same steps as above by going to Settings > Lock screen and security > Always-On Display and tap on it, instead of toggling the switch. Now, you'll see a few options like our image above. You can set a schedule so it doesn't come on at night, that way the phone won't be a distraction.
Furthermore, you can turn off the auto-brightness mode so it stays relatively dim instead of matching the environment, or disable the music information to keep it clean and easy to see.
In closing, go to Settings > Wallpaper & themes > and choose the AOD column at the bottom right of your screen. In here, you'll have full control of the AOD. Change the clock font, color, or add a background. Then, choose from hundreds of pre-made AOD themes to completely change the look and feel of your always-on display.
You probably don't want to customize it if you came here to turn it off, but once you see some of these other options you may find a setup that suits your needs. So, give some of them a try. Then, while you're here, take a peek at these 10 cool things your Galaxy S10 can do.