How to Customize the Galaxy S9 Always-On Display
In this guide we'll show you how to completely customize the Galaxy S9 always on display. Whether you want to add a background image, calendar, or even a GIF right to your locked screen. Samsung's always-on display is a popular feature and here's how to make it better, or get it back after the Android 9 Pie update.
The always on display (AOD) gives you at-a-glance information even when the screen is "off". Info like the time, date, battery level, and incoming notifications. That's not all though.
To start, go to Settings > Lock screen & security > and scroll down to Always On Display. Or, go to Settings > Wallpaper & Themes and tap AOD in the bottom right corner.
With the Galaxy S9 Samsung added more clocks, calendars, and the option to use moving live wallpapers or GIFs right on the always-on display. In fact, you can record a 960 FPS slow-motion video with the camera and turn it into a GIF for your lock screen or AOD.
It's worth stating that the video above could be slightly outdated. Samsung's recent updates, like the Galaxy S9 One UI (Android Pie) update, changed how we interact with the always on display.
How to Customize the Galaxy S9 Always On Display
Add a GIF, download new themes, or choose from over a dozen different clock styles on the Galaxy S9 and S9+. Samsung recently changed how and where to change these settings, so follow our step-by-step instructions below. In here you can choose different styles, options, fonts, colors and more. In the end, there are hundreds of possible combinations when it comes to customizing your screen.
Open Settings in the app tray or hit by hitting the gear-shaped settings button in the pulldown bar
Find and select Wallpaper & Themes 
In the theme app tap the bottom right corner where it says AOD's (Always on Display)
Choose from thousands of images, colors, sizes, clocks, fonts, facewidgets and more.
Initially, you could only choose from a few different clocks, add a calendar, and a few other things. Now, though, you have the entire Samsung theme store to choose from. Samsung creates tons of beautiful AOD options, developers sell their own, and the community can make and uploads options.
Personally, the old style was easier to customize in settings, instead of the theme store, but moving forward this is where and how you can customize the Galaxy S9 always-on display.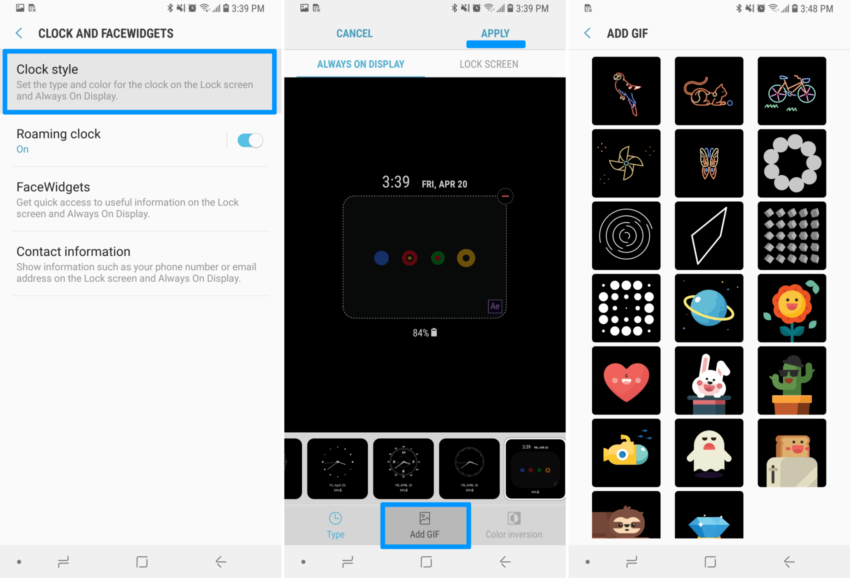 As you can see, we added a GIF to the always on display on the Galaxy S9. However, you can choose from hundreds if not more from the store, or right on your phone.
How to Get Your Galaxy S9 Always-On Display Back After Pie
In January of 2019, Samsung updated the Galaxy S9 and S9+ to Android 9 Pie, also known as One UI. And while it added several great features, it also changed the always-on display. We're seeing millions of people say the always-on display is missing, but it's not. Simply tap the screen, and it'll pop-up.
By default, the Galaxy S9 is set to "Tap to Show" the always-on display, instead of showing it 24/7 like before. Simply head into settings and change it back, by following these steps.
Go to Settings > Lockscreen > Always-on Display > tap on Display Mode > and select Show Always.
Now you'll have the AOD on the screen whenever you look at it, instead of only when you tap. Personally, I like the new tap to show option more. You can even set a schedule so it's showing all day, but switches to "tap to show" mode at night. A perfect middle ground.
Galaxy S9 FaceWidgets
Most Galaxy S9 owners don't know this, but if you double-tap the always on display, you'll get more options without unlocking your screen. These include music controls, your schedule for the day, or upcoming alarms. You can interact with these too, just swipe to the left/right.
Go to Settings > Lock screen & security > Clock and FaceWidgets > and tap on FaceWidgets. Samsung adds the music controls for you, but you can customize this as you'd like. Giving you a few more options and controls without ever unlocking your phone. You can add these to the lock screen too if you want.
Additionally, there's another option here to add a "Call if found" type message to your Galaxy S9. This way you can put a secondary phone number, email address, Twitter handle or something else on the lock screen and always on display. Or any message, for that matter.
Read: How to Find a Lost or Stolen Galaxy S9
How to Turn Off the Always On Display
While this is a great feature that a lot of people enjoy, some find the always on display distracting. Especially at night, or if you're going to a movie. So, if you want to quickly turn it off, we've put together a quick guide showing you how.
Go to Settings > Lock screen & Security > and scroll down to the Always-On display section. Then, just uncheck the switch to turn it off, and you're all set. Try the "show on tap" first, before disabling it completely.
Other Details & Final Thoughts
Keep in mind that anything you add to the always on display can and will affect battery life. This is especially true for a GIF. Even if you'll only see it loop once each time you lock the screen.
That said, we do recommend keeping this feature on, and using it to some extent. You don't need a bunch of colors or GIFs, and a simple clock is just fine. That's because studies suggest most users turn on a phone over 150 times a day. The always on display cuts down on those, by sharing important information you're likely looking for without ever waking up your phone.
While you're here, take a look at how to change your lock screen and wallpaper. Or, keep your phone safe with these screen protectors.