How to Disable Galaxy S7 Automatic App Updates
Samsung's fancy Galaxy S7 and Galaxy S7 Edge are available around the globe, and new users have lots of questions. When you first get the Galaxy S7 it will have multiple apps that need to be updated on the Google Play Store. However, in the weeks and months following your first days with it, more will surface. Users that don't want to be bothered with notifications to update apps, or want to control what updates, here we will be explaining how to manage or disable automatic app updates on the Galaxy S7 and Galaxy S7 Edge.
The new Galaxy S7 and S7 Edge are beautiful and powerful device full of features, options, and advanced controls that sometimes can get a bit confusing. One thing we always get questions about are apps that update automatically, so here we'll explain how to disable that from happening on your new Galaxy.
Read: How to Reset a Frozen Galaxy S7
If you don't want the Galaxy S7 updating apps on its own, or don't want to be bothered by tons of notifications to update apps on a daily basis, we have a few easy ways to stop it. Below we'll detail the easy to find and change settings in the Google Play Store to totally control the Galaxy S7. This can be helpful for first-time Android smartphone owners, or someone that recently switched from an iPhone.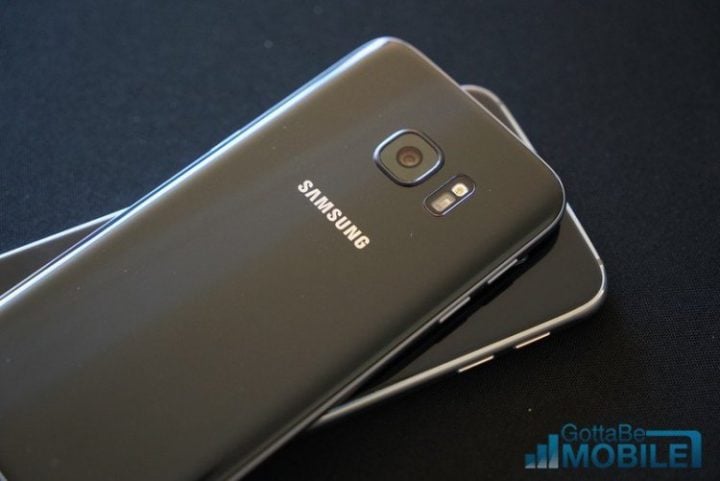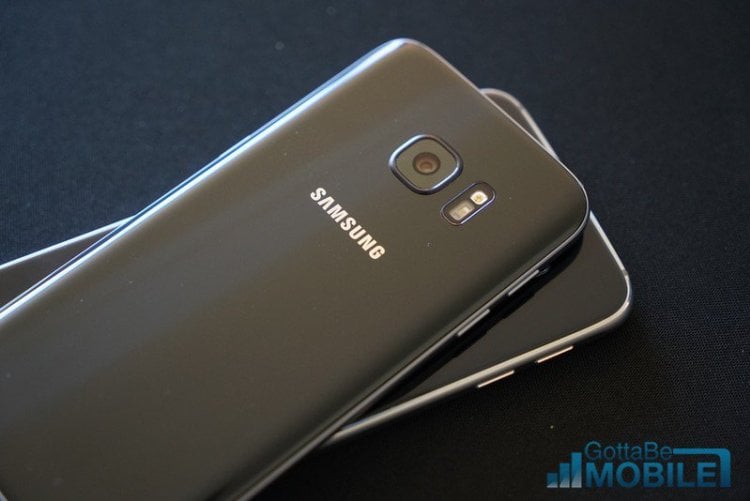 Out of the box and by default the Galaxy S7 and S7 Edge will update apps automatically, which is the easiest way to use it. At the same time, many want to control this, and know what's going on with apps and why they're updating. This could be to save data and update on WiFi only, or to control what's being updated and knowing what's new or changing. Google's Play Store even adds an icon for new apps on the homescreen automatically, and we can disable that obnoxious feature in this settings menu as well.
Whether or not owners should do this is up to them, and everyone has different wants or preferences. Those that want total control will want to follow the steps below.
Instructions
Luckily this isn't a setting inside the Galaxy S7 and its huge settings list, instead it's a quick change in the Google Play Store where we get our apps, games and music. Navigate to the Google Play Store by tapping the icon on your homescreen, or by finding it in the app tray.
Once inside the Google Play Store users can select the top left (3-lines) menu button next to the "Google Play" search bar and scroll down to "Settings" and select that as shown in our image below. Everything we need to change for everything mentioned earlier is right in this Google Play Store settings menu.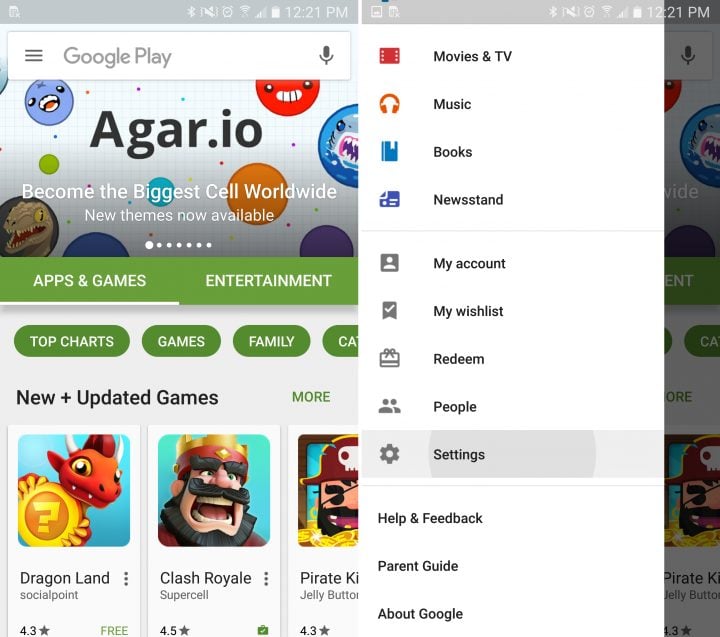 This is the general settings for the entire Google Play Store. One of the first options listed is "Auto-update apps" and you'll want to tap this. From here simply choose what works best for you. By default it will be set to automatically update apps over Wi-Fi, which is what most users should leave it on. We don't want apps updating while using data, as that can use a full 2-4GB data plan very quick, especially at first, or if users install big games like Clash of Clans, Asphalt 8, or others. Instead select "Do not auto-update apps".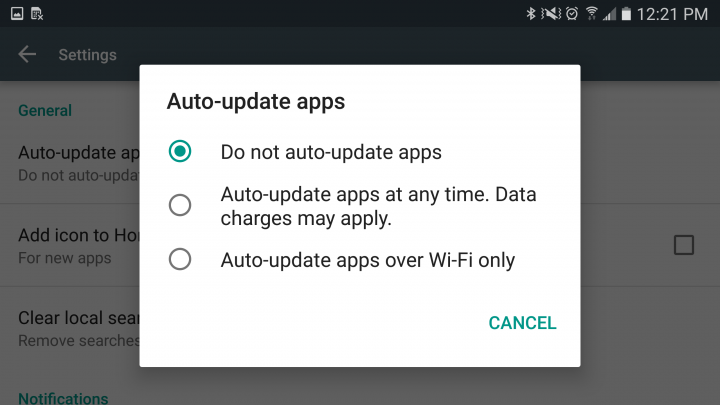 This option means users will constantly be notified in the top notification bar that apps need to be updated, rather than just updating on their own. However, this gives you control to see what is being updated, check changelogs to know what's new, and stop updates. Certain apps users may want to keep the old version, and if it's set to auto there's no stopping it.
Our recommendation would be to leave it set to update apps over WiFi to save data, so it updates automatically but not with your data. However, you're here to stop that, so select do not auto update. Then, as we mentioned above, in here you can also uncheck the feature that automatically puts icons on the homescreen whenever an app is downloaded. It's a nice feature to have, but not everyone wants their screens full like an iPhone.
What Should You Choose?
Casual smartphone users or those new to Android may want to let the smartphone do everything for them. My parents hate getting notifications for updates daily, so they have it set to auto. Personally, I'd rather control what updates, look at changelogs and permission requests, so I do it all manually.
If you use auto-update you won't know what's new, or what could be changing in your favorite apps. Users will simply notice changes to popular apps like Facebook, YouTube, or even games you may enjoy.
In the end it's all about personal preference. Do what fits your needs, what's easiest for you, and enjoy the Galaxy S7 or S7 Edge.
20 Best Galaxy S7 Edge Cases
Galaxy S7 Edge S-View Flip Cover (Clear)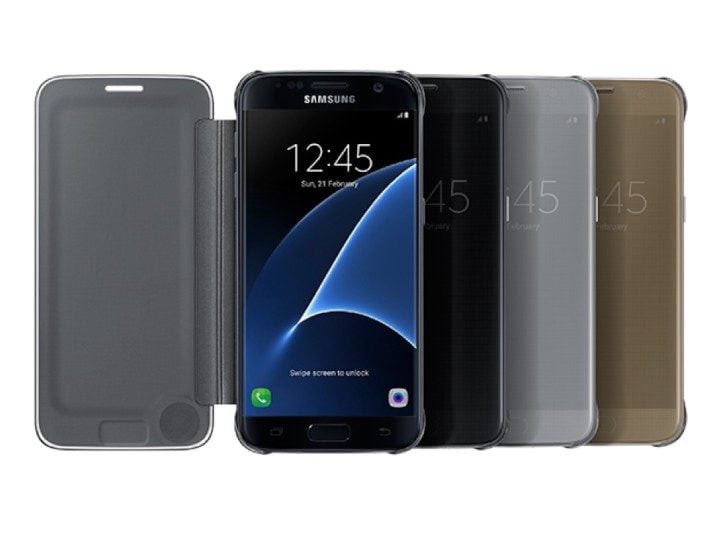 Our first recommendation is the official Samsung S-View flip case. For the S7 Edge, Samsung has three different S-View Flip cover cases. There's the traditional flip cover with a window like previous years, a clear model, and a LED flip case. Our favorite is the clear case, as it will display all the information on the always-on display. This offers a full view of the entire screen even while the case is shut and keeping things safe.
The S-View case gives you quick access to information on the screen at any moment. You can answer a phone call, see the weather or answer phone calls without opening it. It also wraps around all four corners to protect the Galaxy S7 Edge without getting in the way of using Edge screen features.

As an Amazon Associate I earn from qualifying purchases.