How to Disable Nexus 6P Automatic App Updates
New out of the box the Nexus 6P is fast and smooth with hardly any apps, as there's no bloatware from carriers. It's a clean Google device. However, after a few months of owning it users will fill it full of apps and games. For those that don't want to constantly be bothered with update notifications, or want to control what gets updated, here we'll explain how to manage or disable automatic app updates on the Nexus 6P.
Google's new phone is one of the best Android smartphones released as of late, and millions of users are loving it. However, as Android updates and more apps get downloaded users may notice a lot of apps are updating on their own, almost daily. We're here to stop that, or give owners options.
Read: How to Speed Up the Nexus 6P in Seconds
Those that don't want the Nexus 6P updating on its own, or rather not be bothered by tons of notifications to update apps on a daily basis have a few easy ways to solve this problem. This is great for iPhone converts or first-time Android owners, and it's only a few clicks in the Google Play Store settings to change things up.
By default the Nexus 6P (or most Android phones) will update apps automatically, which is the easiest way to leave things for most owners. However, some want total control, like myself.  This could be to save data and update on WiFi only, or to control what apps actually get updated. The Play Store also automatically adds an icon for new downloads to the homescreen, and we can disable that obnoxious feature in this settings menu as well.
Everyone has different needs, wants, or preferences for settings on a phone. Below we'll explain where and how to change the automatic update features of the Google Play Store for the Nexus 6P.
Instructions
The settings users will be changing today are in the Google Play Store where you get games, apps, or music. Not on the phone. Navigate to the Google Play Store by tapping the icon on your homescreen, or by finding it in the app tray.
Once in the Google Play Store users can select the top left (3-lines) menu button next to the "Google Play" search bar. From here just scroll down to "Settings" and select that as shown below.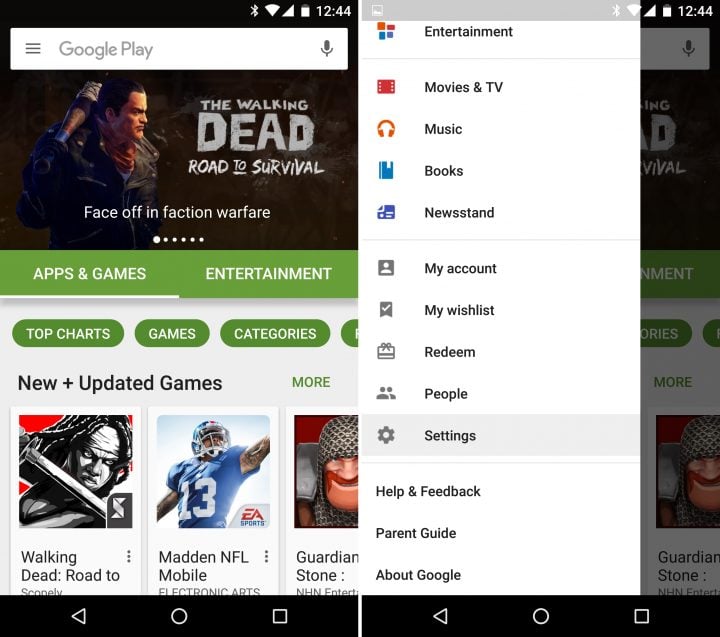 This area is the general settings for the Google Play Store. In this menu the first option listed is "Auto-update apps" setting, click that. From here select what works best for you. By default it will be set to automatically update apps at any time. No one wants apps updating while using data, as that will use a full 2-4GB data plan too quick and cause overage fees from a carrier. Instead select "Do not auto-update apps", or select to only update apps over a WiFi connection, like home internet.
Selecting "Do Not auto-update apps" means users will constantly be notified in the notification tray that apps need to be updated, rather than just updating on their own. However, this gives owners the control to see what is being updated, check changelogs to know what's new, and stop updates. I always check changelogs, reviews and other things to know what is changing. A prime example is Textra, my text message app. I never update it as I prefer an older model.
It's best to update apps over WiFi to save data, and WiFi is typically faster and will save battery life and time. Then, as we mentioned above, in here you can also uncheck the option that automatically puts icons on the homescreen whenever an app is downloaded. This is a nice feature, but eventually will become a hassle and most disable it too.
What Should You Choose?
Average smartphone users or those new to Android should just let the smartphone do everything for them. My parents hate getting notifications for updates all the time, so they have it set to auto. Personally, I'd rather control what updates, and look at permission requests and the "what's new" list first, so I have it set to manual.
Owners that use auto-update won't know what's new, because they didn't see the changelog. Users will simply notice changes to popular apps like Facebook, YouTube, or even games you may enjoy.
At the end of the day it all comes down to personal preference, how much time users want to spend managing things on their phone, and other things. Select what's best for you, and enjoy. These same steps are the same for basically all Android smartphones and tablets with the Google Play Store.
13 Official Nexus 5X & Nexus 6P Accessories
Nexus 6P Folio Case
Google doesn't have the best track record when it comes to cases or accessories, but they're working hard to change that with the Nexus 5X and Nexus 6P. Tons of cases are available now, or will be coming soon.
The Nexus 6P Folio Case comes in a beautiful refined leather design in brown or black color options. This is one of the few that is listed as coming soon, and arguable one of the best. It features cutouts for the front speakers, fingerprint scanner, all the ports, and has a magnet on the flip out cover to instantly wake the screen. It's an elegant case, but will be expensive.

As an Amazon Associate I earn from qualifying purchases.