How to Disable Text Message Previews on the Galaxy S7
This guide will show Samsung Galaxy S7 and Galaxy S7 Edge owners how to disable text message previews or popups, including on the lockscreen, to keep privacy under control. In order to keep prying eyes away from sensitive information Samsung has an option to hide or show content from notifications, and here we'll explain how to disable it.
The new Galaxy S7 and S7 Edge are feature-packed. From an improved camera, micro-SD card, to IP68 water resistance. Another neat feature that debuted on the S6 is a helpful popup of texts and a preview of the message on the lockscreen, even though you can't access it without a fingerprint, pin, or password if lockscreen security is enabled.
Read: How to Disable Galaxy S7 Always On Display
With the Galaxy S7 owners using the stock text message app will get a popup notification sharing a preview of the message, on the notification bar ticker at the top of the screen we see the same, and even on the lockscreen. This is convenient for most, but some may want to hide or disable this from being shown at all.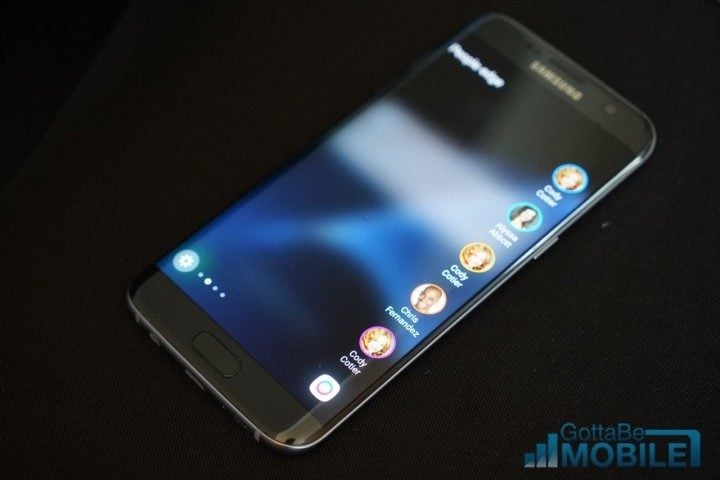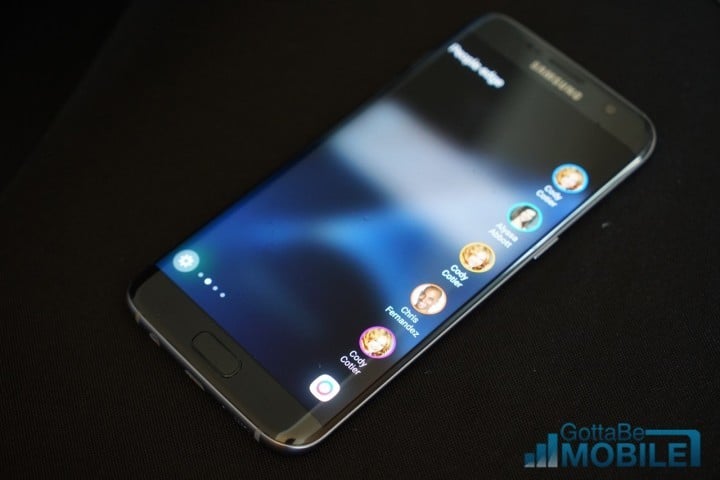 The default text message app that's built into these phones is called "Messages" and thankfully it has all of these features. However, owners using one of the many excellent text message replacement apps, won't have to change any settings except the last one.
Read: How to Disable Galaxy S7 Automatic App Updates
Samsung's app has plenty of customization, options and controls, but many opt for other alternatives on the Google Play Store. Owners who'd like to just use what's already installed, the default messages app, below are quick instructions to hide some of those notifications, popups, and information on the lockscreen to keep things on the private side. Better safe than sorry, right?
Disable Text Popups
My favorite feature is the pop-up notification and window for an incoming text. Allowing users to quickly reply over the app their in, and continue what they're doing. This popup shows who the message is from and a preview of the conversation, which can get users in trouble at work or share sensitive information.
A similar thing happens in the notification bar. A small icon appears without users dragging it down, and there's a small preview of the text message. Another great option. That all said, if you don't want these sharing incoming message information, it's really easy to just disable and hide it all. So information is only seen by you, when you open the text "messages" application. Lets turn this all off.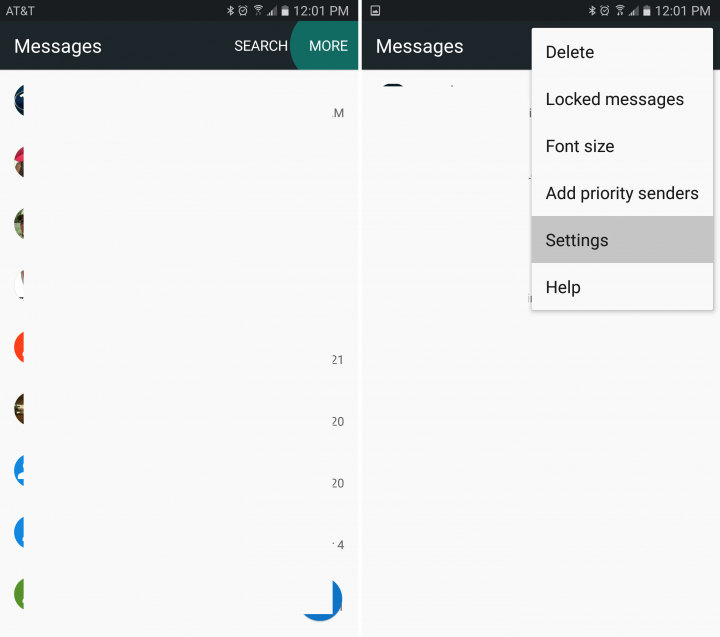 Launch the default "Messages" app and hit the more button on the top right, then choose settings > notifications > and turn off "Pop-up display" to get rid of this. It's that easy, and shown in the image above and more below.
However, to make things even easier Samsung added two options this year on the Galaxy S7. The second option shown below is "Preview Message" which can be disabled to stop previews. This way the notification and pop-up is still there, but the preview of information is. Giving us the same awesome feature without the privacy concerns.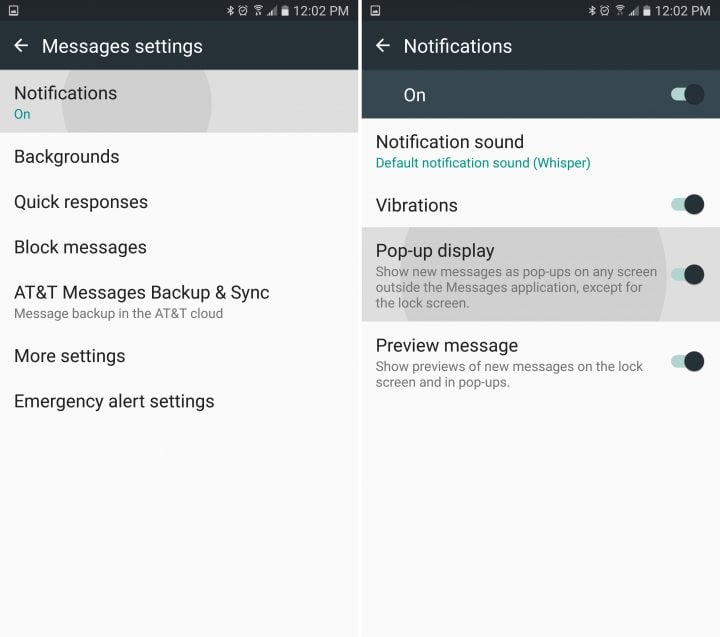 Galaxy S7 Lockscreen Information
Now we have one more thing to do, which is get rid of text message (and other notification) information from the lockscreen. While many love this feature, it too, is a privacy issue for some and can easily be disabled. Your best bet is the keep the pop-up option enabled but turn off the preview, then choose how you'd like things to work on the lockscreen below.
Galaxy S7 or S7 Edge owners that don't want an incoming message or notification and its content to be displayed on the lockscreen, here's how we remove that as well.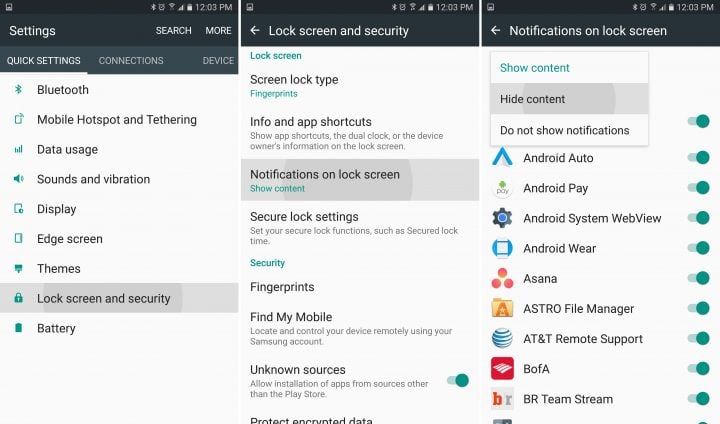 Head into settings by tapping the gear-shaped icon at the top of the notification bar, or in the apps menu. Then select "Lockscreen & security" and scroll down to "notifications on lockscreen". Click the first option labeled "Content on lock screen" and from here select to hide content. This will still show notifications on the lockscreen from messages, Gmail, Twitter and others, but it won't show detailed information. To remove everything, select Do not show notifications and users won't see anything on the lockscreen at all.
We're all done, and now the Galaxy S7 or S7 Edge is completely secure when it comes to text messages, or notification previews on the lockscreen. Of course the best solution is to have a fingerprint or other security measure in place, but people can still see previews of information. Our steps above removes all of that ad gives owners peace of mind. While you're here, take a look at some great Galaxy S7 Edge cases below.
20 Best Galaxy S7 Edge Cases
Galaxy S7 Edge S-View Flip Cover (Clear)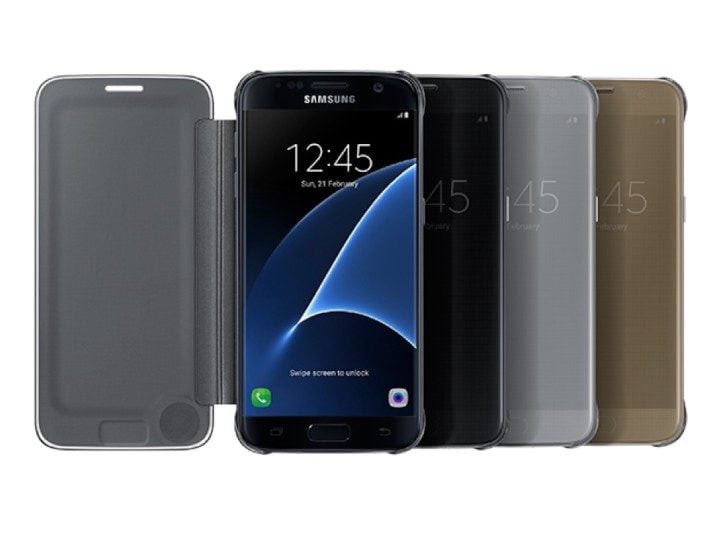 Our first recommendation is the official Samsung S-View flip case. For the S7 Edge, Samsung has three different S-View Flip cover cases. There's the traditional flip cover with a window like previous years, a clear model, and a LED flip case. Our favorite is the clear case, as it will display all the information on the always-on display. This offers a full view of the entire screen even while the case is shut and keeping things safe.
The S-View case gives you quick access to information on the screen at any moment. You can answer a phone call, see the weather or answer phone calls without opening it. It also wraps around all four corners to protect the Galaxy S7 Edge without getting in the way of using Edge screen features.

As an Amazon Associate I earn from qualifying purchases.