How to Downgrade from macOS Mojave to High Sierra
This guide will show you how to downgrade macOS. If you can't deal with macOS Mojave problems, app compatibility or other issues, you can downgrade from Mojave to macOS High Sierra.
There is no time limit on your ability to downgrade to macOS High Sierra. You can go back to macOS 10.13 in just a few easy steps.
Keep in mind that you will want to open these directions on a phone, tablet or another computer if this is the Mac that you want to downgrade.
There are multiple ways you can downgrade macOS, and the easiest is to restore a Time Machine Backup. If you have one, then you will only need to backup the new files. If you don't have a backup handy, you will need to backup the important files and then essentially do a clean install of macOS High Sierra.
Before you proceed, make sure to create another backup. If you have the time, you may want to do this on a different drive.
This guide assumes you want to go back to High Sierra and keep the newer APFS file system. If you are trying to downgrade and go back to the HFS+ file system on High Sierra or earlier, you will need to make a bootable installer and reformat the Mac's hard drive.
How to Downgrade macOS Mojave to High Sierra with Time Machine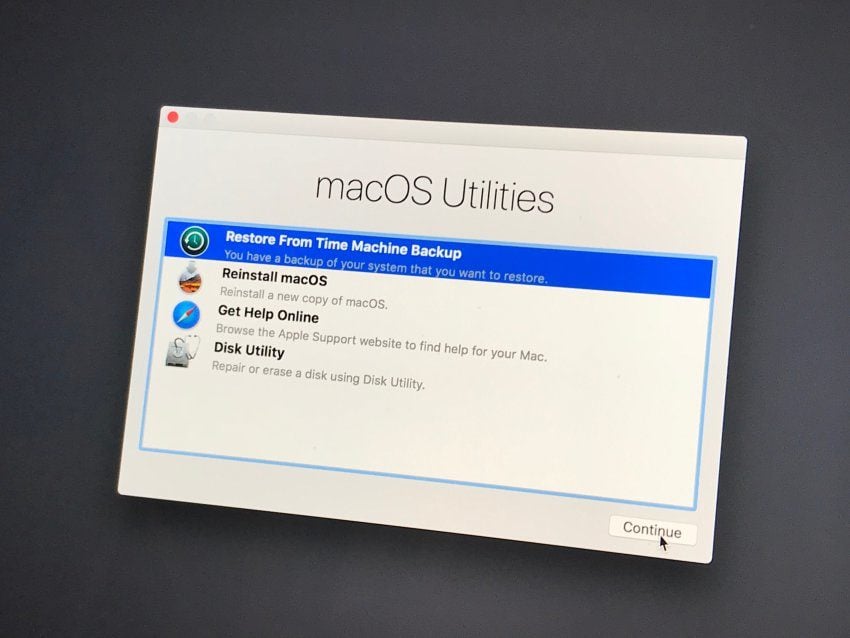 The easiest way to downgrade macOS Mojave to macOS High Sierra is to use a Time Machine Backup. If you have a backup made right before you upgraded to Mojave, you can restore to that backup and be running High Sierra pretty quickly. You will still want to backup new files to iCloud, DropBox or an external drive.
We still recommend making another backup of your Mac on Mojave so that you have it handy in case something goes wrong, but you can proceed without it if you don't have the time or the space.
Connect your Time Machine Drive, or connect to WiFi if you're using a Wireless Drive.
Shut Down your Mac.
Turn it on and hold Cmd + R until Recovery Mode Opens.
Click on Restore From Time Machine Backup.
Click Continue.
Pick the backup source if you have more than one Time Machine Drive.
Select the Time Machine Backup that you made right before upgrading to Mojave. The chooser will show you the operating system version. Look for macOS 10.13 or another macOS 10.13.x number.

Pick the backup you want to restore from and click Continue.
Now choose the hard drive you want to restore to. In most cases this is called the Macintosh HD.
This will erase your Mac's hard drive completely and then it will restore this backup. This will take a while to complete, and you will not be able to use the computer during this period. While this is in the process of completing do not force restart your Mac, even if it looks like it is frozen. Make sure your Mac is connected to power for this process.
If you don't have a Time Machine Backup, you will need to create a bootable USB with macOS High Sierra and you will need to essentially do a clean install of that, then restore your files. It's more involved, but is useful for people without a backup.
In cases where you need to downgrade from APFS to HFS+, you will need to do a similar process with a bootable USB drive, use Disk Utility to reformat to MacOS Extended Journal, and then install the older macOS. That's a more involved process than most users will want to get into.

As an Amazon Associate I earn from qualifying purchases.