macOS Mojave Problems: 5 Things to Know
Apple's macOS Mojave update is causing problems for some Mac owners and the macOS 10.14.4 update is bringing some major issues to the forefront. This is a major issue if you use Gmail on your Mac. Here's what you need to know about macOS 10.14.4 problems in 2019.
The macOS Mojave update includes exciting new features for many Mac models and the macOS 10.14.4 update brings support for AirPods 2 and other new features. While this is a feature-filled update there are some bugs and performance issues popping up.
Mac users report News problems, macOS Mojave battery life problems, connectivity problems and other issues like Gmail problems in the Mail app. This is a look at the problems facing users and it may expand as more people start installing macOS Mojave. You can avoid some issues by doing these things before you upgrade.
This guide will show you where to find potential fixes for the most of the problems, including what to do if you can't find macOS Mojave in the app store.
macOS Mojave Problems
Some of the macOS Mojave problems we are seeing are brand new, while others appear to carry over from previous updates.
The biggest issues on macOS Mojave 10.14.4 is that Gmail in the Mail app is not working for many users. This is a problem with the Mail app that appears to be impacting institutional and normal gmail accounts in the Mail app. There is no fix for this known yet.
After updating to MacOS Mojave 10.14.4, the Mail app stopped working with my institutional @gmail account. It asks me to authenticate with safari, accepts my password, but then fails to authenticate. Some attached screens. Any ideas? pic.twitter.com/tByfhumIjH

— Rodrigo Nemmen (@nemmen) March 26, 2019
The other issue we are seeing is the Apple News app not working. This appears to be resolving itself, so it may have been an issue on Apple's end. Try restarting your Mac to solve any issues.
If you don't see the update, restart your Mac and check again. If the download is slow, you can try to connect to a wired connection or cancel and restart the update.
Another prominent issue is apps not working on macOS Mojave. If the app only works on HFS+ file systems it will not work on Mojave. For other apps, you likely need to install updates. Many updates are rolling out now. You should install some updates before installing macOS Mojave.
We're keeping our eyes peeled for reports of other issues.
How to Fix macOS Mojave Problems
You can fix many macOS Mojave problems on your own, without leaving home and going to an Apple Store.
Here's our guide on how to fix macOS Mojave problems, which will help you fix many issues.
If you can't see the download use this link to start downloading macOS Mojave. You can't speed up download if the problem is on Apple's end, but you may see a faster speed if you plug into your router.
If you have bad macOS Mojave battery life, you can try these fixes for bad Macbook battery life, but keep in mind it may be lower than normal for a day while everything finishes up installing and post-install tasks.
You can also check out the Apple's discussion forums for solutions to issues. For one-on-one help, send a message to Apple Support via Twitter or start a chat with a rep on the Apple website.
You Can Downgrade to macOS High Sierra
You can downgrade from macOS Mojave to macOS High Sierra if you want to go back to avoid problems and compatibility issues.
This process is straightforward, but will take time. To do this easily you will need a Time Machine backup and enough time set aside to erase your Mac and restore a backup.
This will take you a while to complete, so approach it with caution and with plenty of time set aside.
Where to Find macOS Mojave 10.14.4 Reviews
If you just installed macOS Mojave or are thinking about it, you should dig into the feedback from other users. It can help you solve your own problems and may help you avoid others.
We've already compiled our list of reasons to install macOS Mojave and reasons not to upgrade yet. This will help you get started on deciding what you should do.
You can also check out YouTube, Reddit and Apple's discussion forums for more details and macOS Mojave reviews from regular users. It's best to look for users who have a similar Mac to you for the most useful information. Or for users who are in the same field or using the same apps.
What's Next for macOS Mojave
If you are experiencing macOS Mojave problems and you don't want to downgrade there is hope and help on the way. We expect to see a macOS Mojave beta start up soon for the next version of the Mojave.
In May Apple plans to bring the Apple TV app to the Mac. This will likely come as part of a system update. This could be macOS 10.14.5, or potentially a higher version.
We'll learn more about the next version of macOS in June during WWDC 2019.
4 Reasons Not to Install macOS Mojave & 16 Reasons You Should Install 10.14.6 Today
Install for Important Fixes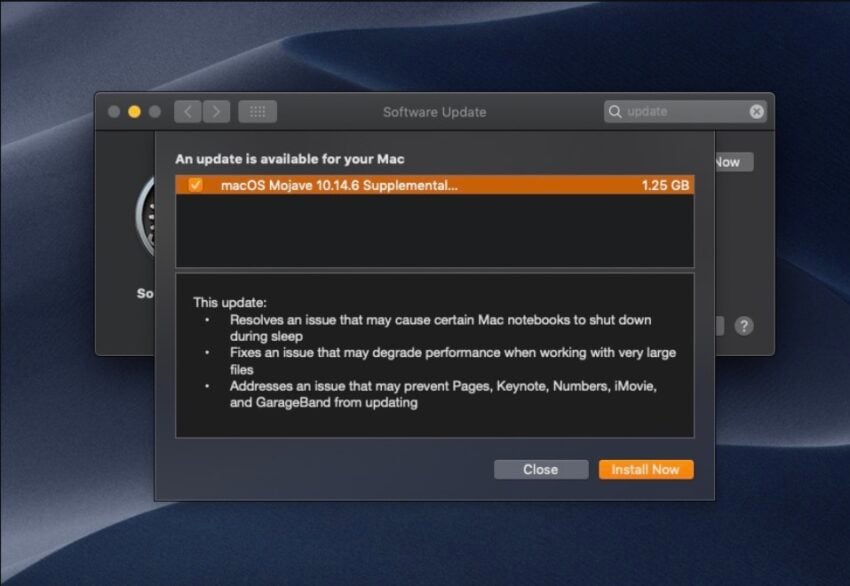 If you are running into issues with your Mac, you need to install this update on your Mac. The two supplemental fixes include security fixes and fixes for problems pestering many users.
The second supplemental update includes a fix for the problem where "A remote attacker may be able to cause unexpected application termination or arbitrary code execution." This is an important fix.
The previous supplemental update included the following updates, which you also get with this update if you hadn't installed the update yet.

Resolves an issue that may cause certain Mac notebooks to shut down during sleep
Fixes an issue that may degrade performance when working with very large files
Addresses an issue that may prevent Pages, Keynote, Numbers, iMovie, and GarageBand from updating
If you are having problems with this, you should install the supplemental update right now.