How to Enable Full Screen Apps on Galaxy S10
This guide explains how to enable apps to use the full screen on the Galaxy S10 and bigger Galaxy S10+. These phones have big beautiful screens with a cutout at the top for the front-facing camera. And while most apps use the entire display, some will have black bars at the top and bottom. Or, in landscape mode, bars on both sides like you see on YouTube.
Thankfully, you can easily pinch to zoom-in on YouTube to use the entire 6.4-inch screen on your Galaxy S10+ while watching videos. Then, Samsung has a "full-screen mode" in settings you can toggle for specific apps that don't work right and here's how.
How to Enable Full Screen Apps on the Galaxy S10
Pull down the notification bar and head to Settings (gear-shaped icon near the top right)
Find and select Display
Scroll down and tap on Full Screen Apps
Find the app you want to change and tap on it, then Toggle full-screen to ON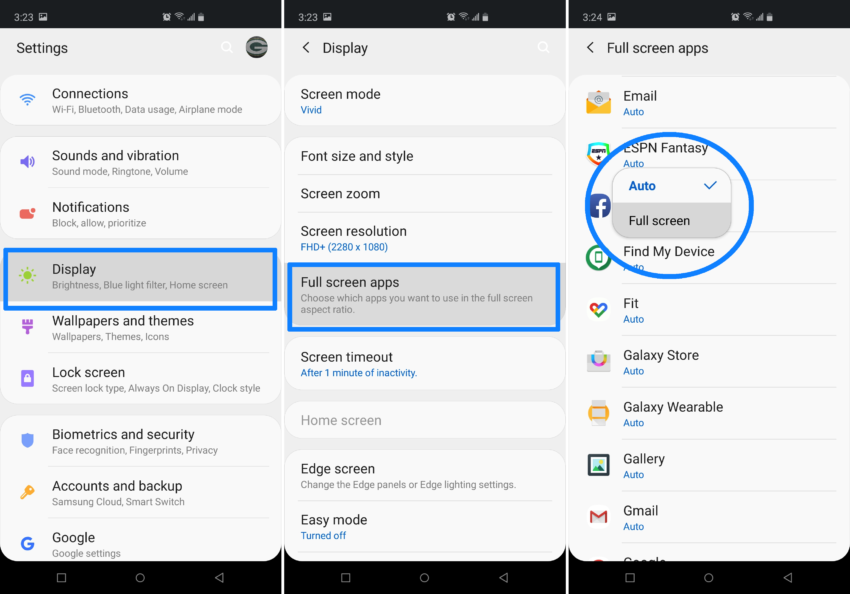 Any app that you've noticed isn't using the full screen is likely set to auto and the phone isn't recognizing it, or the developer needs to update their application. That said, just tap any app giving you trouble and force it to full screen mode and you should be good.
Most apps work perfectly fine, mainly because this isn't the first year Samsung is using these bigger, tall, long yet skinny screens. This is the 3rd year Samsung's offered this type of design. However, we still had to force Snapchat, Clash Royale, and a few other games into a full-screen mode.
Should You Do This?
Whether or not you force apps to use the entire screen is up to you. Personally, only a few apps had issues, and once I switched them over everything was fine. Keep in mind that if the app is really old or outdated, once you switch to full screen some aspects of the app or interface may get cut off. If so, just revert it back to the old setting.
Read: 10 Best Galaxy S10 Cases
Then, most videos have some sort of manual full screen toggle mode. With YouTube just pinch to zoom to use the full display, and Netflix has something similar you can toggle.
If our tip doesn't fix your problem you can always reach out to the developer on the Google Play Store. Before you go, take a peek at these common Galaxy S10 problems and how to fix them

As an Amazon Associate I earn from qualifying purchases.